Winter is around the corner and it's about time we pack up our bags and move out to experience the chill. December is the month when pleasant amalgamates with chill and creates a new foetus known as Whoopee! These exciting places in India in December can turn your regular trip into a new discovery that you've been longing for since long. We have got the best places to visit in India in December to make winters an epic affair.
Thajiwas Glacier, Jammu And Kashmir
A true delight for nature and trekking lovers, Thajiwas glacier is one of the greatest assets of Jammu and Kashmir. The glacier is located around 7 kms from the town of Sonamarg and serves as a popular tourist destination. In order to experience the intrinsic beauty of Thajiswar in the best possible way, it is advised that tourists must hike to the glacier from Sonamarg. One can even hire a pony ride to travel to the glacier. Trek to the renowned glacier includes face off with a silver shining frozen lake and its lush green surroundings, which offer an amazing contrast to the eyes.
Thajiswar is also dotted with alpine meadows and a number of waterfalls, which make the region look like a paradise. Owing to such surroundings, it is amongst the most popular destinations near Sonamarg at all times. Thajiswar glacier also provides an excellent opportunity to enjoy a sledge ride even during the summers. As it is perfectly suited for trekking, the place also serves as a camping spot.
How to Reach ?
Thajiwas Glacier is situated at a distance of 3 km from Sonamarg and can be easily reached on foot in about half an hour. One can also hire cabs or ponies to reach the glacier. You can get a cab from the Sonmarg Taxi Stand which should cost you around INR 3500 – 5500
Chopta, Uttarakhand
Chopta, a small hamlet located in Uttarakhand, is a trekker's heaven. The base camp of treks like Tugnanath, Deoria Tal and Chandrashila, Chopta is an ideal destination for intermediate trekkers to go on a guided trek and brush up their skills.
The third temple of Panch Kedar is located in Tugnanath, around 3.5 km away from Chopta. Camping in the open grassy meadows of Chopta that slopes on softly, among alpine, pine, deodar and rhododendron trees is something that you will experience only in Chopta. The snow-covered peaks of Trishul, Nanda Devi and Chaukhambha dominates the view in Chopta.
How to Reach ?
By Road: Chopta is well connected by motorable roads with major towns of Garhwal region of Uttarakhand state.
By Rail: The nearest railhead to Chopta is Haridwar situated 225 kms away. Haridwar is well connected by railway networks with major cities of India. Buses and Taxis to Chopta and Ukhimath are easily available from Rishikesh
By Air: Jolly Grant Airport is the nearest Airport of Chopta, situated 226 kms away in Dehradun district of Uttarakhand state. The remaining journey has to be covered ether in a taxi or in a bus. Taxis are easily available to Rishikesh, Rudraprayag, Ukhimath and Chopta from Jolly Grant Airport.
Binsar, Uttarakhand
Pitched at the impressive altitude of 2,420 m, 95 km from Nainital, Binsar is one of the most scenic spots in the Kumaon Himalayas. it offers a majestic view of the snowy Himalayan peaks like the mesmerizing ranges Chaukhamba, Trishul, Nanda Devi, Shivling and Panchchuli which is why you will keep discovering new walking trails up the mountains and down the valleys, new lookout points for another spectacular sunset.
Binsar is also a trekker's paradise. One can go on long treks in the clean air, amidst the misty mountain trails, towering Oaks and Rhododendrons. Encircled by a vast wildlife sanctuary, a home to many rare animals, birds and wild flowers. The blanket of green hangs all around – rocks covered with unusual moss and ferns, flowers and shrubs – foliage sprouting out of every conceivable nook and corner of the hillside. The entire area is now a sanctuary.
How to Reach ?
By Air: The nearest airport to Binsar is Pantnagar Airport situated at a distance of 152 km. Taxis and Buses can be taken from Pantnagar airport for Binsar. It is connected with the rest of India by a good number of flights being the only airport in the Kumaon region. And also is well connected with Binsar with good roads. The closest international Airport is the Indira Gandhi Airport Delhi
By Train : The nearest railway station to Binsar is Kathgodam. It is popularly known as the gateway of Kumaon. Kathgodam is 120 km away from Binsar and is well connected with major Indian destinations by frequent trains. There are two trains that run daily between Kathgodam and Delhi. One can easily hire a taxi or catch a bus from Kathgodam for Binsar
Mukteshwar, Uttarakhand
Hilly topography nestled with fruit orchards and coniferous forest, Mukteshwar, the name derived from Lord Shiva, one who offers Moksha(salvation), is a calm and seclude town and tourist destination in the Nainital District of Uttarakhand, India. The famous Mukteshwar temple with main deity as Lord Shiva is a famous attraction here. This enchanting city is situted in a height of about 7500 feet in the Kumaon Hill. The city has many tourist attractions apart from Mukteshwar temple in its account, Chauli ka Jali is one of the famous attraction.
The region is famous for the Indian Veterinary Research Institute campus established in 1893. This little beautiful town adorned with cute homes of reddish roofs, ancient style window frames made of wood and picket barriers brings the reminiscences of British Raj. Agriculture in the area consists chiefly of potato cultivation and fruit orchards on terraces cut into the hillsides.
Mukteshwar, affluent in scenic splendor, commands a breathtaking view of the Himalayas with magnificent views and bearing the Nanda Devi, India's second-highest peak. There is also a Renewable Park developed by The Energy and Resources Institute, which use solar electricity for most of its electricity needs. As the case in anywhere else in India, recently, the town has experienced some construction activity and townships have begun to mushroom in and around Mukteshwar.
How to Reach ?
By Bus/Road. State owned bus services connect Mukteshwar with other cities in the state. …
By Train. Nearest Railhead is Kathgodam station, which is 70 km away from Mukteshwar. …
By Air. Pantnagar airport is the nearest airport, which is located about 100 km from Mukteshwar
Nagaon Beach, Maharashtra
Located on the shores of the Arabian sea, Nagaon beach is 9 km away from the Alibaug's city centre. Lined palms, betel, and Suru trees, this beach is most famous for its cleanliness and for hosting water-based adventure activities available at a reasonable price. Experience the life of the locals at the many homestays and resorts here, which make Nagaon Beach the perfect weekend getaway.

The shore of Nagaon beach stretches for 3 km meeting the waves of the Arabian sea. Sunsets are especially picturesque here and an evening walk is a wonderful way to end your day at the beach. The beach shacks serving the finger-licking seafood is another amenity that Nagaon beach offers to its visitors. Nagaon beach is an important destination in Alibaug which attracts thousands of tourists owing to its tranquillity. It also acts as the central place for surrounding other beaches like Murud, Kashid, Akshi, Alibaug, Kihim and Mandva.
How to Reach ?
Nagaon beach is located at distance of 6 Km from Alibaug, which is at a distance of 3-4 hours from Mumbai by Road. Alibaug can also be reached by ferry from Mumbai. There are a lot of launches and catamarans which leave every half an hour from Gateway of India and reach Mandava Jetty in about 45 minutes to 1 hour.
Small Vagator, Goa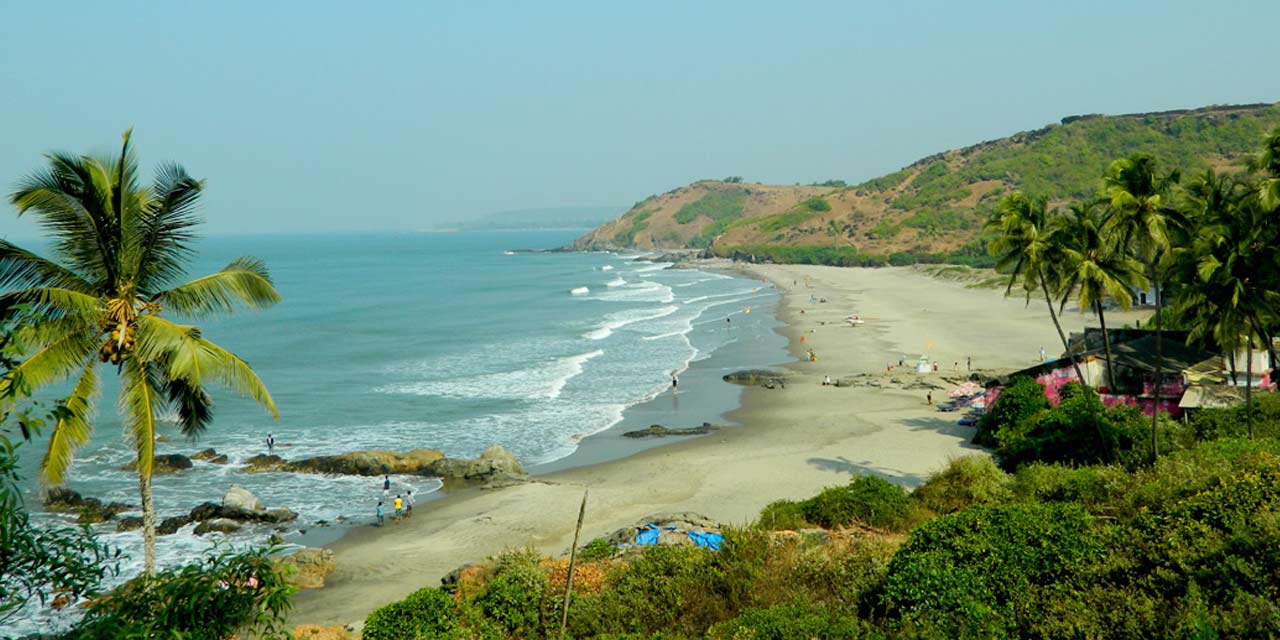 Turned up 22 km from the Panaji, the Vagator beach is one of the most beautiful beaches in Goa that is enclosed with soft white sand and speckled by huge black rocks, coconut & palm trees. It is famous due to its dynamic cliffs and its secluded nature. This beach is divided into two beaches named as Big Vagator and Small Vagator. Facing towards the right side of sea, there is North Vagator Beach (Big Vagator) while on the left is Ozran beach (Little Vagator). Tourists visit here to view the sunset through the rocks that is quite marvellous. It is a part of 30 km stretch of beach seashore along the west coast of Goa. It's a home to some of the popular beaches of Goa like Anjuna and Calangute, which make the place an idyllic gateway for beach lovers and newly married couples.
There are various ranges of farmhouses & cottages, where one can stay for partying and enjoying whole night. This place will never let you go upset as it offers everything what you want like water sports, shopping, or luxury accommodation. The culture of this place is defined with its local art, music and nightlife. Being an enchanting place in Goa, it holds its own charm and people come here to relish the company of sand, sun & sea. The seaside is lined with many shacks and food stalls that offer an exotic savory meals and drinks. In brief, it's a perfect destination for backpackers to relax in seclusion and enjoy the beauty of nature.