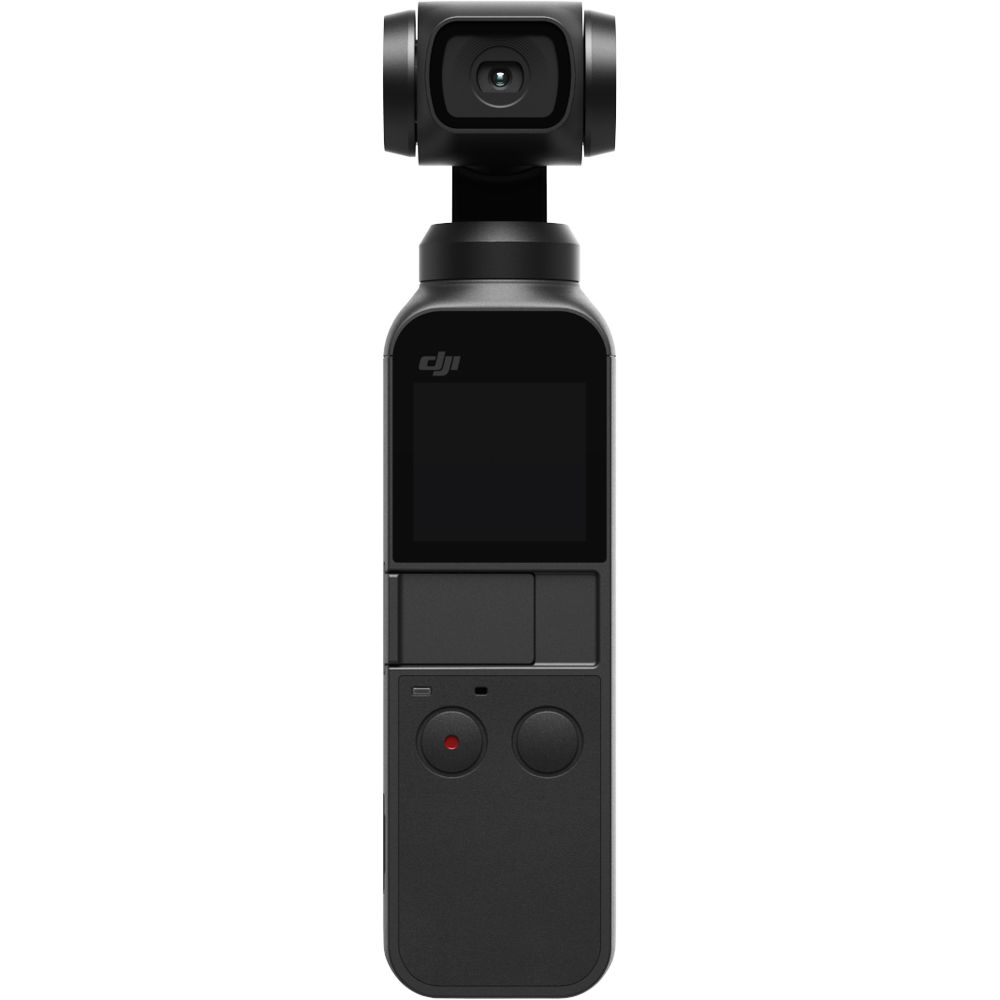 The DJI Osmo Pocket is a year old, but it remains the easiest way to record stabilized 4K video and fluidly moving time lapses without having to carry around a full-sized DSLR gimbal and bulky camera gear.
DJI Osmo Pocket positioned to be a handheld camera stabilizer for the mainstream, and that means we're seeing even more silky smooth video out there from average users because of it. That's good news for everyone who hates shaky video.
Design and Durability
The Osmo Pocket is small enough to fit in your, well, pocket. It measures 4.8 by 1.5 by 1.1 inches (HWD) and weighs 4.1 ounces. The body is a solid brick, finished in dark gray. The camera itself sits at the top, mounted on a three-axis gimbal. Gimbals are a little fragile by nature, so DJI includes a protective case with the Pocket. It's a good idea to use it, especially if you expect the Osmo to live in your pants pocket.
The concept of gimbal stabilization is a simple one. Instead of using electronic methods (the means GoPro uses in its action cameras) or optical stabilization (the tech found in SLR lenses), a gimbal uses silent, brushless motors and gyroscopes to keep the camera perfectly level to the ground at all times. There's some calibration needed to get there—it's why the Pocket's camera moves around a bit when you first turn it on. If you find that it's not perfectly level with the horizon you can recalibrate via the touch interface—just make sure to set the Pocket down on a flat surface before you do.
it measures 121.9 x 36.9 x 28.6mm and weighs 116g, about half the length and width an iphone 11 smartphone (though there's more than three times the girth) and two thirds of the weight. We were able to slip it into our jeans pockets right next to our iphone 11 pro MAX without a problem.
Accessories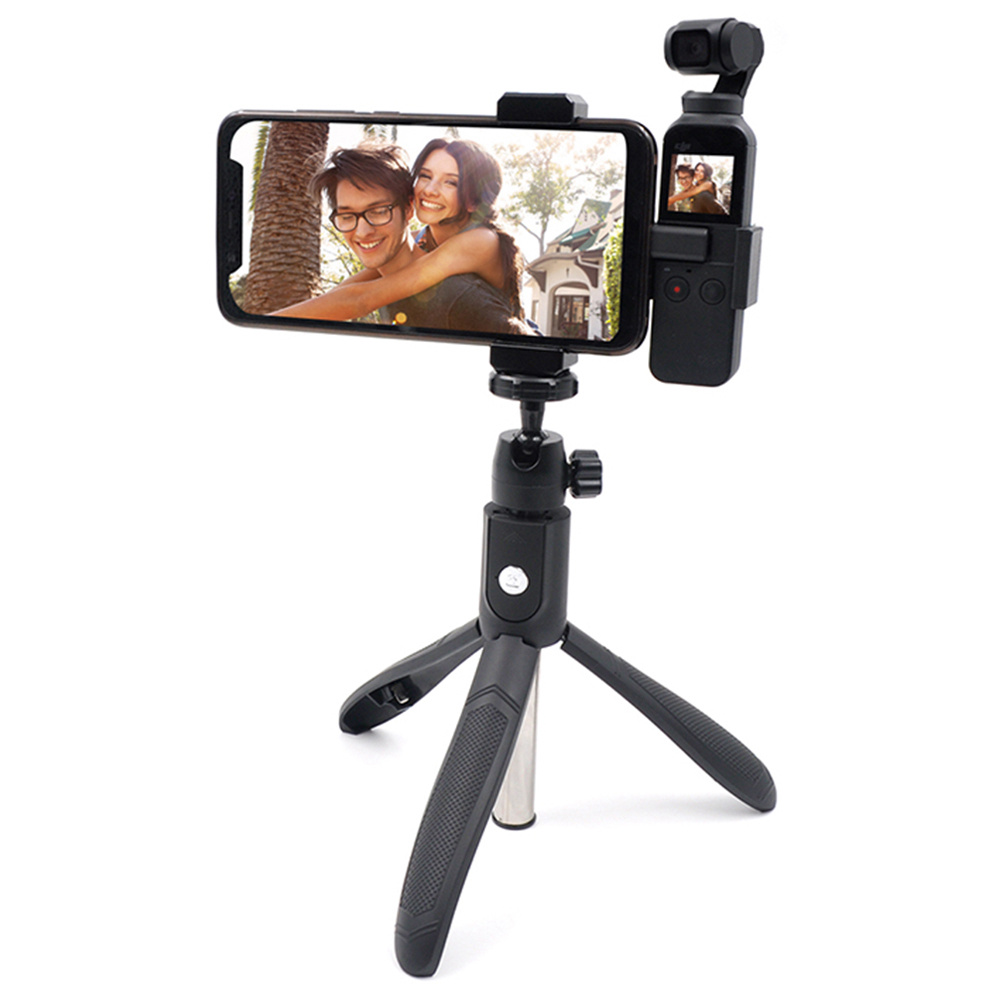 To get the best pan and tilt motion while recording video, opt for the Control Wheel. At first, we were surprised that this wasn't a 360-degree control stick, but we soon realized that given the miniaturized factor, it's easier to keep a consistent side-to-side or up-and-down transition with a linear control design. There's a switch to flip back and forth between the two linear orientations.
The accessory also includes two extra buttons, one for re-centering the camera, and the other for flipping the camera 180-degrees. Without the Control Wheel attached, this requires pressing the power/mode button twice to re-center the camera and three-times to flip the camera. We found the standard gimbal buttons to be soft and mushy without a good tactical confirmation for multiple presses, so having the extra hard buttons on the Control Wheel dedicated to selfie and re-center made life easier.
Waterproof Case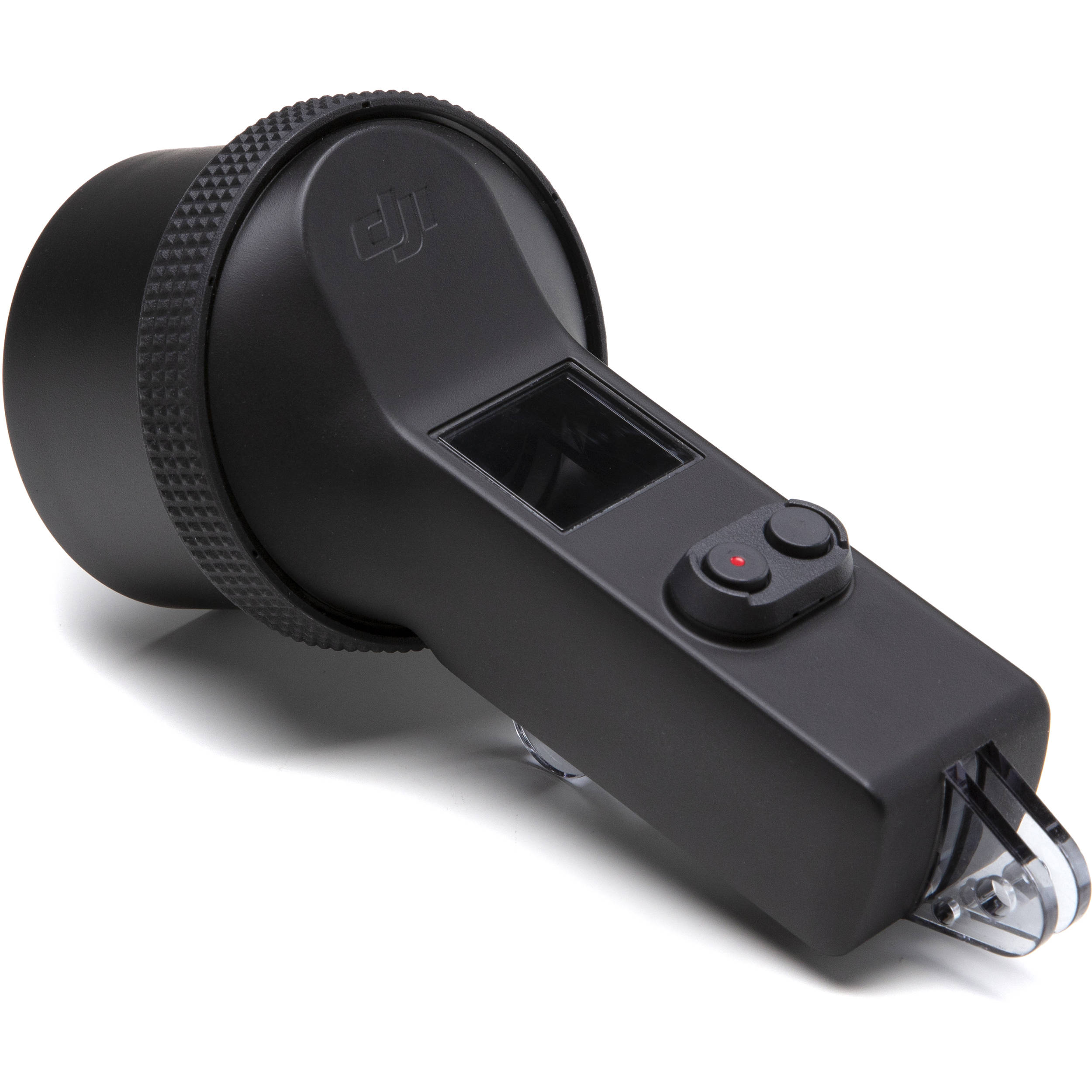 This waterproof case kept our gimbal completely dry in an underwater 'snuba' adventure 4.5m (15ft) below surface of the Pacific Ocean, and it's rated for 60m (196ft), well beyond scuba diving depths. So far, so good, right?
The problem is that this is a moving gimbal, and the case has a finite ideal window of 90 degrees. If the camera moves off-center, it picks up the hard edge that encircles this window. The focus was off, resulting in blurry photos and videos, and the entire case did fog up after a few minutes in the water. DJI did release a new black version of the underwater casing, but we haven't tested that version out to see if there's a difference.
Video Quality and Camera Specification
The secret reason DJI Osmo Pocket footage looks so good is that it uses a camera sensor that keeps up with (well, is technically is a tad larger than) the best of 2019, and it sticks that on an anti-shaky gimbal wand – a magic wand in the eyes of vloggers.
It has a 1.2/3-inch sensor (Apple's iphone MAX and the Google pixel 3xl are just now up to 1/2.33-inch sensors), a 100Mbps max bitrate (your phone in 2019 is likely capped at 50Mbps), and an f/2.0 aperture. The result is 4K video with quality that's slightly better than top-end smartphones, and, on top of that, fully stabilized without solely relying on optical image stabilization (OIS), Electronic Image Stabilization (EIS) or a mix of the two.
Key Feature:
25.7mm (equiv) F2 lens (80 degrees FOV)
1/2.3″ CMOS sensor
12MP resolution
4K Ultra HD video: 3840 x 2160 24/25/30/48/50/60p,
FHD: 1920×1080 24/25/30/48/50/60/120p
ISO 100-3200
Built-in gimbal
Weight: 116g / 4oz
Dimensions: 121.9 x 36.9 x 28.6 mm
MicroSD slot up to 256GB
LiPo 875 mAH 6.738 Wh battery, 140 mins operating time when shooting 1080p/30 fps video
48 KHz AAC audio outpu