History, culture, and natural beauty perhaps best describe the essence of vacationing in Germany. With its many historic cities and small towns, along with an abundance of forests and mountains, visitors are spoiled for choice when it comes to choosing a unique place to visit. Those wanting to sightsee or experience the arts should head to the metropolitan areas such as Munich, Frankfurt, or Hamburg, while those looking for recreational activities should visit places such as the Bavarian Alps, the Black Forest, or the Rhine Valley.
Lovely old cathedrals and grand palaces are everywhere, and in the smaller towns and villages – some with their original medieval Old Towns still intact – many centuries-old traditions, including traditional Christmas markets, festivals, and fairs, continue to this day. At the cultural heart of Germany is the capital, Berlin, home to many fine museums and galleries, while nature lovers will find a world of possibilities in Germany's great outdoors. For ideas to help plan your travels, read our list of the top tourist attractions in Germany.
Munich
Mine's a Mass
Beer has been part of Munich life for at least seven centuries and the brewing tradition is very much alive and kicking today. Nowhere else in Europe has a beer tradition quite like the Bavarian capital with six mammoth breweries pumping out world-class suds to hundreds of beer gardens and beer halls. And the climax to the Munich beer year is, of course, the famous Oktoberfest, attended by over six million people. Germany's 'purity law' guarantees there's nothing in your Mass (1L tankard) that shouldn't be, so if you can lift the thing – 'Prost!' (Cheers!)
Teutonic Treasure Trove
Munich has long been known as the 'city of art and beer', so before you head off to the pub, take some time to savour the local art scene. The Kunstareal, Munich's art quarter, is the place to start, with four major venues displaying everything from Dutch masters to 1960s design. The city also boasts some world-class museums focusing on topics as diverse as Oktoberfest, porcelain and BMW cars. And if that weren't enough, there are still royal palaces to explore – the legacy of 700 years of rule by a single family, the Wittelsbachs.
Well-Heeled Well-Being
The locals have a word for it – Gemütlichkeit – that untranslatable intermingling of cosiness, well-being and laid-back attitude. In Munich you will sense it most under the fairy lights of a summer beer garden, people-watching in the English Garden and behind the wheel of a BMW heading south. It may be just the local character, but a large share of Gemütlichkeit must come from the fact that the Bavarian capital is one of the most affluent cities on the planet, it's economy larger than most small countries, its infrastructure well-tended.
Bizarre Bavaria
Munich's various quirks, the things that make the city the place it is, might be what stick in the memory most. Whether it be the inebriated oompah band, that special knife for eating monster radishes, the Bavarians outrageous dialect, the mad hat traditions of the Oktoberfest or the surfers on the Eisbach wave – you're sure to discover some freakish aspect of Munich life every day. And then there is the local garb – nowhere else in central Europe do the locals don their traditional costume – the famous Lederhosen and Dirndl
Tourist Attraction
Marienplatz
English Garden
Nymphenburg Palace
Munich Residenz
Hofbräuhaus München
New Town Hall
Frauenkirche
Olympiapark
Frankfurt
This old imperial city on the River Main – hence its full name, Frankfurt am Main – is, by virtue of its central situation, an important commercial and economic center. The city's skyline, dominated by the great cluster of high-rise buildings in the banking quarter, has a distinct North American flavor, earning Frankfurt the nicknames "Mainhattan" and "Chicago on the Main." Considered a global city – it frequently ranks in the top ten best cities to live and do business – Frankfurt has also long been an important center for cultural and tourism activities. Its huge trade fair complex, Messe Frankfurt, hosts important events such as the Frankfurt Book Fair (the world's most important publishing event). The city is known for its exceptional number of fine museums covering art, science, and history.
Tourist Attraction
Römer
Main Tower
Römerberg
Palmengarten
Goethe House
Frankfurt Cathedral
Städel Museum
Museumsufer
Clogne
This lively city on the Rhine offers a wealth of cultural activities, international trade fairs and conferences, and numerous major events. Attractions such as Cologne Cathedral, which is recognized as a UNESCO World Heritage Site, and the city's 12 large Romanesque churches create an unforgettable impression on visitors. What's more, the cathedral city of Cologne is home to many museums and galleries that present top-class art treasures of all styles and from all epochs.
With shopping streets, alleys in the "old town" and characteristic urban neighbourhoods – known as "Veedel" in Cologne's own dialect – Cologne is considered an insider tip as one of Germany's greatest cities for shopping. And let's not forget the excellent and exciting night life – among Germany's major cities, Cologne has the highest density of pubs and taverns. Around 3,300 bars, clubs and restaurants invite the visitor to enjoy a cool Kölsch beer.
Cologne is richer in diversity, and more vital and lovable than virtually any of Germany's other big cities. The "Cologne way of life" is highly infectious – and that's reason enough to pay Cologne a visit!
Tourist Attraction
Cologne Cathedral
Cologne Chocolate Museum
Museum Ludwig
Phantasialand
Brühl Castle
Hohenzollern Bridge
KölnTriangle
Hamburg
Port City Vibe
Hamburg's historic label, 'The gateway to the world', might be a bold claim, but Germany's second-largest city and biggest port has never been shy. A leading light in the Hanseatic League in the Middle Ages, Hamburg became a centre of international trade, a legacy that continues today: it remains one of Germany's wealthiest cities and Hamburg's maritime spirit still infuses the entire city. It's the sort of city where echoes of the city's port and history are everywhere, from the incessant cry of gulls overhead to the vibrant neighbourhoods awash with multicultural eateries, seaward-facing architecture and the gloriously seedy Reeperbahn red-light district.
A Musical City
There was one consolation for locals when the city's authorities decided to blow the municipal budget: at least it was done for a new concert hall, the Elbphilharmonie. Hamburg's musical pedigree is staggering: Gustav Mahler once directed the city's 330-year-old state opera, while both Johannes Brahms and Felix Mendelssohn were born here. But it's not just about classical music. Hamburg also has very modern and rather raucous melodic soundtrack, not mention a compelling story. The city nurtured the early promise of the Beatles, and music festivals litter the calendar, while the dynamic live music scene just keeps getting better.
Icons of Architecture
The Elbphilharmonie is an extraordinary structure, dominating the skyline and capturing in glass and brick the essence of Hamburg's polyglot soul. This striking icon of the city has elevated architecture to the centre of public debate and awareness, and it's just the most famous of a rather exciting collection. Office towers that appear as if they are dancing and buildings that from afar look like ocean liners share the streets with half-timbered relics of the medieval city. And only in Hamburg would they think of preserving a former WWII bunker and turning it into a nightclub.
The Good Things in Life
The good people of Hamburg really know how to live. For a start, they've mastered the ingredients of culinary diversity: elevate your local specialties to the level of an obsession and treasure them, even as you remain open to all manner of gastronomic trends. The result is culinary excellence on multiple fronts. So, too, for nightlife: Hamburg is full to bursting with classy cocktail bars, dance-all-night clubs and neighbourhood bars and pubs that both reflect each neighbourhood's identity and define it. So successful are they that it's almost impossible to come to Hamburg and not have a really good time.
Tourist Attraction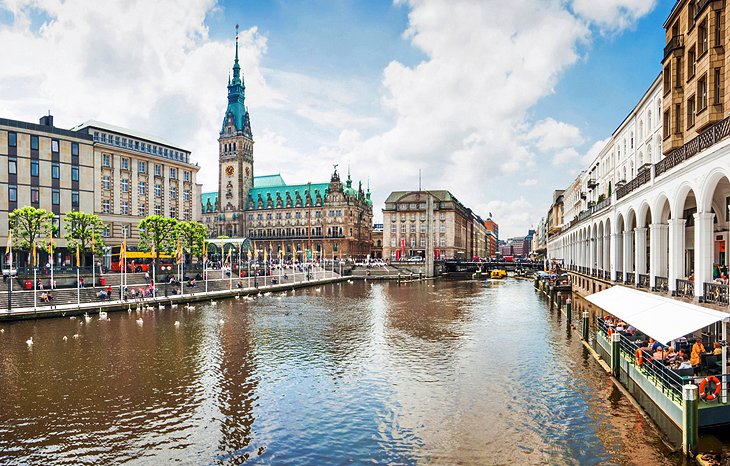 Speicherstadt
Miniatur Wunderland
Elbphilharmonie Hamburg
Reeperbahn
Townhall
St. Michael's Church
Alster
Planten un Blomen