Have you ever thought of traveling to Germany during the winter? You should. Hands down, it's the most magical season in this central European country. Forests and mountains are covered in pure, white snow, but the temperature isn't too cold. You can easily spend the day skiing, hiking, snowshoeing or sledding in the many outdoor parks and recreation areas, but that's not all.
From November to the end of December, every city, town, hamlet is blinged out with Christmas lights, a life-sized creche scene, and little wooden stalls ready to sell you everything from a hot mulled wine to locally made handicrafts. Germany knows how to do Christmas Market and there are hundreds to choose from.
Partnachklamm
The Partnachklamm is located 1 hour from Munich and is easily accessed from the Bavarian Alpine resort of Garmisch-Partenkirchen. It is a natural conduit for the Partnach river. The Partnachklamm follows the historic route used by lumberjacks and leads through tunnels and overhanging cliffs.
The Partnachklamm is just 700m long and 80m deep but there are several opportunities for some great hiking. You can easily change your route to make the hike more strenuous if you would like. The Partnachklamm was made a natural monument in 1912. Before the 2 pathways were established, visiting the Partnachklamm was a perilous affair.
The flow of the Partnach River has created galleries and tunnels along the side of the rock wall which allows visitors to walk along the river and duck behind some beautiful waterfalls during the summer. During winter the river still rushes through is water rapids and in some parts, you will find tranquil water basins. The iron bridge which was built in 1914 gives visitors a great place to take in the views of this amazing gorge.
The other advantage of going to the Partnachklamm in winter is that we saw only a few other hikers on the trail, giving us the illusion that we had the entire gorge to ourselves. Torchlight tours of the gorge are also available, although we did a self-guided tour. I would definitely return to do a torchlight tour if I have the opportunity.
ATTRACTION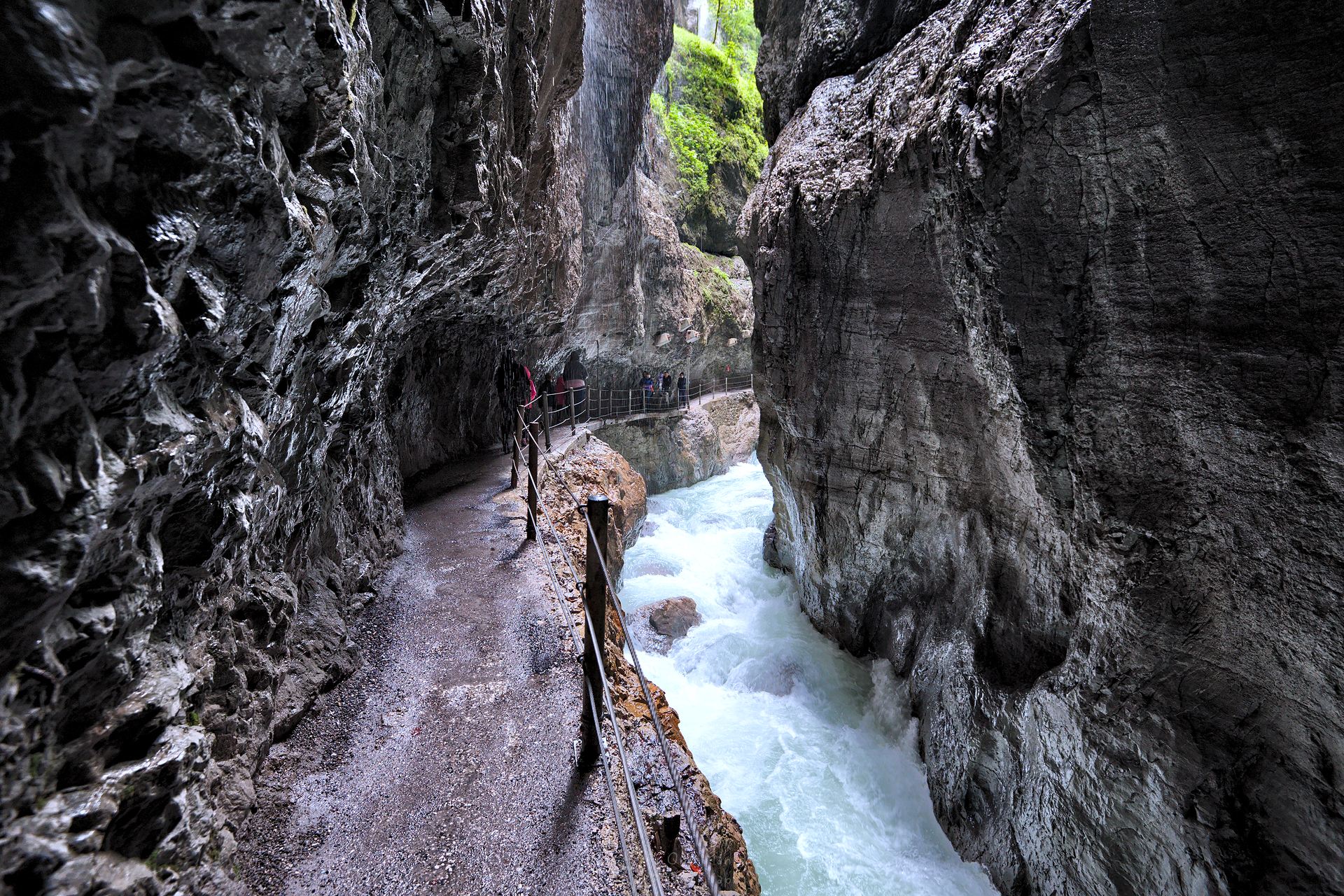 Partnach Gorge
Graseckseilbahn
Olympic Ski Jump
Parish Church of St. Martin
Garmisch Olympia Stadium
Wankbahn
Kreuzeckbahn Cablecar Station
Alpspix
Phantasia Land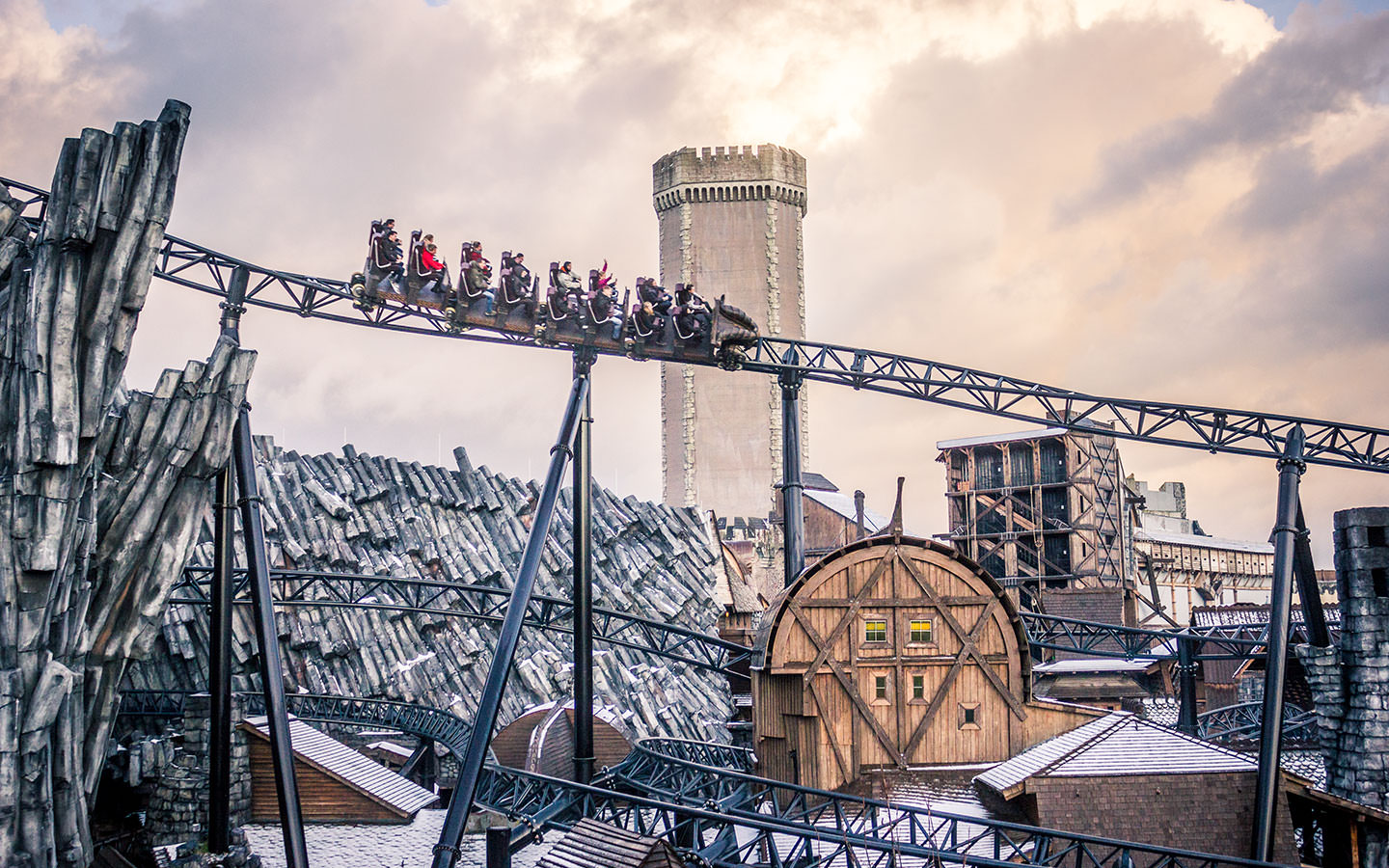 In Phantasialand visitors experience awarded attractions, guaranteed to bring extraordinary fun and adventure. The park is divided into 6 beautifully themed areas where the entire family – young and old alike – will be rewarded with excitement and butterflies in your stomach. The tiniest guests will enjoy the large selection of children's´ rides and 6 dragon mascottes. High speed fanatics can ride rollercoasters TARON and RAIK, which set a new standard with their 5 world records. The spectacular multi-launch coaster TARON surprises you with 2 launches and is th elangest multi-launch coaster in the world! Family-boomerang coaster RAIK is the world´s fastest in it´s kind and it offers a special treat: you start the track going forward, but return to the station going backwards! Other beloved attractions are Black Mamba, Talocan and Mystery Castle – all guaranteed to provide you with adrenaline rushes. In case you want to cool down, water rides Chiapas – with the steepest drop in a logflume in the world – and River Quest – will take care of this for sure. The many high quality Phantasialand park shows offer a wide variety of spectacle, so you can choose between detailed choreographies to upbeat tunes or daredevil stunts with BMX-bikes and break-dancing.
How to Get Here ?
By Air : You can fly to Dusseldorf International Airport, which is about 65 km (40 mi) from Bruhl and Phantasialand. The cologne is a bit closer at only 31 km (19 mi).
Nuremberg
The ancient city of Nuremberg (Nürnberg) is an important center for arts and culture. The city has also long been associated with advances in science and technology, particularly in printing – it was home to Europe's first printing press – and astronomy (Nicolaus Copernicus's most famous work was published here in 1543).
Despite having been severely damaged in WW2, many of the medieval buildings in the Old Town (Altstadt) have been painstakingly restored to their former glory. In fact, most of the top attractions in Nuremberg are located within the historic walls, which extend some five kilometers around the Old Town.
You may want to plan your visit to coincide with one of Nuremberg's many festivals. Two favorites are the famous two-week long Old Town Festival musical and folk event, and International Organ Week, which runs from late June to mid-July. Plan more with our list of top attractions in Nuremberg.
ATTRACTION
Imperial Castle of Nuremberg
Albrecht Dürer's House
Frauenkirche, Nuremberg
Documentation Center Nazi Party Rally Grounds
Germanisches Nationalmuseum
Schöner Brunnen
Hauptmarkt
St. Lorenz, Nuremberg
Toy Museum
Baden Baden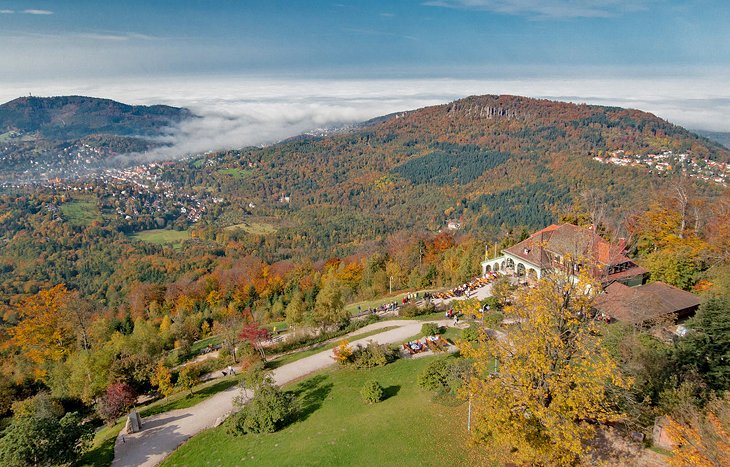 THE ONE LANDMARK
Baden-Baden in southwest Germany is best known as a fashionable nineteenth-century spa town and current wellness centre. It has lovely gardens studded with graceful Victorian-era buildings, the most striking of which is the former pump house or Trinkhalle, whose colonnade has romantic frescoes depicting Black Forest legends. See visit.baden-baden.de
THE ONE SPA
Take to the baths while in Baden-Baden. You'll have to bare all at Friedrichsbad to enjoy the mosaic-covered, nineteenth-century steam and other baths beneath a basilica-like cupola. The full routine takes you to 17 stations at various temperatures. A more modern (and modestly clothed) alternative is Caracalla Spa (pictured), which has a huge indoor pool and an outdoor one with cascades that pummel your shoulders. See carasana.
THE ONE WALK
The old town is a pretty congregation of pastel buildings, cafés, statues and Russian and English churches, all crowned by a modest castle. In the cobbled square between the town's two thermal baths, hot water gushes from the Fettquelle fountain, and steam rises from gratings, creating an atmospheric (and warm) fog in winter. Nearby, under a multistorey carpark, is a museum preserving Roman foundations and artefacts. See visit.baden-baden.de
THE ONE GARDEN
Baden-Baden is a stroller's town. A fine stretch of elegant old edifices devoted to wellness and entertainment is embedded in spa and rose gardens and along adjacent tree-lined Lichtentaler Allee, including a theatre, villas and casino. The town's micro-climate and plants provide an almost Mediterranean feel, yet Baden-Baden nestles in the hills of the scenic, pine-scented Black Forest.
THE ONE MUSEUM
This upmarket town has some fabulous private collections, top of which is Museum Frieder Burda featuring a superb assortment of modernist, expressionist and contemporary art in an eye-catching glass cube on Lichtentaler Allee. You seldom find this quality of art beyond major cities. See museum-frieder-burda.de
THE ONE CHURCH
The late-Gothic, hilltop Stiftskirche on the Marktplatz dominates the old town. It has Roman foundations, beautifully carved Romanesque portals and baroque flourishes including a pink tower. The tombs of the Margraves of Baden clutter the interior, which is illuminated in startling colours thanks to the church's many stained-glass windows. You can gaze from its terraces over the town to the blue hills of the Black Forest.
ATTRACTION
Caracalla Spa
Lichtentaler Allee
Hohenbaden Castle
Museum Frieder Burda
The Baden-Baden Casino
Trinkhalle
Merkur
Friedrichsbad Baden-Baden
Fabergé Museum