Are you looking for a high power portable strobe for location work that packs down as small as a speedlight and needs no additional battery pack?  Meet the Godox AD200 light. My Godox lighting solution for overseas photoshoots where I travel with only cabin luggage. Here I compare it to the Godox TT350, Godox V850 II and Godox AD360, all of which I use with my Leica cameras (and other film cameras).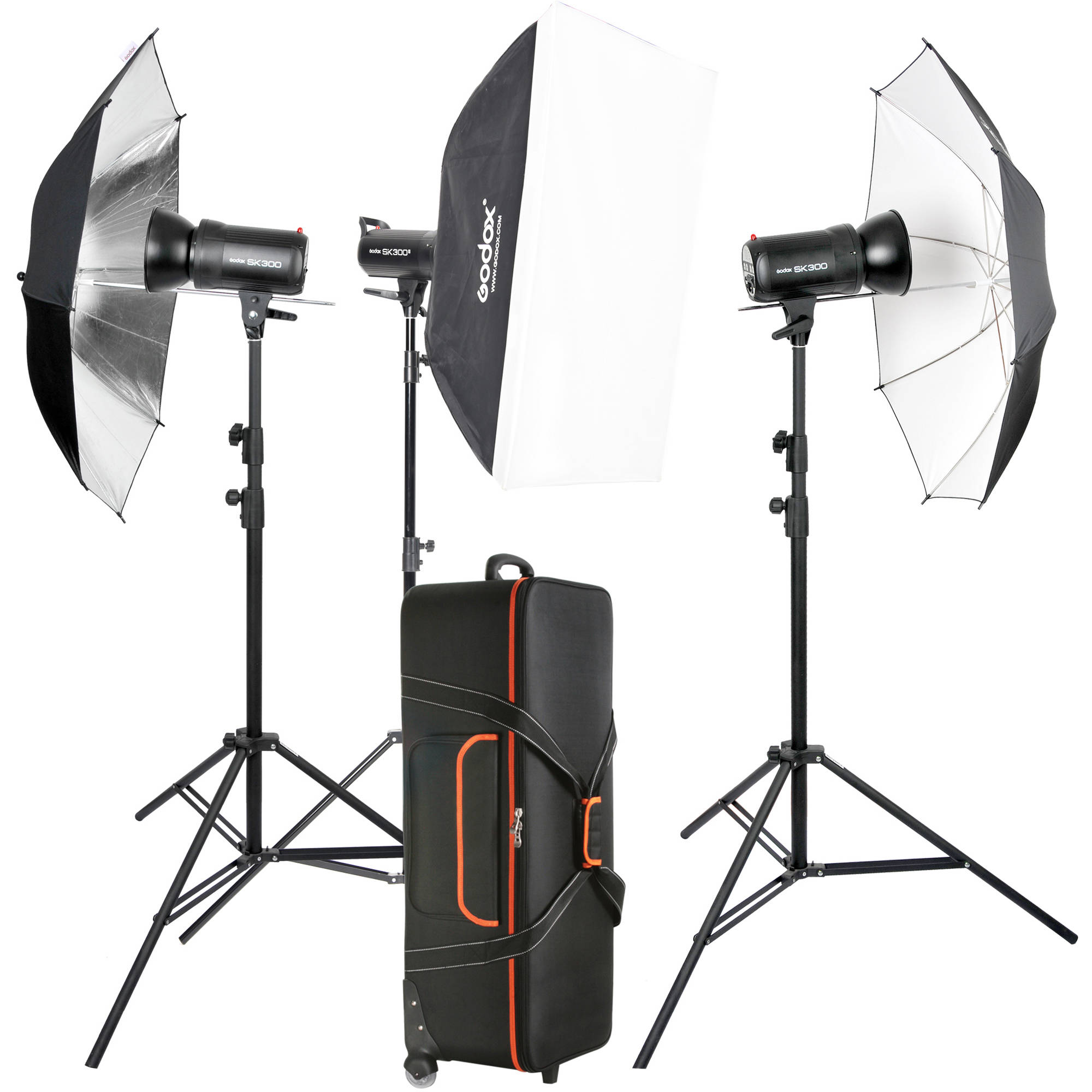 Key Features
3 x SK300II Flash Heads
3 x Light Stands
1 x Softbox: 23.6 x 35.4″
2 x Umbrella: 40″
The SK300II 3-Light Studio Flash Kit was put together by Godox for photographers who need to take studio-quality lighting on the road. The kit includes three SK300II Flash Heads, each with a light stand. A 23.6 x 35.4″ softbox, two 40″ umbrellas, a standard reflector, and an XT16 Wireless Trigger with a range of 328′ are also
I've been a big fan of independent flash brands since I was a teenager. Marquee brands' hotshoe units were always disproportionately expensive, and for a young photographer on a stacking-shelves budget the appeal of cheaper and more powerful models from secondary manufacturers was obvious.
In those days of course flash unit controls were much less complicated, but working with flash was generally much harder than it is today – all we expected back then was a cable socket and a manually variable burst of illumination.
Flash changed with the advent of aperture priority options, the coming of full TTL metering, optical off-camera communications and then, eventually, radio controls. While in the distant past the independent flash brands were very much following in the footsteps of the big names, now we often see the resourcefulness of some companies putting the sluggish progress of the main brands to shame.
While Nikon and Canon have held on to their intermittently effective optical flash control systems for far too long, innovative brands such as Godox, Phottix and others have been making real progress in the field of 2.4GHz radio controls. The big names have been catching up of course, but for those looking for something that doesn't come with a significant premium for having radio wireless TTL control these companies offer an interesting set of alternatives.
Specification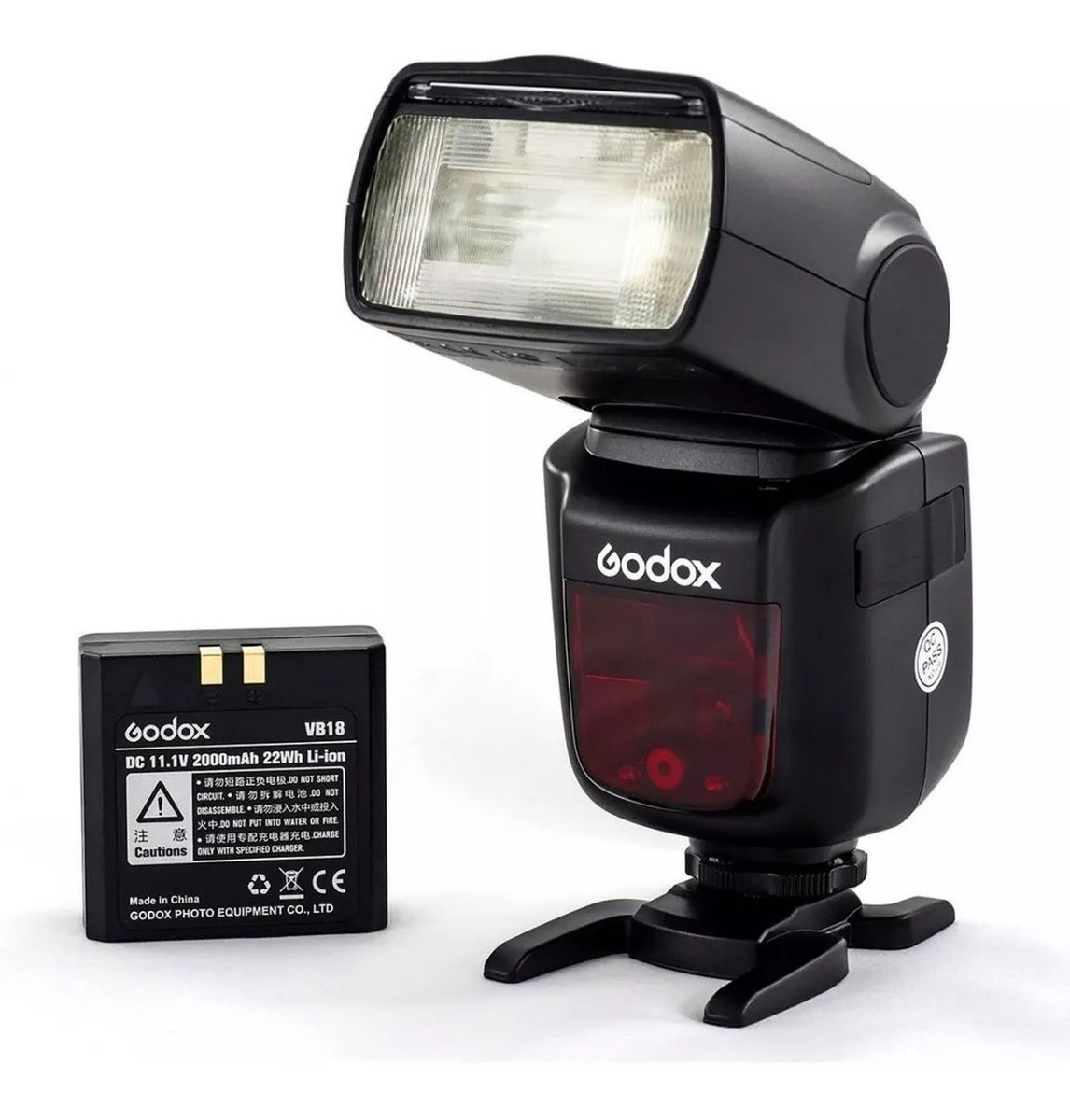 Godox V860 ll
Compatible
Canon, Nikon, Sony
Guide No
60m/190ft @ ISO 100
Flash coverage
20-200mm (14mm with diffuse)
Zoom control
Auto and manual
Tilt/Swivel
-7-90 degrees/180 degrees both L and R
Flash duration
1/300-1/20000sec
Exposure
TTL and manual
Flash exp comp
+/- 3 stops
Sync mode
High speed (up to 1/8000sec)
First curtain and second curtain
Strobe-flash
Up to 90 bursts at 100Hz
Wireless functions
Master, Slave, Off
Slave groups
3 (A, B, C)
Transmission range
Optical indoors: 39-49ft
Optical outdoors: 26-33ft
2.4G Radio: 100m/328ft
Channels
Optical: 4
Radio: 32
Modelling flash
Yes, via camera's depth of field button
AF assist beam
Yes. Range – Centre: 33ft, Edge: 16ft
Power
11.1V/2000mAh Li-ion polymer battery
Recycle time
<1.5 seconds
Battery life
Approx 650 full power flashes
Sync triggering
Hotshoe, 2.5mm port, wireless
Color Temperature
5600 +/-200k
W x H x D
64x76x190mm/2.5x3x7.5in
Weight without battery
430g/15.2oz
Weight with battery
540g/19oz
Features
The V860 II is the latest Godox offering for Canon, Nikon and Sony users, and it provides TTL metering and off-camera control via a wireless 2.4GHz radio system, as well as the usual optical control system. The unit can operate on the camera's hotshoe as a commander unit for both other Godox flashguns and the marque brand's own radio units, or it can join a network controlled by an 'official' flash unit – or indeed by a radio transmitter plugged into the camera.
The output is healthy enough, with an official guide number of 60m/190ft @ ISO 100 at 200mm, and we are offered full manual control from full to 1/128th power in 1/3rd EV increments. Flash duration figures range from 1/300sec at the more powerful settings to 1/20,000sec for the lighter bursts.