Gujarat, India's westernmost state, has varied terrain and numerous sacred sites. In its urban center of Ahmedabad is the Calico Museum of Textiles, displaying antique and modern Indian fabrics. Spiritual leader Mahatma Gandhi's base from 1917–1930 was Sabarmati Ashram, where his living quarters remain on view. The Jama Masjid (Friday Mosque), built in the 15th century, has a huge courtyard and a columned design.
Somnath Temple
Shree Somnath is first among the twelve Aadi Jyotirlings of India. It has a strategic location on the western coast of India.
Ancient Indian traditions maintain a close relationship of Somnath with release of Chandra from the curse of his father-in-law Daksha Prajapati. Moon was married to Twenty-Seven daughters of Daksha. However, he favoured Rohini and neglected other queens. The aggrieved Daksha cursed Moon and the Moon lost power of light. With the advice of Prajapita Brahma, Moon arrived at the Prabhas Teerth and worshipped Bhagvan Shiva. Pleased with the great penance and devotion of Moon, Bhagvan Shiva blessed him and relieved him from the curse of darkness. Pauranic traditions maintain that Moon had built a golden temple, followed by a silver temple by Ravana, Bhagvan Shree Krishna is believed to have built Somnath temple with Sandalwood.
The Moon God is said to have been relieved from the curse of his father-in-law Daksha Prajapati by the blessings of Bhagvan Somnath. In the Shiva Purana and Nandi Upapurana, Shiva said, `I am always present everywhere but specially in 12 forms and places as the Jyotirlingas`. Somnath is one of these 12 holy places. This is the first among the twelve holy Shiva Jyotirling.
Rani Ki Vav Patan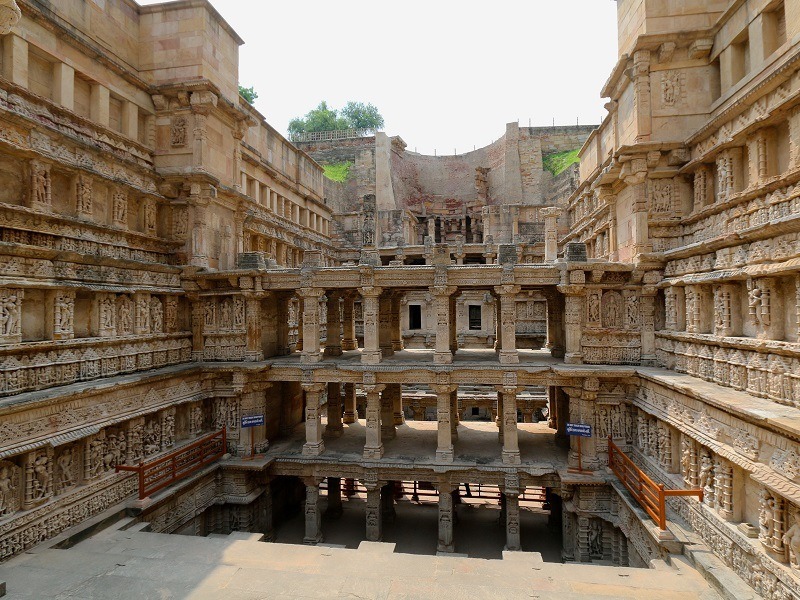 Rani ki Vav Patan, a UNESCO World Heritage Site, is another of the tourist places in Gujarat, is a fine example of the kind of water conservation practiced in India during the ancient times. The building of Rani ki Vav Patan was commissioned by Rani (Queen) Udayamati in 1603 in the loving memory of her husband King Bhimdev 1 of the Solanki dynasty. It's interesting to note, however, that the "vavs" of Gujarat weren't just used for collecting water and socializing, they possesses great spiritual significance too.
The construction of the stepwell was quite simple in the initial years, but became more intricate as the years went by. Rani ki Vav Patan consists of more than 800 elaborate sculptures among seven galleries. The central theme of the stepwell is Dasavataras, or the ten incarnations of Lord Vishnu, including Lord Buddha. A special attraction awaits you at the water level where you come across a carving of Sheshashayi-Vishnu, where Vishnu is depicted reclining on the thousand-hooded serpent Shesha.
Champaner-Pavagadh Archaeological Park
UNESCO World Heritage Sites in India are the places which are testaments to the glorious and the miserable past of the country. From forts to temples, lakes to hills and cities to towns, there are 36 UNESCO World Heritage Sites in India. One such heritage zone is Champaner-Pavagadh Archaeological Park, which is located at a distance of around 145 km from Ahmedabad.
Best Time To Visit
Being an archaeological park, Champaner-Pavagadh is a year-round destination for history buffs. However, it is not a wise choice during the summer season unless you love exploring things irrespective of the weather and climatic conditions. As the summers are very hot here, the best time to visit Champaner-Pavagadh is from November until the end of March.
How To Reach This Archaeological Park From Ahmedabad
By Air:
You can take a flight to Vadodara Airport and then from there you can hire a cab to Champaner-Pavagadh. Vadodara Airport is located at a distance of around 42 km from Champaner-Pavagadh Archaeological Park.
By Rail:
Champaner-Pavagadh is not well connected to major cities via rail. The nearest major railway station is at Vadodara at a distance of around 50 km.
By Road:
Located at a distance of 145 km from Ahmedabad, Champaner-Pavagadh Archaeological Park is easily accessible by road.
Lothal
Lothal was discovered as a result of a systematic survey of Gujarat undertaken by the author in the year 1954 as part of the programme for locating Harappan settlements within the present-day borders of India. It may be recalled that although the 1953 excavations at Rangpur, a site 32 miles south-west of Lothal had confirmed that the Harappa Civilization had extended as far south as Saurashtra, it remained to be explained why and when the Harappans entered the penninsula. As the prospect of reaching the mouth of the Sabarmati immediately after the monsoon appeared bleak, we had almost decided to postpone further survey by a few months. But the dogged perseverance of Baburao Kadam, the chauffeur, brought the party to Gundi from Arnje through the marshy land. With the help of an enthusiastic resident of Gundi, namely Mehpat Singh, we crossed the water-logged fields and reached a low lying mound near Laximpura. From pottery and other objects collected form surface it became evident that the mound, known locally as Lothal, was a true Harappan settlement.
Out of the eighty-eight protohistoric sites plotted on the map of Gujarat as a result of the joint efforts of the Archaeological Survey of India and the Archaeological Department of the erstwhile Saurashtra Government during the years 1954 to 1959 only six, namely Desapur and Navinal in Kutch, Lothal, Koth and Rangpur in Saurashtra and Bhagatrav in south Gujarat belong to the mature phase of the Harappa Civilization. Even so Lothal is the earliest among them. To this list must be added Gogha. All the rest are later settlements made after circa 1900 B.C. by the Harappan refugees who came from the lower Indus valley or the Sabarmati estuary.
Ahmedpur Mandvi Beach
On a 6 km stretch of clear Arabian waters kissing the beach, Ahmedpur Mandvi is one of Gujarat's lesser-known gems and finest pieces of coastline. Adjacent to the island of Diu, which lies just across a creek, it continues as Ghogla Beach into the adjoining part of mainland Diu.
From lazing on a hammock with a book to bathing in its pristine waters, this beach also offers many water sport adventures and opportunities for dolphin sightings. Situated where Gujarat and Diu come together, Ahmedpur Mandvi provides a rich blend of cultures from Saurashtra and the Portuguese influence from Diu, in several lively fishing hamlets.
How to get there
By road: Somnath is 79 km from Junagadh and 25 km from Chorwad. State transport buses and private luxury coaches connect various centres of Gujarat to Somnath.
By rail: Somnath is located 6 km from the nearest railway station at Vera