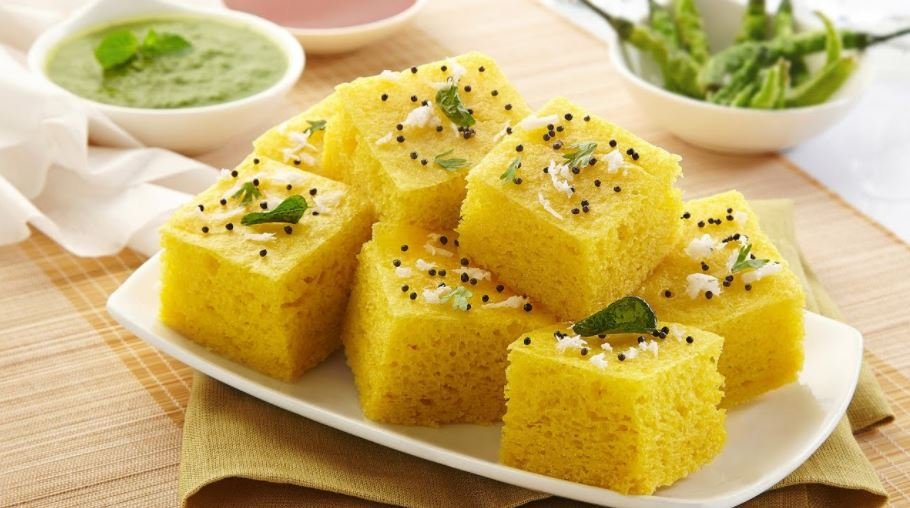 Many of us associate Gujarat only with dhokla, khakhra or the drool-worthy Gujarati Thali. But there is more to Gujarati food than that. North Gujarat, Kacch, Kathiyawad and Surti Gujarat are four major regions of Gujarat and each of these bring their own uniqueness to Gujarati cuisine.
Khaman
A tasty and healthy steamed snack made from freshly ground lentils and chickpea flour, it is very similar to its humble cousin, the world-famous -dhokla. To prepare the khaman, the khaman flour mix is boiled along with turmeric, salt and baking soda to make it light and fluffy. It is then cut up into cubes and usually garnished with mustard seeds, coriander leaves, sev and chopped onions. Traditionally served on a large green leaf called the Kesuda, the modern, urban version is served in newspapers in farsan (snack) shops with tangy chutneys and several pieces of green chillies. Popular adaptations of the khaman include Ameri khaman (mashed up khaman garnished with sev and pomegranate), Nylon khaman (softer and fast-cooking khaman) and Masala khaman (khaman served with hot and spicy chilly powder).
Ingredients
1 cup Bengal gram flour (Besan)
1 tbsp Sugar
1 tbsp Oil
1 tsp Ginger paste (Adrak)
1 tsp Green chilli paste
1 tbsp Lemon juice
180 ml water, or as required to make a batter
1/2 tsp Turmeric powder (haldi)
Salt to taste
1 tsp (heaped) Eno fruit salt (Plain)
Thepla
Thepla is one of the most popular traditional Gujarati recipes, which can be prepared with some easily available ingredients such as all purpose flour, gram flour, fenugreek leaves, green chilies, yoghurt, ghee and spices. This authentic Thepla recipe is one of the simplest and most delicious Gujarati delicacies. It makes for a perfect main dish that can be served as a breakfast delicacy, tea-time snack or as a lunch/dinner delight. If you have friends dropping by and you know they would love authentic Indian delicacies, then you can prepare this easy Thepla recipe. And we bet, they will love this amazing surprise. This delight is majorly served as a tea-time snack. However, there's no particular time to delve in the flavours of this lip-smacking Gujarati Thepla recipe. What's more, this easy Thepla recipe can make for one of the best snack options for festivals and special occasions. Not only are these Theplas delicious, but at the same time are a healthy choice to gorge on. If you are someone who is planning to shed some weight and relish something delicious without feeling guilty, then this thepla recipe is a perfect choice to savour with your friends and family. Most of the Gujarati delicacies are prepared as a fusion of mild-spicy and tangy flavours with perfectly balanced spices. Another amazing thing about Gujarati food is that it is easy to digest and is cooked using very less oil, which again amps up the health quotient of this amazing Thepla recipe. To enhance the taste of this delicacy, add some dry roasted spices and green chilies, if you are fond of the freshness of coriander leaves, then, finely chop and add it along with methi leaves; together, all these ingredients give a flavoursome twist to this thepla recipe. Thepla is a perfect light snack, which is not only delicious but is also non-messy and can make for a nice dish to pack for road trips, picnics and potlucks. You can add a nice twist to this desi delicacy by serving it with a choice of dips and condiments, this will add a fun twist to your game nights and kitty parties. So next time when you want to relish something delicious and flavoursome, make this easy Gujarati recipe at home and impress your guests with your culinary skills.
Ingredients
1 cup Wheat flour
1/2 bunch fenugreek leaves ( methi)
1/2 tablespoon yoghurt (curd)
2 pinches salt
1/2 teaspoon grated ginger
2 tablespoon dried fenugreek leaves
2 chopped green chilli
4 tablespoon ghee
3/4 cup Gram flour (besan)
1 cup water
Khandvi
I could never believe that this wonderful looking dish was so easy to make until I actually made it. Gujarati Khandvi is a delectable savory snack from the western state of Gujarat and goes well even with a cup of hot evening tea. We used to get it from mithai and savory shops mostly when we were expecting guests at home. However, this is no longer the case because of the ease and speed with which it can be prepared at home; I do not find a need to get it ready-made. It is made with gram flour and flavoured with tempered sesame and mustard seeds. The filling within the Khandvi rolls is a personal choice with people choosing paneer or some cheese while I make without it by just sprinkling a hints of coconut chives and coriander leaves on the top. Gujarati Khandvi has an inviting appeal and an amazing taste, so I never have any left overs.
Ingredients
Besan – 1/2 cup
Buttermilk – 2 cups
Ginger paste – 1/2 tsp
Salt to taste
Turmeric powder – 1/2 tsp
Oil – 1 tsp
Mustard seeds – 1/2 tsp
Sesame seeds – 1/2 tsp
Green chili – 1
Grated coconut and chopped coriander for garnishing
Muthiya
This is one of the popular Gujarati snack. This is healthy snack because it steamed not fried.
Steamed dudhi muthia is sautéed in oil with mustard seeds and sesame seeds. And that's why they get little crispy, brown layer around the outside. Sesame seeds give nice crunch and nutty taste to it.
Ingredients
Lauki (Gourd) – 2 cup (grated)
Wheat flour – 125 gms. (1 cup)
Sooji – 100 gms. (3/4 cup)
Gram flour – 100 gms. (3/4 cup)
Green chilli – 2
Ginger – 2 inch long piece.
Turmeric powder – 1/4 tea spoon.
Oil – 1 table spoon.
Salt – 3/4 tea spoon ( or according to the taste)
Sugar – 2 tea spoon.
Baking soda – 1/2 tea spoon.
Coriander leaves – 2 table spoon (chopped)
Handvo

Gujarati handvo is a savory baked snack made with mixed lentils & rice. In this recipe I am sharing how to make handvo in a pan. Since handvo is made from lentils and is fermented, it is a healthy snack.
Ingredients
1 cup rice
½ cup chana dal
¼ cup toor dal
2 tbsp urad dal
½ cup curd / yogurt
1 cup bottle gourd / lauki, grated
½ cup cabbage, grated
¼ cup carrot, grated
3 tbsp coriander, finely chopped
½ tsp ginger paste
1 green chilli, finely chopped
½ tsp sugar
¼ tsp kashmiri red chilli powder
¼ tsp turmeric / haldi
2 tsp oil
¾ tsp salt
1 tsp eno / fruit salt
FOR TEMPERING:
3 tsp oil
¾ tsp mustard
½ tsp cumin / jeera
1 tsp sesame / til
few curry leaves
pinch hing / asafoetida
INSTRUCTIONS
firstly, soak 1 cup rice, ½ cup chana dal, ¼ cup toor dal, 2 tbsp urad dal for 3-4 hours.
add ½ cup curd and blend to a smooth but slightly coarse paste.
further add 1 cup grated bottle gourd, ½ cup grated cabbage, ¼ cup grated carrot and 3 tbsp coriander.
also add ½ tsp ginger paste, 1 green chilli, ½ tsp sugar, ¼ tsp chilli powder, ¼ tsp turmeric, 2 tsp oil and ¾ tsp salt.
mix well making sure the batter is slightly thick like idli batter consistency.
now add 1 tsp eno / fruit salt and mix gently.