Situated at an altitude of 2730 m above sea level, Gulmarg is a popular skiing destination located in Pir Panjal Range of Union territory of Jammu and Kashmir. Surrounded by snow-covered lofty Himalayas, meadows of flowers, deep ravines, evergreen forested valleys, Gulmarg also has the world's second-highest Gondola ride.
Among one of the top honeymoon locations, Gulmarg boasts of being a beautiful town without the crowd like Manali and Shimla. Gulmarg has also been developed as an adventure hub as Indian Institute of Skiing and Mountaineering is located here. A lot of courses on trekking, mountaineering, skiing, etc. are offered by IISM at great prices here. However, if you are planning to do a course, it is advisable to book it well in advance. There are a lot of other private tour operators in Gulmarg as well which provide similar courses and facilities for skiing, snowboarding and trekking. Known for its scenic beauty, Gulmarg has also been a popular destination for shooting of various Bollywood films
Gulmarg Gondola
Ever since its existence, Gulmarg, the 'Meadow of Flowers' has attracted more than a thousand tourists with its exceptional beauty. One of the main attractions of this place is Gulmarg Gondola which is the second highest cable car in the world. Phase 1 of this cable car lift was made operational from May 1998 while the other phase came into running after 6 years in May 2005. An addition was made in the form Chairlift or phase 3 in 2011. Since then it has been a commercial victory for the government of J&K. The construction of this cable car even boosted the tourism in the state. The Gondola ride gives you the most extravagant views of both Gulmarg and Khilanmarg. It captures the beauty and splendour of this place at its best.
The 1st phase of Gondola takes you to Kongdori Station which is situated at the height of 8530 ft and the second stage goes up to the altitude of 12293 ft. It gives you a chance to have magnificent views of Nanda Devi, LOC, and Pir Panjal range. Apart from cherishing the beauty of Himalayan ranges, tourists can enjoy other activities like horse riding and snow skiing. The pine surrounded area becomes a white blanket in winters making it a skiers paradise. The place is perfect for re-discovering the child within you!
Khilanmarg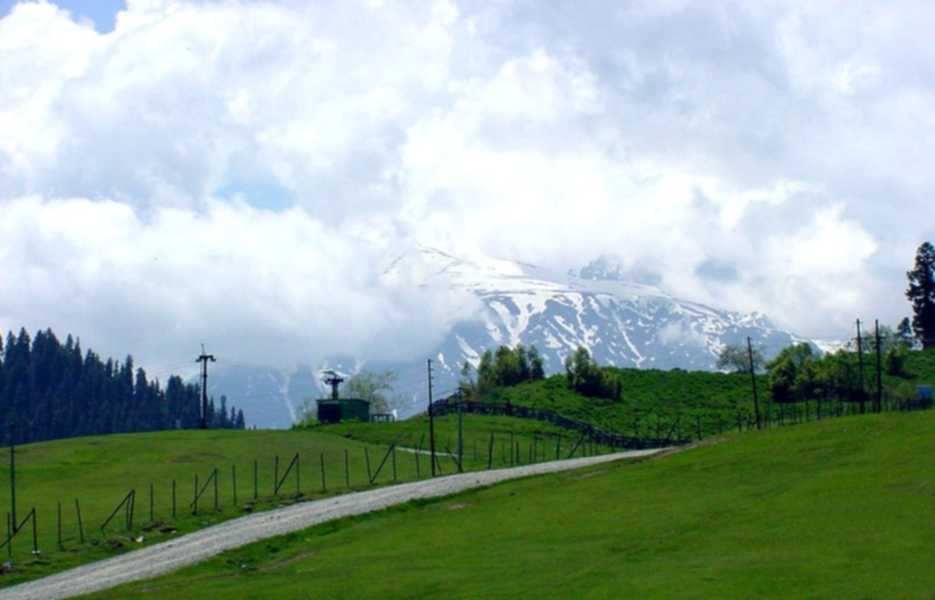 Khilanmarg is miniature valley set at a 6 km walk and 2000 feet above one of the most sought after tourist destinations in J&K-gulmarg.
One of the most delightful place to be in, Khilanmarg is surrounded by panoramic glimpses of some of the tallest Himalayan peaks. This place is the perfect incorporation of natural beauty couple with adventure sports, making it a favored destination for thousands of visitors. Khilanmarg is a great place for offbeat travel enthusiasts as the place is not directly reachable on vehicles. One has to either walk from Gulmarg or take a pony to reach this place.
Khilanmarg is covered with blossoming and aromatic flowers in spring and is a hot shot destination for skiing enthusiasts in winter. To add to that, the extravagant Nanga Parbat peak and the twin peaks of Nun and Kun are also visible from Khilanmarg.
Alpather Lake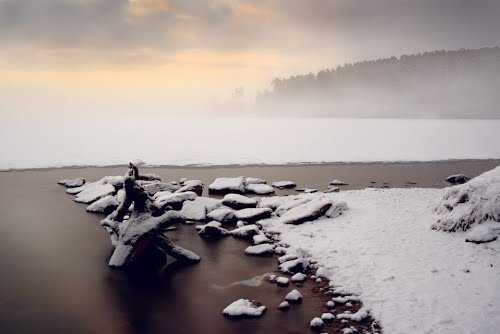 This lake is situated 13 km from Gulmarg, which is even beyond Khilanmarg, at the foot of the twin Apharwat peaks of Nun and Kun. The lake stays frozen during winters with striking scenic views.
Ducks are seen walking instead of swimming and large chunks of ice float in the lake. During summers, the lake is surrounded with beautiful flowers and trees. One of the most surreal lakes, it is a haven for the likes of photographers, philosophers, poets or people looking for solitude. So, while planning a holiday in Khilanmarg, make sure you include this attraction in your itinerary.
Maharani Temple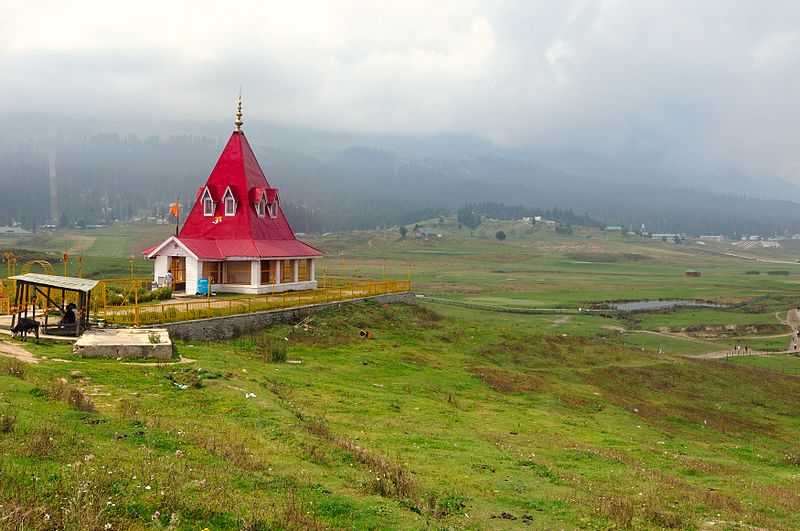 Situated in the middle of Gulmarg, the Maharani temple is an example of religions intertwined with a Muslim priest performing rituals in the temple.
Maharani Temple was built by Mohini Bai Sisodhi, wife of Maharaja Hari Singh in 1915. This temple belongs to the Dogra Kings of Jammu & Kashmir.
Ningli Nalla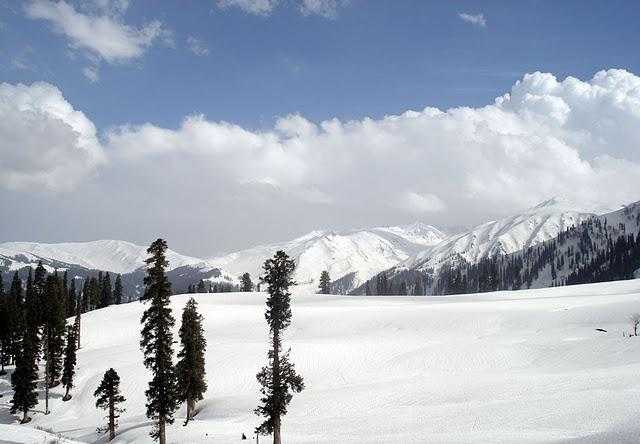 Situated 10 km from Gulmarg, Ningle Nallah is not just another mountain stream. This place is flanked with snow-capped mountains and lush green pastures from all four sides.
The water formed by the melting of ice in Apharwat Peak and Alpather Lake is the main source of Ningle Nallah. After passing through mountains and valleys, this stream unites with River Jhelum. This place is highly recommended for family outings especially if one has their kids along.
Ziarat of Baba Reshi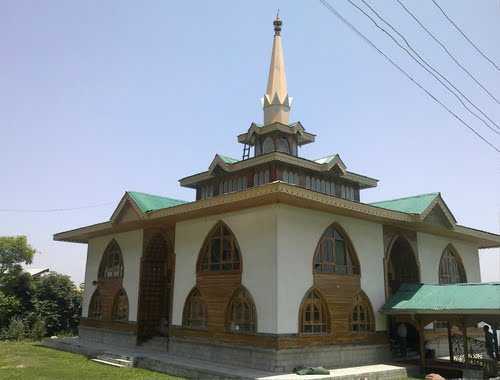 This shrine built in the 13th century is on the slopes below Gulmarg. The Ziarat or the tomb is of a well-known Muslim saint, Baba Payam-Uddin who died here in 1480.
He was a courtier to the Kashmir King Zain-ul-Abidin before taking the path of renouncing the worldly ties. With thousands of devotees visiting this shrine every year, regardless of the religion they follow, this shrine buzzes with activities and prayers.
Shopping in Gulmarg
There aren't too many options for shopping in Gulmarg. For the scarce ones that are, the prices tend to be more than double than those in areas around the town. It is highly recommended, to head to Srinagar, nearby, for your shopping spree, for a more enjoyable shopping experience.
Tangmarg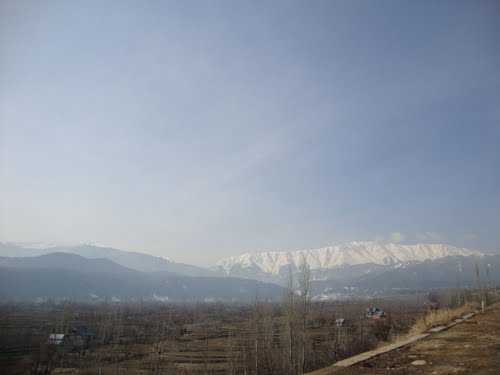 It is the famous stop-over enroute to Gulmarg. It connects Gulmarg by a 13km metal road and an exciting 5km trekking route. During winters, warm clothes, long boots and water proofs are available on hire.
St. Mary Church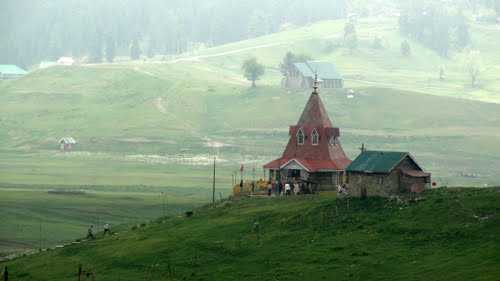 Standing tall, even after a 100 odd years, is this Victorian architectural wonder of the Saint Mary's Church located near the Golf Course in Gulmarg. This might well be your messiah to experiencing the ancient architectural wonders that our country is the most renowned for.
More like a tiny countryside chapel in appearance, this church is made of grey stone walls. The church looks the most scintillating during the winter season especially when it is surrounded by snow.