Travelling with your best buddies; no matter what time of year it is or whichever location it is, unlimited amount of fun and excitement are always guaranteed with the best friends.
When we talk about exploring different parts of India, North India is one part which always has a lot of visitors all round the globe. You can always find that rush in the major cities Delhi, Jaipur, Lucknow etc. Who would not love to explore theses enchanting cities. These are some of the major tourist places to visit in India. With its magnificent glory of culture, tradition and its people. Don't miss a chance to visit some of the best places in Delhi like Humayun's Tomb, Akshardham, Lodi gardens, Gurudwara Bangla Sahib, Chandni Chowk , Rashtrapati Bhawan etc.From delicious cuisine to some amazing culture this place has been calling us to explore it more and more. Get soak on the beauty of this region with the valleys and the beaches and the amazing waterfalls. So just pack your bags and head out for a wonderful vacation to the North.
Akshardham Temple
'Akshardham' means the divine abode of God. It is hailed as an eternal place of devotion, purity and peace. Swaminarayan Akshardham at New Delhi is a Mandir – an abode of God, a Hindu house of worship, and a spiritual and cultural campus dedicated to devotion, learning and harmony. Timeless Hindu spiritual messages, vibrant devotional traditions and ancient architecture all are echoed in its art and architecture.The mandir is a humble tribute to Bhagwan Swaminarayan (1781- 1830), the avatars, devas and great sages of Hinduism. The traditionally-styled complex was inaugurated on 6 November 2005 with the blessings of HH Pramukh Swami Maharaj and through the devoted efforts of skilled artisans and volunteers.
Each element of Akshardham echoes with spirituality – the Mandir, the Exhibitions and even the Gardens.
The Akshardham mandir has over two hundred murtis, representing many of the spiritual stalwarts over many millennia. The spiritual premise of Akshardham is that each soul is potentially divine. Whether we are serving the family, the country our neighbors or all living beings the world over , each service can help one move towards divinity. Each prayer is a call towards improving oneself and moving closer to God.
A visit to Akshardham is a spiritually enriching experience. Whether it is in realising the power of prayer, in feeling the strength of non-violence, in being aware of the universal nature of Hinduism's ancient principles, or just in admiring the beauty of God's abode on Earth –- each element has a spiritual significance.
Timing
| Day | Timing |
| --- | --- |
| Monday | Closed / Holiday |
| Tuesday | 9:30 am – 6:30 pm |
| Wedesday | 9:30 am – 6:30 pm |
| Thursday | 9:30 am – 6:30 pm |
| Friday | 9:30 am – 6:30 pm |
| Saturday | 9:30 am – 6:30 pm |
| Sunday | 9:30 am – 6:30 pm |
Chadar- A Frozen River Trek

Chadar Trek in Ladakh is like no other trek in the Himalayas. Walking on a frozen thick glass like river, with dramatic mountains on both sides, is an experience of a lifetime. At only 11150 ft altitude Chadar Trek almost feels like an expedition to the North Pole, where the temperatures drop down to -30 degrees at night, the ration is transported on sledges, you find refuge in caves and life blossoms on survival instincts, making it an eminently 'do before you die' trip. The Chadar trek allows you to get to know the Zankari culture up close through the locals you meet on the trek and experience their hospitality. One of the highlights of the Zanskar frozen river trek is the most magnificent waterfall frozen completely from top to bottom called Nerak waterfall. The best time for Chadar trek is from mid-January to mid-February, that is when the Zanskar river freezes and you get to walk on massive slabs of ice spreading for miles and miles. The landscapes and overall experience will leave their imprints on your hearts forever. When it comes to trekking In India, Chadar is the most glamorous trek. From 2019 onwards, the local administration has made it mandatory for every Chadar Trek participant to undergo a medical examination at SNM Hospital, Leh post which a fitness certificate would be granted. We would provide more information closer to the departure date on this aspect. Continue reading here for all important information like – Chadar Trek Temperature, Route Map, Itinerary, Photos, and Videos. We have some essential blogs linked at the end to help you prepare for Chadar – The best trek in India.
Markha Valley Trek

The Markha Valley Trek is one of the most popular treks in Ladakh, and for good reason too. There are incredible sights and surreal rock formations, timeless villages, snowy mountains and delightful Buddhist gompas. The Markha Valley trek is by no means an easy one, there are two passes of 4900 m or higher to negotiate, coupled with a possibility of snowfall in the higher reaches, even when the passes are trekkable.
The beautiful Markha Valley runs parallel with the Indus on the far southern side of the snowy Stok Kangri massif. The trek passes through cultivated valley floors, undulating high-altitude grasslands and snow-prone passes; it is a trekkers delight for it affords a glimpse into the Ladakhi past with most of it at altitudes of less than 4000 m.
The Markha Valley is wedged between the Stok Kangri range to the north and the Zanskar peaks to the south. It is also known for being a 'tea house trek' where one can expect accommodation in parachute tents or homestays at most of the villages enroute. It is possible for a reasonably fit solo trekker to complete the trek without a porter and a guide, and usually there is little need to carry food or cooking utensils.
June to September is considered to be a good period for the Markha Valley trek although July and August are widely known to be the best months.
Rishikesh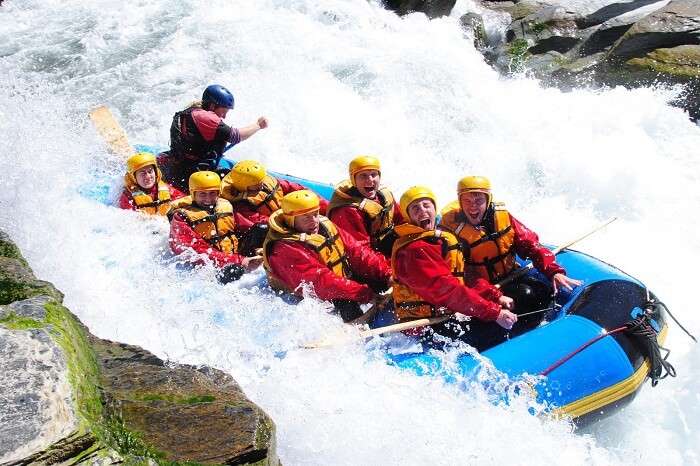 Ganga rafting in Rishikesh has gained steady popularity in the last few years with adventure enthusiasts from India and abroad flocking to the town for a taste of what it has to offer. The rising demand for the sport has naturally led to the growth of several rafting tour operators in Rishikesh. It's important to partner with the right company to have a good experience. Red Chilli Adventure is the best river rafting company in Rishikesh with 20 years of expert experience in the region and knowledge of the sport. Our staff of highly-trained instructors accompany you on each tour and give you a detailed brief about safety guidelines at the start of your trip. We provide all imported rafting equipment like paddles, life jackets, helmets and Clean fresh smelling wetsuit and splash jacket in winter time. We also provide transport to and from the starting point of the trip. So, the next time you're in Rishikesh and looking for an adventure, make sure you book with us for an adrenaline rush like no other!
Also blessed with Garhwal Himalayas and the holy Ganges, Rishikesh is one of the ancient cities in the country. Talking about the places to visit in and around Rishikesh, the city offers a myriad and engrossing list to its visitors. River Rafting is also an activity which should be on your bucket list.Jotted with sacred temples, pious ghats, tranquil ashrams and evergreen forests, this serene city has something for everyone.
Pushkar
Pushkar Lake or Pushkar Sarovar is the centerpiece of the quiet town. It's a sacred lake of the Hindus and was mentioned in history as early as the 4th century BC. What I immediately noticed when I arrived in Pushkar is how peaceful the town was and it was due to the serenity of the lake. Rituals and offerings happen throughout the day at the lake although at night huge Aarti ceremonies take place.
The lake is considered a holy place and there are certain rules for foreigners who are visiting. Like the locals, no shoes are to be worn while walking near the lake or on the bridges that cross the water. I found this out after one local ran towards me asking me to remove my shoes. Of course, I obliged and continued to remove my shoes for the rest of my time in Pushkar. I did have to laugh at the inconvenient combination of the no-shoe rule and the endless piles of cow shit spread along the paths. No shoes and piles of poop make for interesting night walks back to the hotel!
Best time to visit Pushkar
The best time to visit Pushkar is dependent on the weather and festivals. On the 23rd of October til the 4th of November, the famous Pushkar Camel Fair is in full swing. It's one of the most recommended things to do in Pushkar so if you can time your trip for this 10 day period, it's the time of the year where the town is full of action and good vibes. Therefore to see the town at its finest the best to visit Pushkar is in late October.Report this ad
Another awesome festival that is run in Pushkar is the Hot Air Ballooning Festival, which runs from 5th Nov to 14th Nov 2016.
If you are considering what the best time to visit Pushkar is and are worried about the weather here's what you need to know:
Summer (March – June) Incredibly hot. You will melt in temperatures reaching up to 45 degrees. Nights and mornings will be enjoyable. (When I visited)
Winter (November – February) 15 degrees during the day and can get down to 5 degrees at night. Many festivals during this period.
Monsoon Season (July – September) Pushkar doesn't attract too much rain so monsoon season won't ruin your trip but you may get a little wet.
Auli
Dotted with the apple orchards, old oaks and pine trees there is no dearth of natural beauty in Auli. Apart from skiing you can also go for numerous treks in the hills of Garhwal Himalayas and enjoy the spellbinding views of the snow-draped mountains. Auli is a popular hill resort in the Himalayan range dating back to 8th Century AD.
Auli is a popular skiing destination in India because of its glittering slopes and clean environment. Dotted with apple orchards, oaks and deodars, Auli is a popular hill town with numerous ski resorts situated amidst the Himalayan range. Located at 2800 meters above sea levels, it is home to mountain ranges of Nanda Devi, Mana Parvat and Kamat Kamet. Many religious destinations are also scattered around Auli. It is believed that Shankracharya had blessed Auli with his visit.