Find out whether February is a good month to visit New Zealand, what you can do, where you can go, and what the weather is like in February.
February marks the end of summer in New Zealand.
Because the Summer Holiday for New Zealanders in December and January has come and gone, February is busy like January but not an extremely busy time to visit New Zealand.
Waitangi
Welcome to New Zealand's most important historic site. The Waitangi Treaty Grounds, with fantastic views over Paihia and across the bay to historic Russell.
The Waitangi Treaty Grounds are an absolute must-do when you are in the Bay of Islands – rich in history and stories of the momentous events which shaped our nation. Gain a deeper understanding of Maori culture during a guided tour with one of our professional guides and enjoy a high quality cultural performance in our beautiful carved meeting house (Whare Runanga).
Take time to wander through the beautiful grounds of the Waitangi estate, complete with extensive gardens, bush tracks, beaches, and fabulous views over the Bay of Islands and beyond. As you enjoy an inspiring and interactive full day experience as you discover Waitangi's contemporary museum, powerful M?ori cultural performances in an authentic Meeting House, entertaining guided tours, lush native forest and gardens, carving studio with live demonstrations, Marvel at the scale of Ngatokimatawhaorua, one of the world's largest carved war canoes (waka taua) and a quality café in tranquil surrounds, and so much more, all with stunning views over the Bay of Islands.
The Museum of Waitangi offers our visitors fascinating exhibitions and learning spaces that greatly enhance experiences of the Waitangi Treaty Grounds.
Stories of Waitangi, the place and the Treaty, are narrated through high quality exhibitions that use multi-media and strong visual displays. Significant taonga (treasures) associated with Waitangi and laden with meaning have made the journey home to help relate our country's founding story .
Attraction
Waitangi Treaty Grounds
Haruru Falls
Cruise to the Hole in the Rock
Bay Of Islands
Explore Group Bay of Islands
Coastal Kayakers – Bay of Islands
Waitangi Mountain Bike Park
Dune Rider – Explore Group
Abel Tasman National Park
Located on the northern end of New Zealand's South Island, Abel Tasman National Park is a favorite for locals and visitors alike.
The park is named after a Dutch explorer who was the first European to visit New Zealand, in 1642. The stretch of sea and land is still largely undeveloped and unspoiled, making it the perfect destination to experience the best of New Zealand.
How to Visit
Whether you like communing with nature or relaxing in luxury, there's a way for everyone to see the park.
Marahau Water taxis and Abel Tasman Aqua Taxi both offer options for day and overnight trips, including scenic boat tours, drop-offs for hikes, and transit to Awaro Lodge, the only lodge accommodation in the park, where visitors can have a meal or stay overnight. Abel Tasman Aqua Taxi also offers an overnight trip with dorm-style accommodation.
For those interested in a bit more adventure, hiking and kayaking are the best ways to experience the area. Abel Tasman offers everything from guided tours to "freedom" rentals, where kayakers can explore the park on their own.
Coromandel Peninsula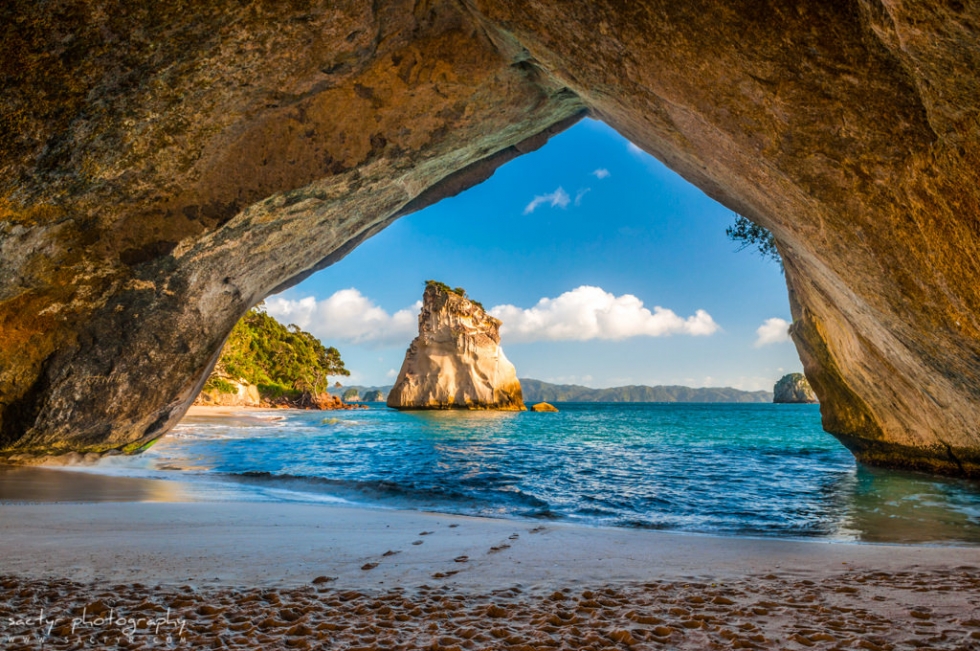 Coromandel Peninsula, more commonly known as The Coromandel, is a region of exceptional natural beauty. Swim or surf in pristine blue-green water at many secluded beaches. With dense, misty forests and impressive mountainous valleys, The Coromandel is perfect for outdoor activities, such as hiking, mountain biking, kayaking and boating.
Dig your own spa pool in the sand at Hot Water Beach. The beach is famous for its natural springs occurring 2 hours either side of low tide. The phenomenon is due to nearby underground fissures that filter hot water to the surface. Hot Water Beach also features excellent cafés and art galleries.
Drive from Hot Water Beach to Cathedral Cove in about 10 minutes. The naturally formed archway is one of the region's highlights. Reach the secluded site via a walking track or by kayak. Cathedral Cove is also an excellent place to swim, dive, picnic and sunbathe.
Thames, known as the rural centre of the peninsula, contains many cafés, restaurants and boutique shops. With lodges and self-catered apartments, the former gold-mining town is a great place to stay when exploring the peninsula. Learn about the town's early Māori history or plan a trip to the nearby Kauaeranga Valley.
The Pinnacles Track (Kauaeranga Kauri Trail) is an excellent way to view The Coromandel's magnificent natural beauty. Known as one of New Zealand's best overnight hiking trails, the Pinnacles Track meanders through the rugged Kauaeranga Valley, just upstream from Thames. Reserve a spot in Pinnacles Hut, a serviced 80-bunk building, if you wish to complete the track over 2 days.
Find Thames about 115 kilometres (70 miles) from Auckland. With luxury hotels, resorts and affordable lodges, Whitianga is also a great place to stay when visiting the peninsula. Plan your trip to The Coromandel in advance to get the most out of this magnificent natural region.
When visiting The Coromandel, pack suitable hiking shoes and clothing so you can experience some of New Zealand's most beautiful natural areas.
Attraction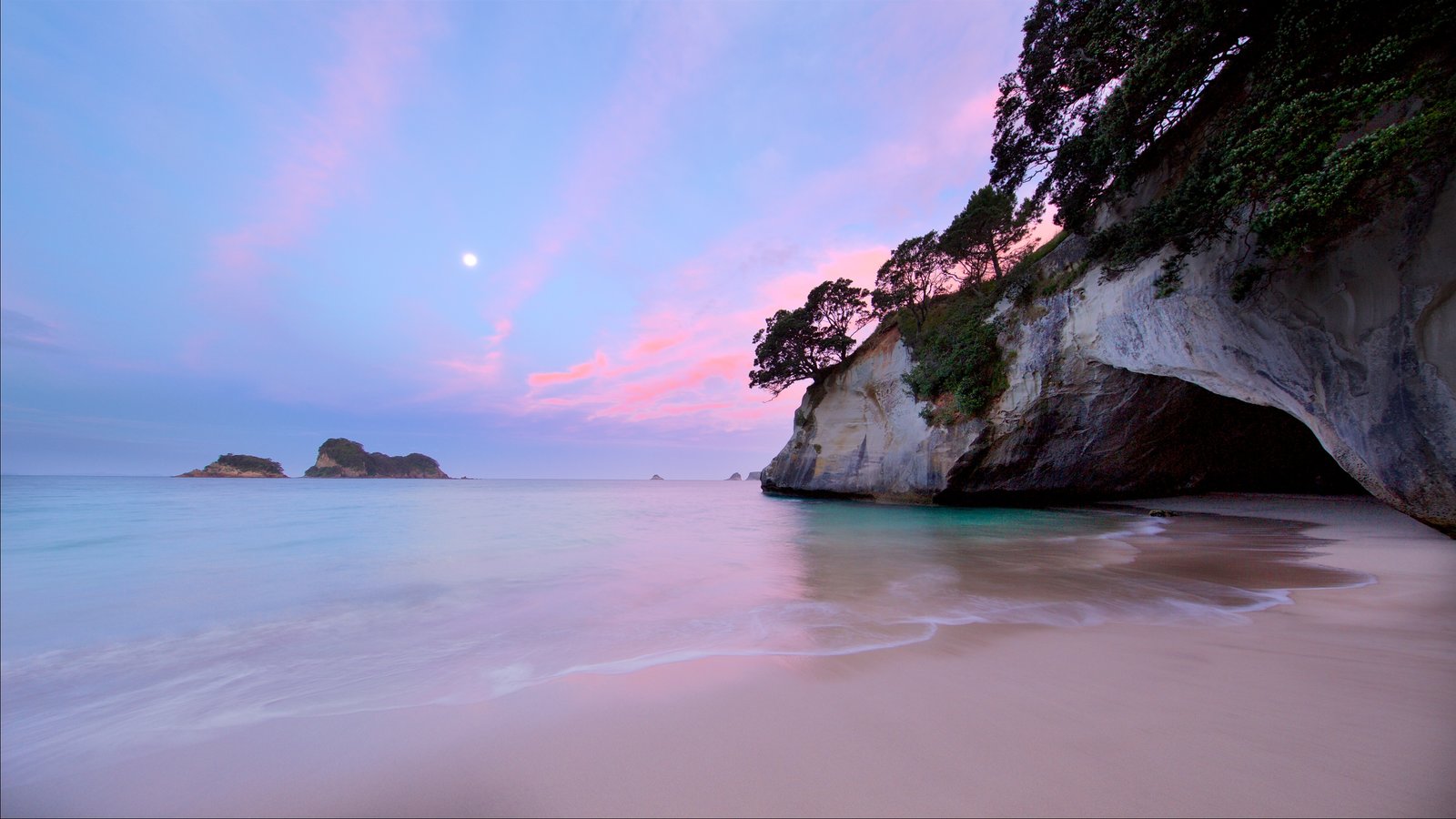 Driving Creek
Kauri Block Walk
Hot Water Beach
Te Whanganui-A-Hei Marine Reserve
The 309 Road
Karangahake gorge
New Chums Beach
The Waterworks