Long a favorite vacation destination for North Americans, Mexico is also becoming increasingly popular with tourists from Europe seeking to enjoy the country's seemingly endless sunshine, stunning scenery, and beautiful sandy beaches-not to mention its astonishingly rich cultural heritage. So important are Mexico's ancient Aztec and Mayan sites and historic colonial cities that many have been designated as UNESCO World Heritage Sites, ensuring they'll remain unchanged for generations to come. Interestingly, these locations-including places like Guanajuato, Chichén Itzá, and Uxmal-are often as popular as traditional beach vacation spots like Cancún, Puerto Vallarta, and Playa del Carmen.
Topping the whole experience is the country's rich culture, a fascinating mix of native people, as well as colonial influences from Spain, that shows up in everything from the country's culinary creations to its vibrant musical and dance traditions. It's also a country rich in flora and fauna, as it is spread across climate zones that encompass everything from arid deserts to lush tropical rainforests. To ensure you plan the very best Mexican travel itinerary possible, check out our list of the best places to visit in Mexico.
Cancún and the Mayan Riviera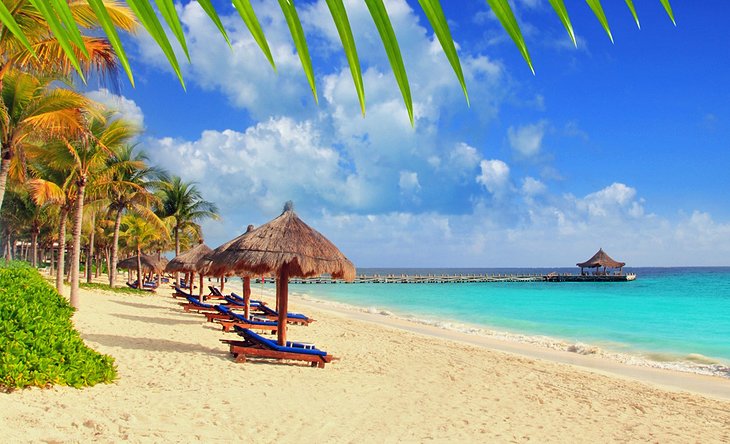 Lying along a beautiful stretch of coastline on the Gulf of Mexico are the resort destinations of Cancún, Playa del Carmen, and the island of Cozumel, collectively known as the Mayan Riviera. This magnificent area on the tip of the Yucatán Peninsula attracts some five million visitors each year, in the process generating huge tourist revenues. Despite these numbers, you're unlikely to feel like a part of a crowd due to the Riviera's wide beaches and endless crystal-clear water.
The area also boasts numerous fun things to do, such as dolphin and stingray swims, snorkeling among reefs and tropical fish, as well as scuba diving in the world's largest underwater museum, a spectacular collection of sculptures submerged at depths of up to eight meters. Then, of course, there's the region's many ancient Mayan ruins, with some of the closest sites within walking distance of the beaches, while the largest and most impressive-Chichén Itzá and Tulum-are just a few hours away.
Puerto Vallarta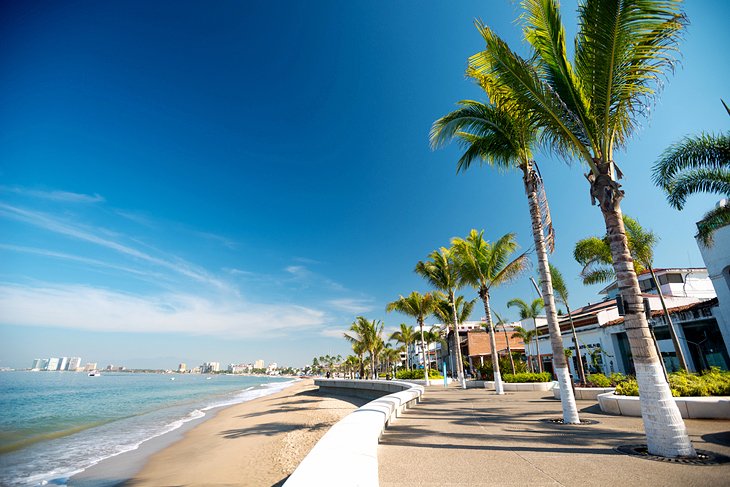 Another of Mexico's increasingly popular beach destinations is the Pacific coastal city of Puerto Vallarta. Often shortened to just "Vallarta," the city first appeared on the vacation radar in the 1960s as a playground for North America's social elite and has since become extremely popular among foreigners looking for second homes in a sunny, warmer climate. Many parts of it remain untouched by modern development.
Nowadays, the city is as likely to attract an older cruise ship audience looking to swim with the dolphins as it is younger travelers looking for adventure, found here in activities as diverse as paragliding and jet skiing. For those who like vacationing at a little slower pace, the city also boasts many locations to shop for arts and crafts or to simply stroll along pleasant beachside promenades with their many green spaces and sculptures.
Cabo San Lucas and the Los Cabos Corridor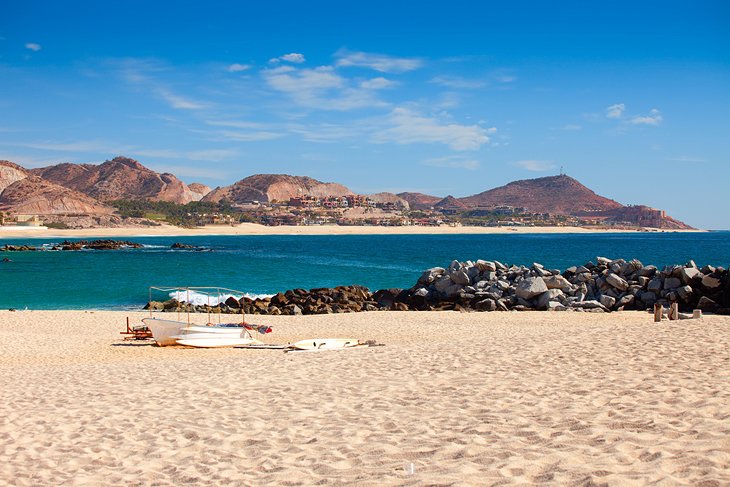 At the southern tip of the beautiful Baja Peninsula, Los Cabos-often referred to simply as "Cabo"-is one of Mexico's top beach destinations. Consisting of a large stretch of coastline that extends from the towns of Cabo San Lucas and San José del Cabo and known as the Los Cabos Corridor (Corredor Turistico), this 30-kilometer stretch of pristine beaches attracts visitors the world over for its clear waters, diving, snorkeling, and fishing (it also hosts the world's largest marlin contest).
Numerous resorts have sprung up that cater to all tastes and budgets, from luxurious spas to golf-centered properties offering some of the best courses in North America. In addition to spending time on the beaches and exploring Cabo San Lucas, one of the most popular activities is swimming and snorkeling around the famous natural landmark El Arco de Cabo San Lucas, a huge archway carved out of the coastline where the Sea of Cortez meets the Pacific.
Copper Canyon: Mexico's Grand Canyon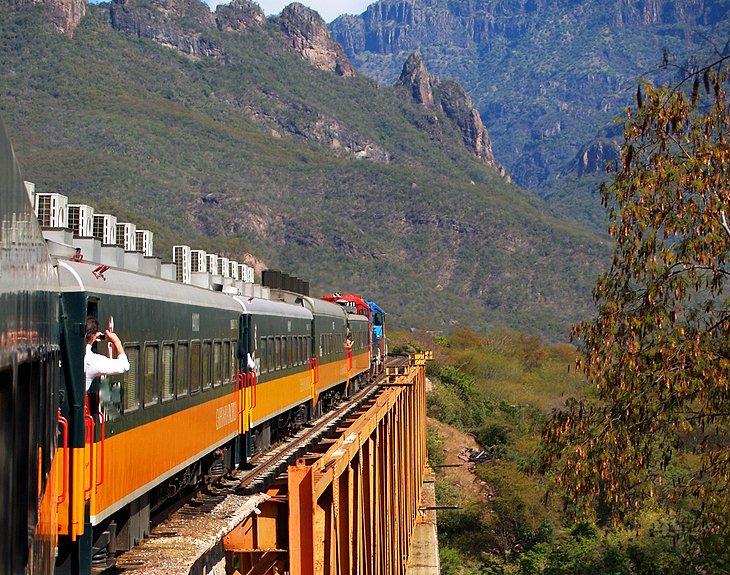 Chihuahua, one of Mexico's most northerly states-it shares the border with New Mexico in the US-is home to one of the country's most visited natural attractions, the stunning Copper Canyon (Barranca del Cobre). Located in a region known as the Sierra Madre Occidental and consisting of a spectacular group of deep canyons, Copper Canyon is in fact larger and deeper than its better known cousin, the Grand Canyon. Taking its name from the distinctive copper green coloring along its steep canyon walls, these amazing natural structures were formed by six rivers that converge in the Rio Fuerte before draining into the Gulf of California.
Thanks to the area's increased popularity as a travel destination, there are numerous options available to those wanting to explore this area of outstanding natural beauty, from scenic rail trips aboard the Ferrocarril Chihuahua al Pacífico to more adventurous excursions by bike or even on horseback.
Mexico City's Historic Center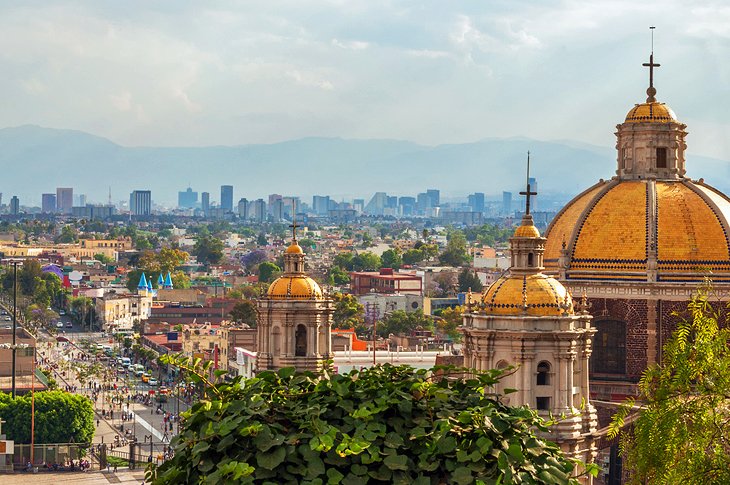 Mexico City (Ciudad de México) is not only the capital of the country and the seat of government, it is one of the country's most popular alternative travel destinations thanks to its many world-class museums, art galleries, and attractions. Don't be put off by its size. Instead, focus your efforts on the historic city center (Centro Histórico de la Ciudad), a 15-square-kilometer UNESCO World Heritage Site boasting more than 1,400 important colonial buildings from the 16th to the 19th centuries.
It's here, you'll find most of Mexico City's major attractions, many within walking distance of Constitution Square (Plaza de la Constitución), the city's bustling main plaza, including the National Palace, the Metropolitan Cathedral, and the Templo Mayor with its Aztec relics. Adding to the whole experience are the huge volcanic mountains overlooking the city, Popocatépetl and Iztaccíhuatl, each over 5,000 meters tall and offering a perfect excuse to get out and explore the stunning scenery in this part of the Mexican Highlands.
Chichén Itzá: The Mayan Metropolis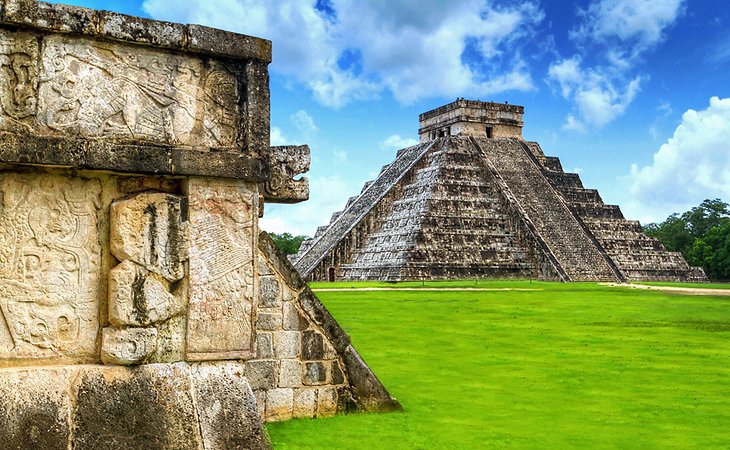 A popular day trip for those visiting Cancún and Playa del Carmen or the Yucatán capital of Mérida, the magnificent Mayan city of Chichén Itzá is one of Mexico's most visited archaeological sites, as well as one of the biggest and best restored. Highlights of a visit to this UNESCO World Heritage Site are numerous. A must-see here is the massive El Castillo, also known as the Pyramid of Kukulkán, and at 30 meters high, the site's tallest structure.
Another noteworthy point of interest here is the magnificent Caracol, an almost 1,000-year-old observatory that stands testament to just how advanced the Mayans were. The building is notable for the narrow slits in its walls allowing the sun to penetrate twice per year, so priests could accurately determine the date. Also of interest are the site's numerous statues, including many examples of the famous Mayan Chacmools holding their sacrificial vessels as they continue to protect these old temples.
Guanajuato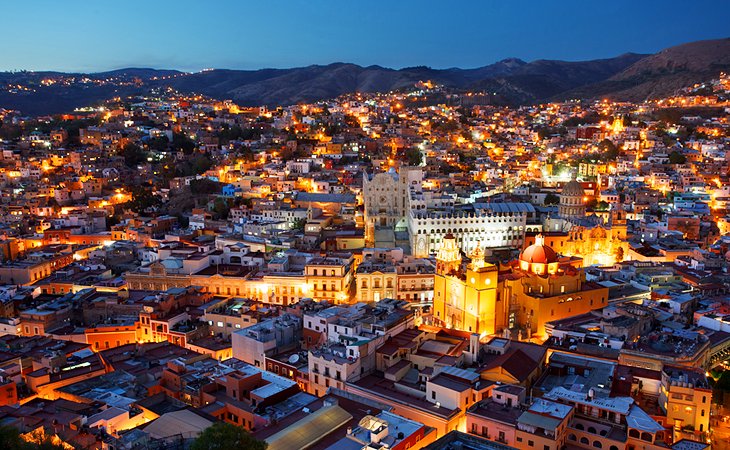 Designated a UNESCO World Heritage Site thanks to its many old colonial buildings, winding lanes, and narrow alleys, Guanajuato is a city that just begs to be explored on foot. A particularly pleasurable experience is visiting its many plazas, including the delightful Jardin de la Union, the city's main square with its splendid old architecture. It's here, you'll find the beautiful old San Diego Church and the majestic Juárez Theater, along with fountains and flower beds, cafés, and restaurants.
Afterwards, head underground to the city's subterranean streets, part of a network of tunnels that once carried a river but are now used by cars and pedestrians wanting to get around the city quickly.
Known as an art city, Guanajuato is home to many fine galleries, as well as interesting museums, none more so than the Museum of Quixote, dedicated to the works of Spanish writer Miguel de Cervantes. The city also hosts Latin America's most important festival in honor of the writer, the International Cervantino Festival. And if you've got the stomach for it, check out the city's famous Mummies of Guanajuato exhibit, with its many naturally mummified remains of locals who died during an outbreak of cholera in the mid-19th century.
Ixtapa and Zihuatanejo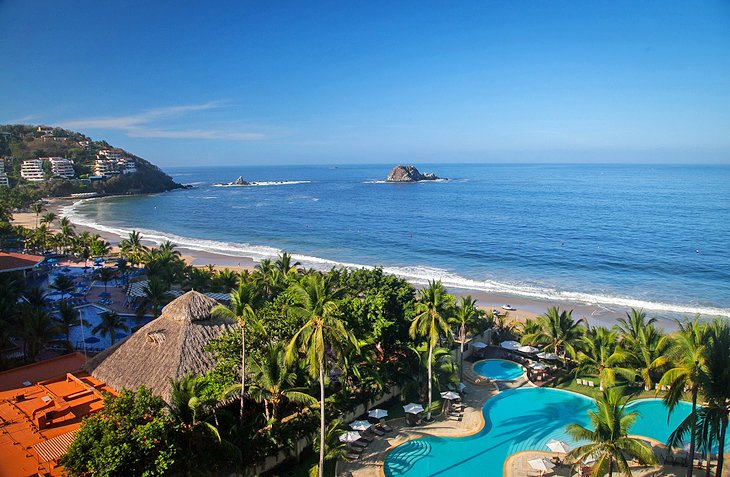 While there's no denying the appeal of Mexico's larger beach resorts, there's much to be said for paying a visit to some of the country's many smaller vacation destinations. Two of the very best are the town's of Ixtapa and its neighbor, the much smaller former fishing village of Zihuatanejo on the country's Pacific coast. Although the larger of the two, the former coconut and mangrove producing town of Ixtapa has been carefully master-planned as a tourist hub to good effect-its streets and beaches are uncluttered and easy to get around.
The contrast to traditional beach resorts is even greater in beautiful Zihuatanejo, which has worked hard to keep its small town feel. Lying along a small, well-protected bay, it's a delightful and safe town to explore, home to a number of fine hotels and restaurants. Fun activities include shopping in its fish market or, better still, taking a fishing excursion to catch something of your own.
The Ancient Fortress of Tulum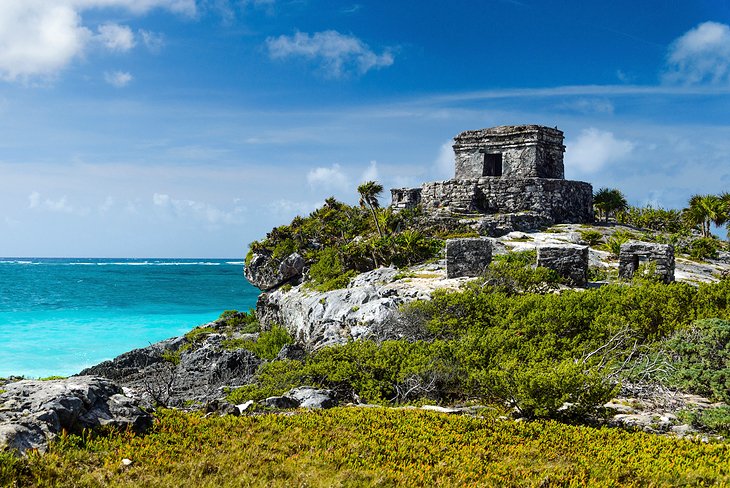 Famous as the only fortified Mayan settlement located on the coast, the ancient city of Tulum is one of the Yucatán Peninsula's most visited attractions. In the Mayan Riviera and within easy reach of the beaches of Cancún, Playa del Carmen, and Cozumel, the site's well-preserved ruins can be seen for miles around due to their location atop 12-meter-high cliffs overlooking the beautiful Caribbean Sea.
Tulum is also famous for its tall walls, giving the site the feel of a fortress and suggesting a military, as well as religious significance. Dating from the 13th century, the town was inhabited up until the Spanish arrived in 1544 and contains many other important archaeological finds, including the Temple of the Frescoes (Templo de los Frescos), with its sculptures and reliefs, and the Castillo, the site's largest building, famous for its cliff side location.