Best time to visit:-
Munnar in Winter (September to November and January to March)- Best Season to visit Munnar. The best time to visit Munnar would be October to November and from January to May when it is comfortably cold. There may be occasional rains which will give a misty experience of Munnar.
Why munnar is famous for?
The hill station enjoys a favorable and pleasant climate all year round and is famous for its lush green hills and tea plantations. Being located in the Western Ghats, Munnar is also home to several protected areas which house some of the most rare and endangered species of flora and fauna.
The idyllic hill station Munnar – famous for its tea estates, exotic lush greenery and craggy peaks, is located in the Western Ghats, in the state of Kerala. It serves as the commercial centre for some of the world's largest tea estates. In addition, Munnar has many protected areas which are home to endemic and highly endangered species like the Nilgiri Thar and the Neelakurinji.
One of the biggest tea-plantation area of South India, Munnar is one of the most beautiful and popular hill-stations of Kerala. Situated on the banks of three rivers- Madupetti, Nallathanni and Periavaru, Munnar is also blessed with natural view-points apart from the tea-plantations. Munnar is divided into Old Munnar, where the tourist information office is, and Munnar, where the bus station and most guest houses are located. The Eravikulam National Park, Salim Ali Bird Sanctuary and tea plantations are its major attractions.
Echo Point
Located at an altitude of 600 ft. and at a distance of about 15 kilometres from Munnar, Echo Point is situated right in the lap of a quaint lake and misty hills covered with lush green trees. As the name suggests, this place is well known for its enthralling illustration of the phenomenon of echoing. As you scream, it is fun to hear your voice reverberate around the attraction again and again.
The unique beauty of the Echo Point marks the confluence of three mountain ranges, Mudrapuzha, Nallathanni, and Kundala. Situated on the banks of a lake, the calm and serenity of this place are enchanting. You can indulge in a peaceful walk around the gentle slopes of the hills here, or go for boating in the serene waters of the lake. Echo point is a paradise for birdwatchers, as many native birds can be spotted here. You can also see a few shops on the periphery of the attraction selling local items of the hill station. You will find the rare Neelakurinji flowers or Strobilanthes that blooms and enhances its beauty. On your visit to Munnar, Echo Point should be on your to-do list.
Atukkad Waterfalls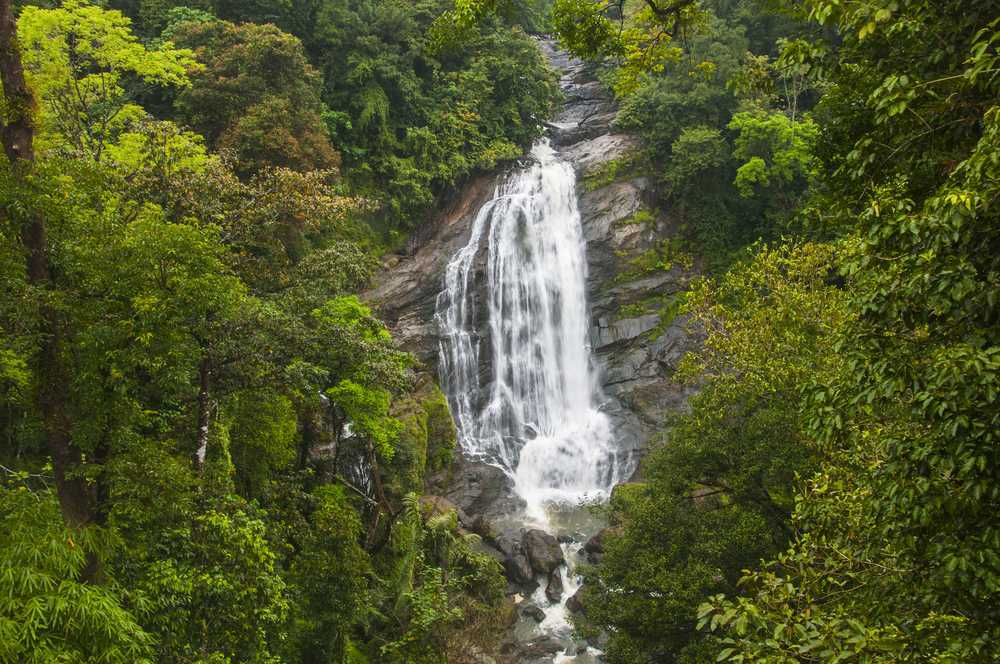 Nestled 2 km away from Munnar amidst beautiful hills and lush green jungles, this pristine waterfall makes for romantic escapades and picnics site. However, the road to Atukkad is very narrow and needs a lot of experience to drive on.
Pothamedu View Point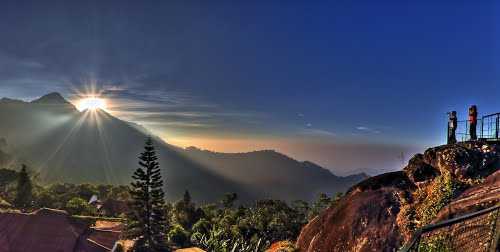 Pothamedu View Point, situated 5 km off Munnar, is adorned with stretching hills and lush green mountains. One can witness the spectacular wide views of tea, coffee and cardamom plantations of the area. It is an ideal place to witness beautiful sunrises and sunsets. Idukki Arch Dam which is about 60 kms away is visible from this viewpoint on a clear day,
Photo Point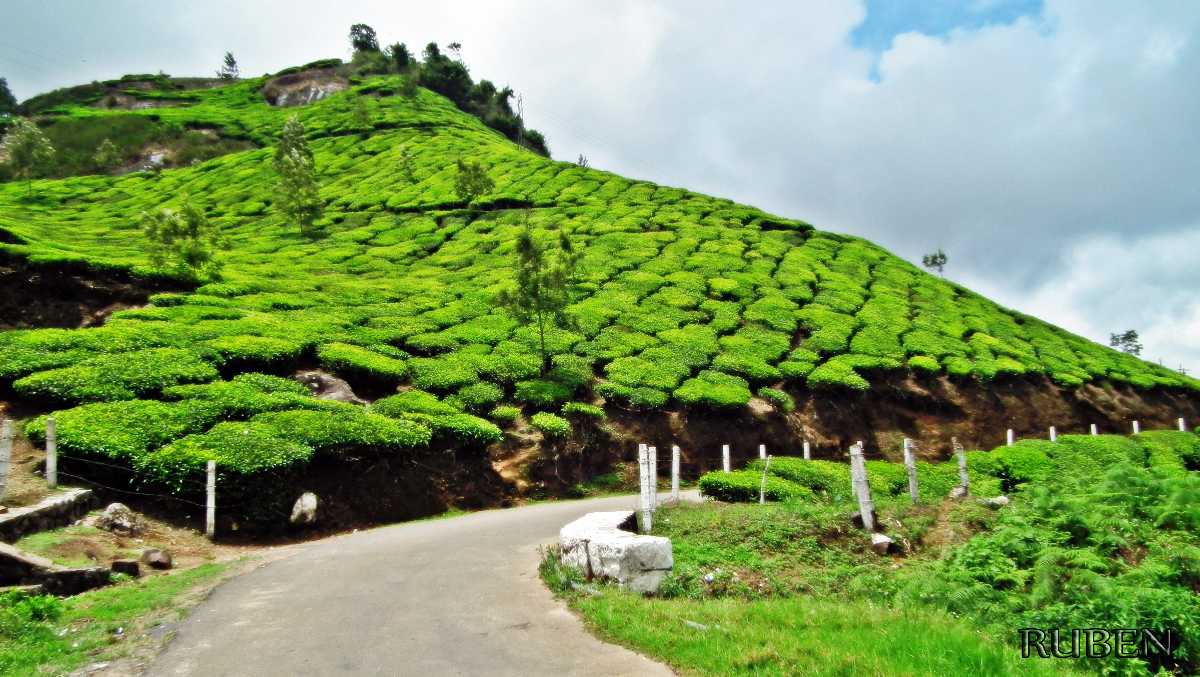 Photo Point is this picturesque site perched atop the low rolling slopes and undulating plains of Nilgiris in Munnar. In the backdrop of the stretches of tea gardens typical to this region of the country, this point serves as an excellent photographic opportunity; as it is clear from the name itself. Many people choose not to stop in this location because there is not much to see here, but once you get off the car and take a look around, the gorgeous surroundings will take you in like their own.
Photo point is the ideal place to experience the charms of the indigenous vegetation of the region. Sprinkled with gently rolling hills, babbling brooks and glistening silver oaks, the beauty of this place lies in its simplicity. The turquoise sky against the emerald tea gardens is a breathtaking sight, and the lake nearby elevates the experience to another level.

Apart from its scenic beauty and lush green tea gardens, it is also known for aromatic spices. The route up to the spot is quite spectacular as well and makes the entire journey worth it. Photo Point is a famous sightseeing, a picnic spot and a filming destination, and rightfully so. When in Munnar, make sure that you do not miss this stunning beauty!
Top Station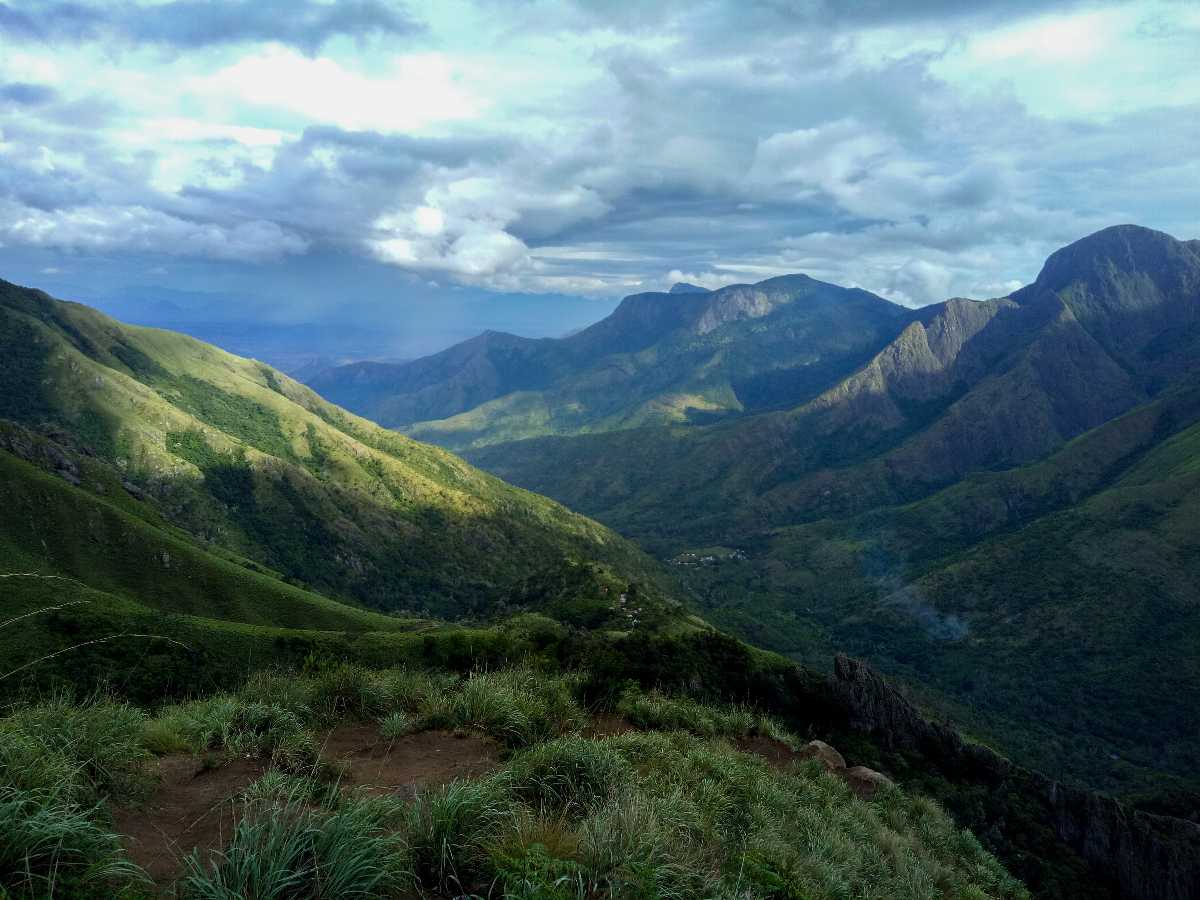 Top Station is located about 32 kilometres away from Munnar, on the border of Kerala and Tamil Nadu. It the highest point in Munnar (1700 metres) to enjoy the panoramic view of the majestic Western Ghats and valley of Theni District of Tamil Nadu. Top Station with its low-lying clouds and abundant foliage, is an excellent example of natural beauty. Top Station is historically known as a transhipment point for the delivery of tea that Munnar produced to Tamil Nadu and got its name as it was the uppermost railway station in Kundala Valley. You can still find the ruins of ropeway lines.
Every 12 years, Top Station provides the view to one of the most exotic sightings and beautiful miracles of nature – Neelarkunji. The hills in and around it are laden with the shrub Neelakurinji, and once in every 12 years, these shrubs blossom with blue flowers, leaving the mountains with a coat of blue. Top Station is also famous for its tea gardens. You can also interact with the tea pickers and get a taste of the regional culture and lifestyle.
Tata Tea or KDHP Museum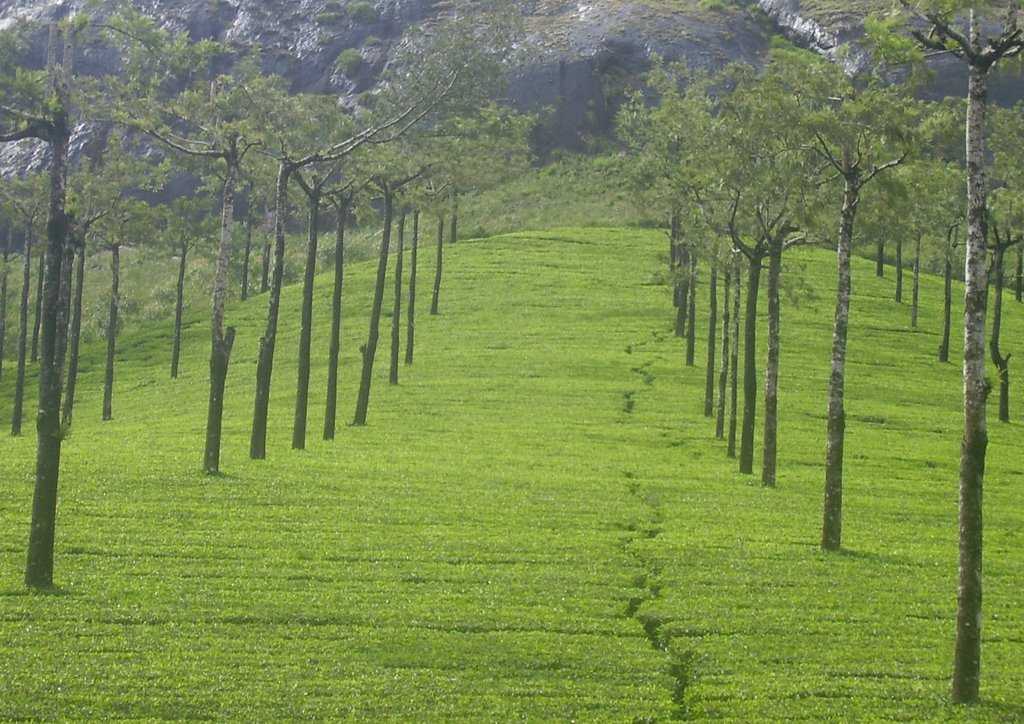 Located in the Nallathanni Estate of Tata Tea around 2 km from Munnar, the KDHP Museum showcases a variety of antiquities, the most famous being the burial urn excavated from the vicinity of Periakanal Estate, dating back to 2nd century AD.
A 30 minute documentary feature by the museum will take you through a historical sojourn of the place. Visitors then proceed to the factory to understand how tea is processed.
Eravikulam National Park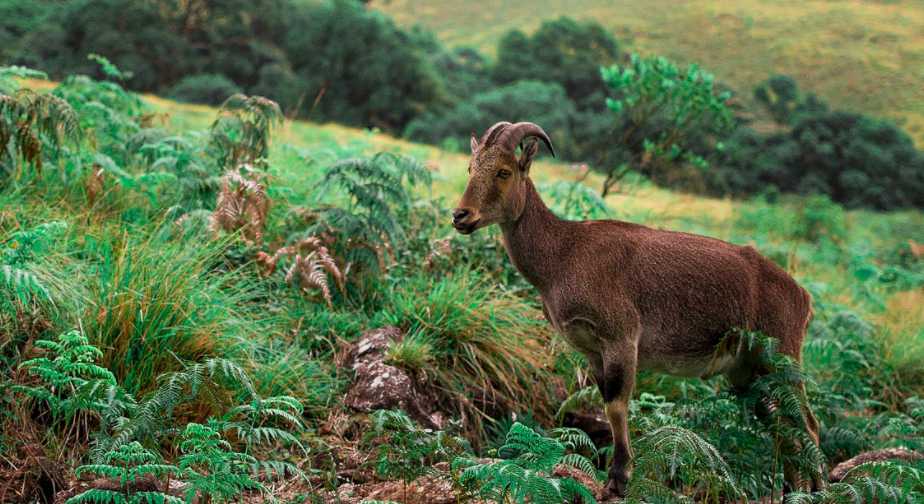 Located a 45 – minute drive away from Munnar, the Eravikulam National Park houses a rich and diverse variety of flora and fauna and is a UNESCO world heritage site. Also known as Rajamalai Wildlife Sanctuary, this place was managed as a game reserve by the Kanan Devan Hills Produce Company before 1971. The control was taken over by the Karnataka Government in 1971, and it was declared a national park in 1978. Elephant, Nilgiri langur, Nilgiri marten, Atlas moth (largest in the world), lion-tailed macaque, small-clawed otter and a rare tiger or leopard are some of the main animal species that can be spotted here.
The Eravikulam National park is famous for housing the endangered mountain goat of South India, the Nilgiri Tahr. It stands out for the ravishing beauty of its rolling grasslands and sholas, spread over 97 sq km in the Kannan Devan hills. Anamudi, which is the highest peak south of Himalayas at a height of 2695m, stands majestically in the central area of the national park. The slopes of the hills are home to many kinds of rare plants and trees some of which are epiphytic orchids and beautiful wild balsams. The important fauna here is the Nilgiri Tahr, Nilgiri Langur, leopard, tiger, Indian bison, etc. The next bloom of Neelakurinji Flowers that bloom ever 12 years will be in 2018.
Kundala Dam & Lake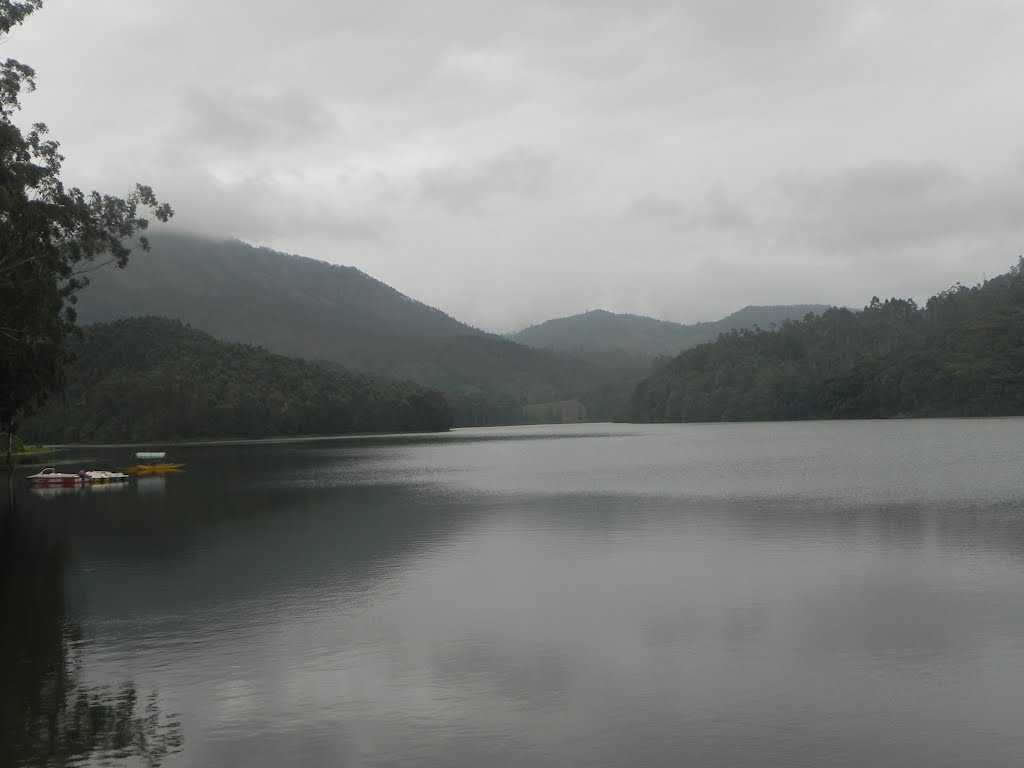 Situated in the laps of lush jungle is Kundala Dam & Lake laying 23 km off Munnar. This arch dam is famous for its Kashmiri-Shikara boat rides and pedal boat rides.
Marayoor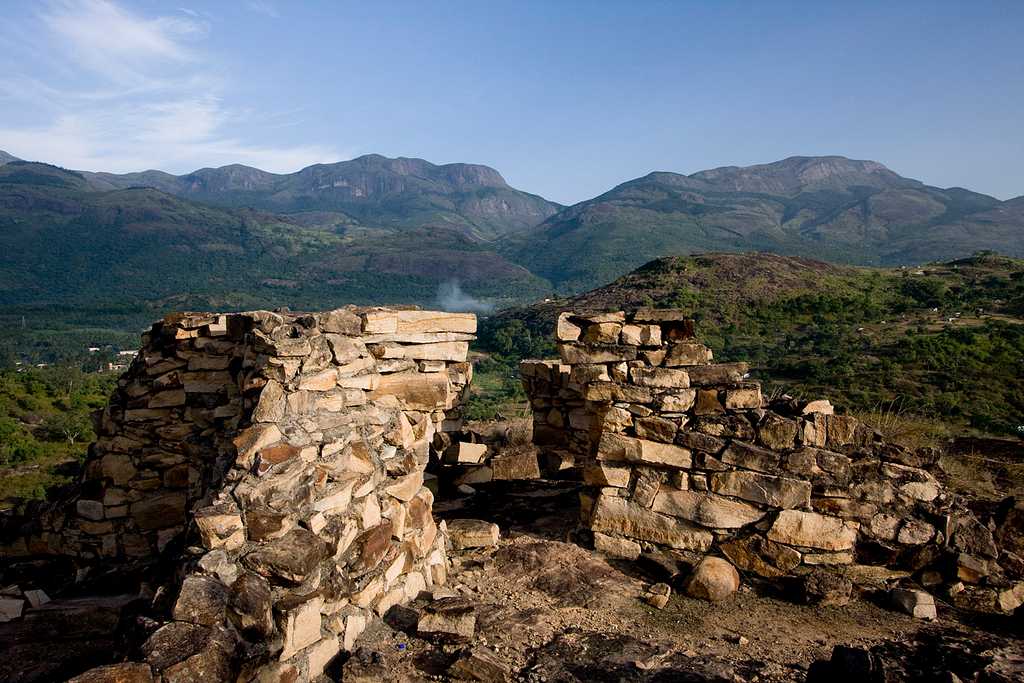 Located just 40 kilometres away from Munnar is a scenic locale by the name of Marayoor, which is famous for its naturally growing sandalwood forest and dolmens from the Stone Age Civilisation. Wrapped in a wispy blanket of glorious clouds, Marayoor has hamlets, sugarcane fields, waterfalls and bamboo forests making it an enchanting landscape of exquisite green beauty. Add to it, the natural blessing of a sea of fragrant sandalwood trees; this place is a sensory experience like no other.
Marayoor is located on the eastern side of the Western Ghats and also boasts of two pre-historic sites, solid sugar molasses known as 'sarkara' in Malayalam and the gentle waters of the Paramba River flowing close by. What adds another dimension to the experience of this location is the presence of the old Muniyaras, which are burial chambers that belong to the megalithic age. Simple in their construction, these cists are made of granite slabs stacked against each other. The view of this ancient creation against the backdrop of the valley is a sight to behold, and is a must visit for nature lovers and history buffs alike.

This pristine forest is visited by a large number of tourists every day, who come to Marayoor for trekking and well as to capture some picturesque views while they walk around the jungle. The lush green tea plantations and trees further make the environment more pleasing and soothing, thereby making Marayoor the perfect holiday destination.
Wonder Valley Adventure and Amusement Park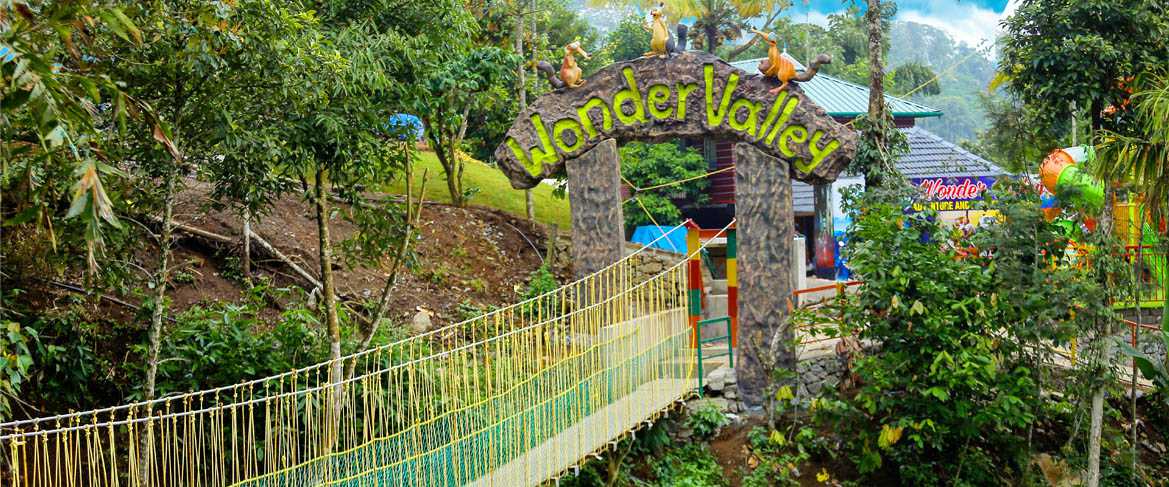 Wonder Valley Adventure and Amusement Park is an eco-friendly park located in the midst of nature. The park retains the natural landscape of the region to take its guests closer to nature and offers a thrilling experience through its adventure trails and activities. It is a perfect attraction for adventure freaks and for those who want to face and get rid of their fears. There's no age bar and the activities are designed for children, as well as for adults.