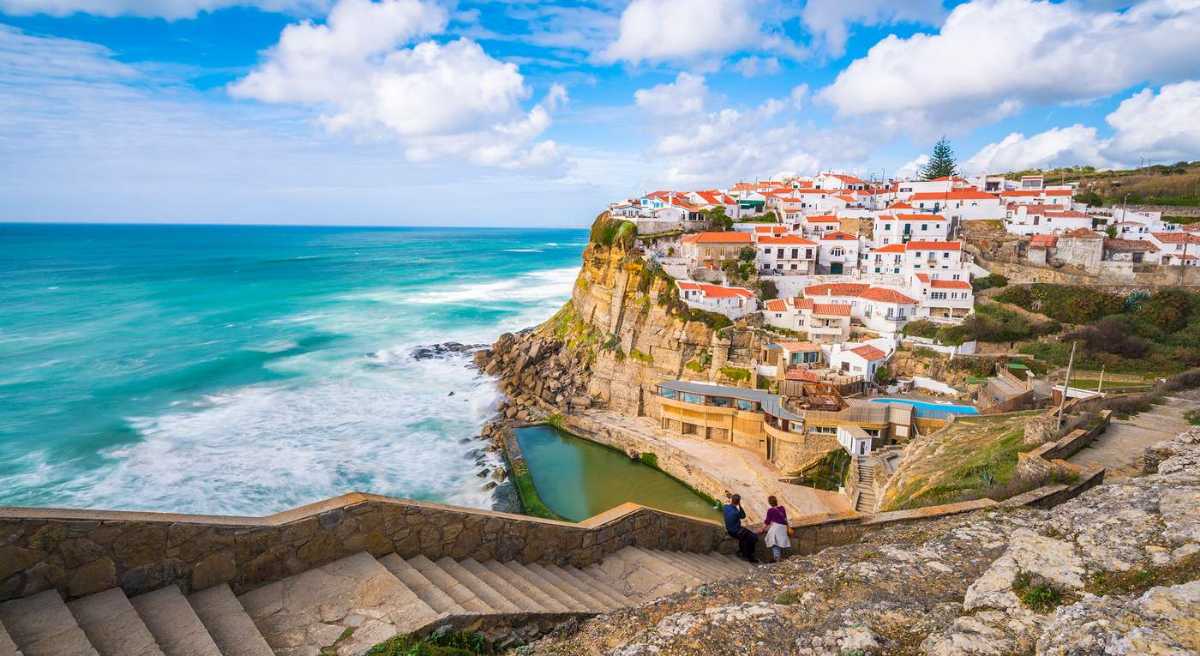 It's August, folks. The final push, the last gasp of chill before the season's turn. Yep, it's still winter, but it ain't for much longer, so take your last to soak up the temperate goodness while you still can.From coastal hideaways to alpine cabins, blowholes to bucking broncos, epic estuaries to island paradise, we've got you covered, as usual, with all the amazing places you need to go this month. Thank us when you get back
Flinders Ranges & Outback, SA
Wilpena Pound hike or scenic flight; 4WD self-drive or tours; Umoona Opal Mine; Coober Pedy opals; ride the Pichi Richi Railway; walk the Heysen Trail; stay at Arkaroola Wilderness Sanctuary
While most might plan a trip to South Australia to orient themselves around the likes of world-class wineries, Euro-centric architecture and dashes of wonderful coastline, there's an element to the state that turns this popular conception on its head while being strikingly beautiful in its own right; the South Australian Outback.
A word typically associated more intrinsically with the Northern Territory, SA's Outback has plenty to offer the adventurous traveller, with the cooler months, such as August, helping to alleviate the otherwise fiery heat of the state's interior.
This is an ancient and sunburnt landscape that's home to a number of natural marvels and experiences while also remaining relatively under-visited. As a result, it's an excellent choice of locations for those looking to truly escape from the crowds and unplug. It all starts by hitting the road and venturing north of Adelaide – a 4WD-capable vehicle is not mandatory but helps remove plenty of potential barriers to further adventure – for around 200km before the initial peaks of the expansive Flinders Range come into view.
The Flinders serve as something of a natural (and enormous) signpost to entering Outback SA, and offer a nearly endless array of offroad trails and tracks on which to go exploring, highlighted by the popular Skytrek route that winds its way through a mixture of striking mountain valleys, tree-lined creeks and plenty of historic points of interest from past habitation.
Habitation is something that's truly lacking in the current Flinders Ranges – the largest town is Hawker, with a population that hovers around the low hundreds – and as such those looking for elaborate creature comforts and conveniences may find the region wanting. For most, however, this is a built-in part of its charm and a necessary compromise for encountering some of South Australia's most unique sights.
ATTRACTION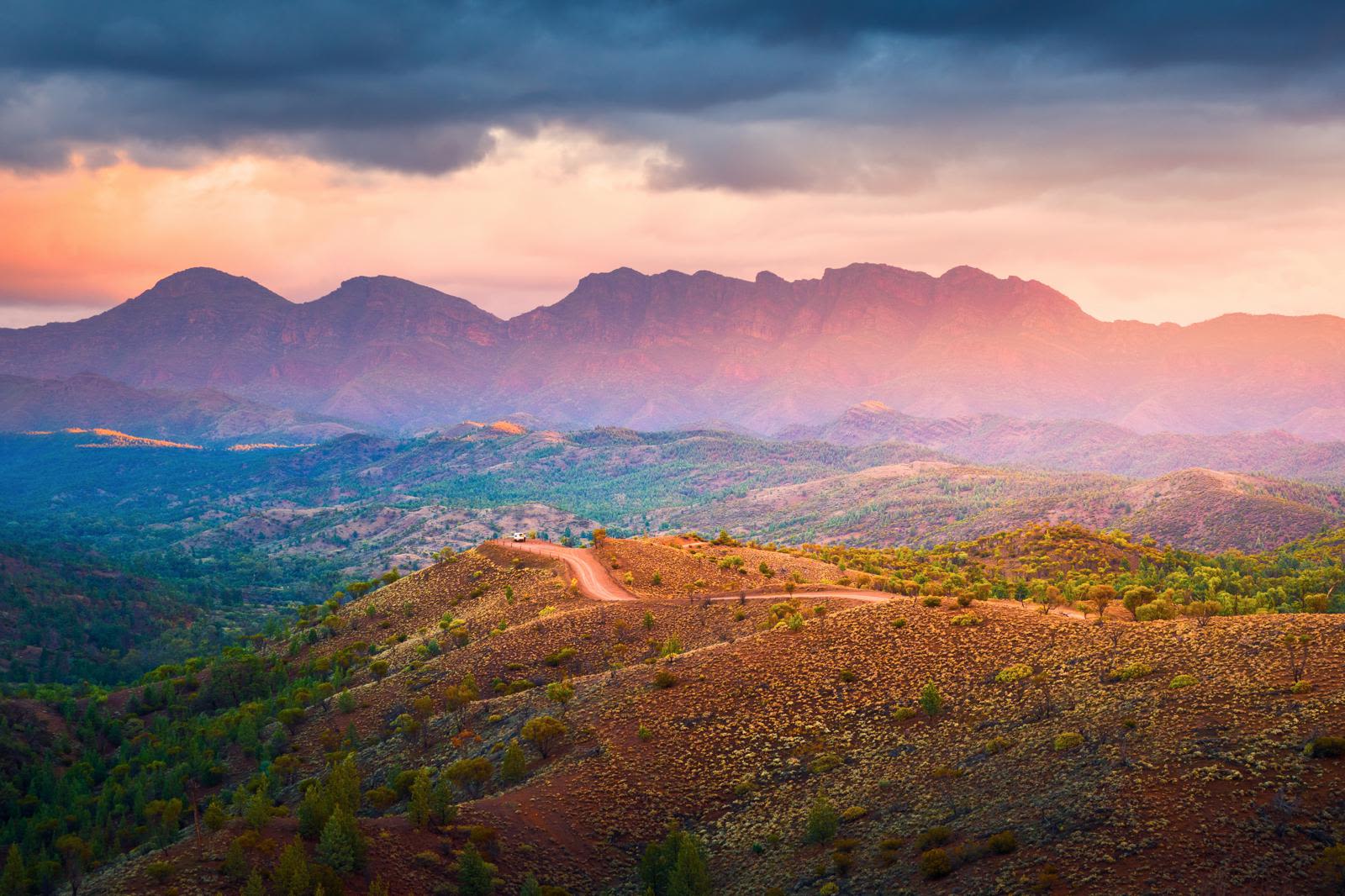 Ikara-Flinders Ranges National Park
Heysen Trail
Ikara
St Mary Peak
Rawnsley Park Road
Brachina Gorge Road
Wilpena Pound
Rawnsley Bluff
Bunyeroo Gorge
Fraser Island
Fraser Island is one of the world's most unusual islands. Not only is it the largest sand island in the world – 123 kilometres (76 miles) long and 22 kilometres (14 miles) wide – but it's the only place on Earth where tall rainforests grow on sand dunes at elevations of more than 200 metres (656 feet). It also has half the world's perched lakes – lakes formed when depressions in dunes fill permanently with rainwater.
Home to the most pure strain of dingoes remaining in eastern Australia, and one of the best places to see baby humpback whales and their mothers, Fraser Island also has superb scenery, with massive shifting sand blows, sensational swimming spots and thrilling 4WD tracks. A World Heritage-listed wilderness with lots of resort-style comforts, Fraser is the perfect place to go wild.
Don't miss
Explore the rainforest and swim in a rainwater lake
Wave to a whale on a whale watching cruise
Drive the length of famous 75 Mile Beach
How to get there
Fraser Island is about 300 kilometres (186 miles) north of Brisbane and 15 kilometres (9 miles) off the coast of Hervey Bay and Maryborough. Virgin Australia and Quantas link operate direct flights from Sydney Melbourne and Brisbane to the Fraser Coast. You can then hop aboard the ferry for the 50-minute trip across to Fraser Island. For 4WD access to Fraser Island, take a barge at Inskip Point on the northern end of Rainbow Beach (1 hour and 40 minutes south of Hervey Bay) or from River Heads (20 minutes south of Hervey Bay).
ATTRACTION
Lake Mckenzie (Boorangoora)
SS Maheno
Lake Wabby
Champagne Pools
Lake Boomanjin
Indian Head
Lake Birrabeen
Orchid Beach
Inskip Point
Litchfield National Park, NT
The less famous little brother of Kakadu National Park, Litchfield National Park in the Northern Territory is equally spectacular in its own way, and its compact size and easier accessibility from Darwin make it a much more reasonable proposition to explore.
Home to an incredible array of ruggedly beautiful environments, Litchfield offers much of the marvel of Kakadu just over an hour's drive away from the Northern Territory's capital.
From beautifully clear swimming holes to sheer cliff faces, rushing waterfalls, towering termite mounds and various other examples of raw and untouched Australia, it is a beautiful sight. As a result, getting a sampling of Litchfield's marvels is doable in a single day as opposed to Kakadu.
August in Litchfield and its surrounds falls within its dry season – this part of the Northern Territory only has two major seasons, the wet and the dry as far as the average traveller is concerned – and as a result of much more of the area, as well as some additional camping areas, is open and accessible.
The difference between the NT's national parks in the wet and dry seasons is dramatic enough to make them seem almost like two entirely different locations, and they are worth visiting during each if you're ever planning a return visit.
Traditionally an area that gets extremely hot and humid during the wetter summer months, winter becomes the peak tourist season for Litchfield as many are drawn from colder, southern states to explore this part of Australia's heartland under much warmer conditions.
The inevitable downside that comes with this favourable weather is that Litchfield National Park's waterfalls aren't as powerful or dramatic as they are in the wet season, however, this is the tradeoff made for the benefits of more comfortable and predictable weather.
This is particularly crucial for a destination such as Litchfield which is entirely based outdoors and will have you walking through some densely forested areas. August as a travel time means you'll have to dedicate far less energy to deal with one of the pesky natives; the dreaded mosquito.
In addition, picking August avoids the majority of Australian school holiday periods which helps reduce fellow tourist numbers and leads to retaining some of the isolation and seclusion of this natural area without having to fight for viewing spots or share swimming holes.
In terms of how to spend your time at Litchfield, you'll both be spoiled for choice and be able to access them all in relatively short order as the majority of the park's main highlights are located within close proximity to one another. In all, it's a very easy National Park to find your way around compared to the vastness of Kakadu.
Cairns, QLD
Welcome to the Cairns Tourist Information Centre. All staff are Australian long term locals with decades of combined tourism industry experience. We are passionate about our region and look forward to sharing our wealth of local knowledge with you. Let us plan your next Australian – Great Barrier Reef Tour, local tours and accommodation.
Our Cairns Tourist Information Centre has been in business for over 25 years. The local government tourist office is not open to the general public. Therefore with 3 city locations we are the most trusted booking centre in the region.
View our staff page to read about our Local Tour Consultants who have expert knowledge on all Great Barrier Reif Tour, Rainforest tour, Kurandawith the scenic railway and Skyrail, adventure activities and the surrounding areas. We offer friendly honest advice and our aim is to find the best tours and accommodation that are suitable for you and your family, or group. Whether you are visiting Cairns, Port Douglas, Atherton Table Lands, Draintree National Park, Cape Tribulation, Cook Town Cape york or the East Coast, we can assist with tour information and reservations.
We have three offices on the Cairns Esplanade in the heart of Cairns City, so we not only provide an online service, but you can visit us upon arrival.
So often we have met people getting all their information online, or from interstate/international agents who were booked onto tours that were not suitable to what they were truly wanting. We ask the right questions, we know every tour, we find out who you are, what you want and your budget, we then match your answers to the best tours and accommodation.
ATTRACTION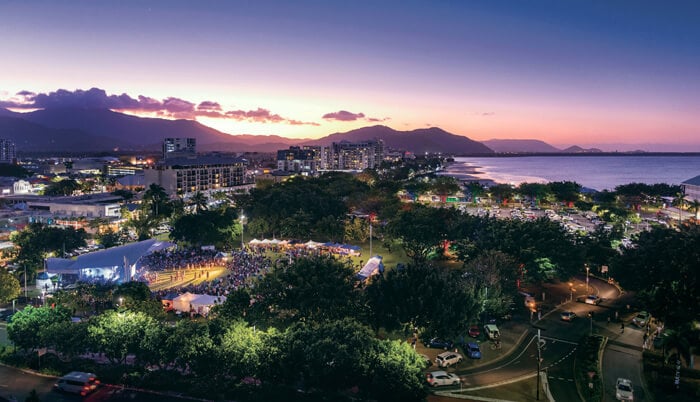 Skyrail Rainforest Cableway
Kuranda Scenic Railway
Palm Cove
Rainforestation Nature Park
Barron Falls
Fitzroy Island
Tjapukai Aboriginal Cultural Park
Australian Butterfly Sanctuary