Poovar is a small rustic town situated 27 kms from Thiruvananthapuram with unspoilt, unexplored golden sand beaches and beautiful backwaters of Kerala.
Also known as a fishing village, the tranquil Poovar island lies between the Arabian Sea and the Neyyar River. Hiring a boat, (especially during the sunset)that will take you through the mangrove forest of backwaters is a must-do activity. The boat ride costs around INR 3000- INR 4000. The town has some of the beautiful resorts and hotels that are known for the hospitality they offer.

Poovar beach is secluded and is only accessible by a boat. Swimming is allowed here throughout the year except for the monsoon months.
Poovar Beach
A stunning beach with golden sand and gentle breeze nestled between the gorgeous River Neyyar and Arabian Sea. The swaying coconut palms add to the beauty of this picture perfect beach which is only accessible via a water taxi alone.
Offering perfect environs for relaxing and unwinding, the beach does not indulge in water sports due to the active fishing population.
Thirparappu Falls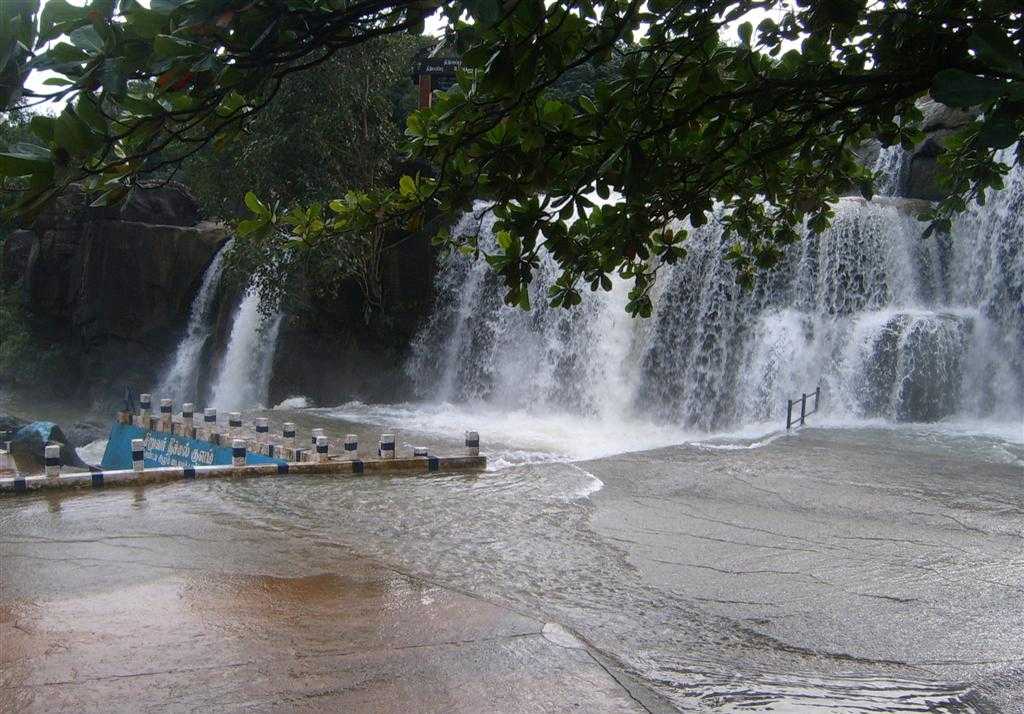 Located at a distance of about 55 kilometres from Kanyakumari, the cascading waters of the Thirparappu Falls make up for an enchanting sight. This waterfall is a manmade one and falls from a height of 50 feet. The water collects in a quaint pool below which is an ideal place to frolick around, especially for children. The falls are surrounded by thick green foliage and indigenous fauna, which make it a nature lover's paradise.
These falls are a unique combination of streams that flow together to form a magnificent waterfall. The containment below is no less than a top-tier waterpark and is perfectly safe too. The entrance of this destination has a small temple dedicated to Lord Shiva and is highly revered by the locals.

Enjoy a boat ride in the tranquil waters of Thirparappu and let the surrounding natural beauty consume you. This destination is the perfect spot to enjoy a fun-filled day with family, and children will have a gala time here, guaranteed!
Vizhinjam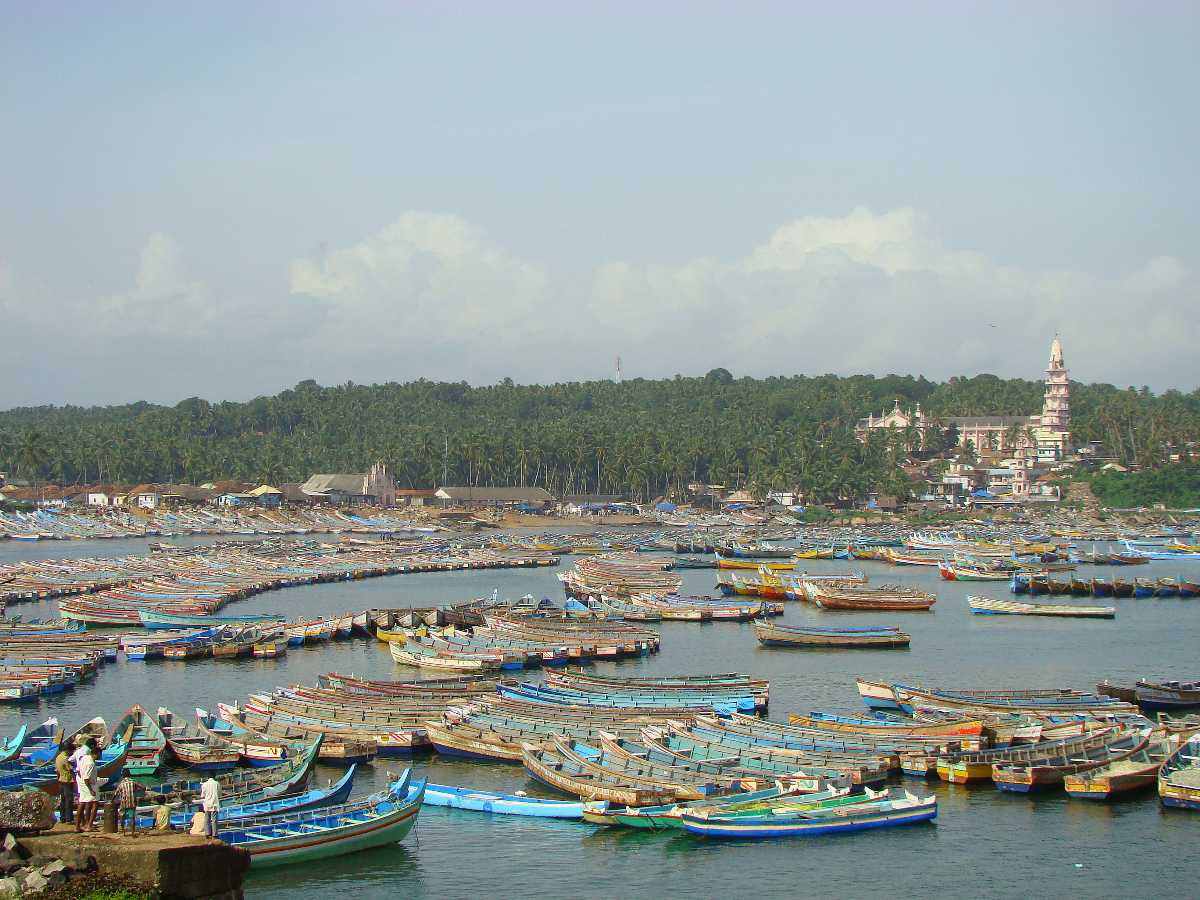 Vinzhinjam is a popular fishing village located only 17 kms from the city centre of Thiruvananthapuram. You can witness a rare and curious sight of hundreds of fishing boats lined across the fishing harbour as they cruise in perfect harmony without colliding into each other! Its geographical setting makes it a natural port and quite an important one. Other than its political and economic significance, Vinzhinjam is a very popular tourist attraction and one of the favourite getaways of the south. The village is blessed with spectacular scenic beaches that lend a peaceful and tranquil aura to the town. Relaxing on the white sand beaches as you stare into the azure waters is a perfect way to melt away all the tensions and stresses of the fast-paced lives.
Apart from its enthralling beaches, the Rock Cut cave is another famous attraction of Vinzjhinjam which is a one-celled shrine dedicated to Vinandhara Dakshinamurthi. This 18th-century temple houses beautiful semi carved statues of Lord Shiva and Goddess Parvati and holds immense religious significance to the locals. The Vinzhinjam Marine Aquarium draws hundreds of tourists every year and provides one with the opportunity to meet and witness a wide variety of colourful fish and gorgeous aquatic creatures in all their glory. Vizhinjam is a picturesque and charming little village that provides an all-in-one vacation for people looking for a peaceful excursion, a religious trip or a curious exploration of marine animals!
Shopping in Poovar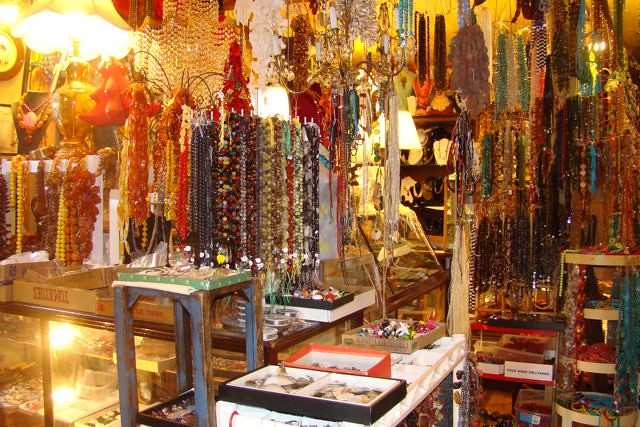 Poovar is a small coastal area where one does not have many options for shopping. However, if you are visiting the place make appoint to check out the exquisite range of footwear, dhurries, artificial jewelry and carpets.
Cruises
Amid the crystal clear ripples of water and surrounded by raw nature, make sure you do not miss out on the cruise to the neighboring fishing villages.
The expedition will give you a chance to talk to the fisherman and learn the traditional art of fishing especially the one using Chinese fishing net. Tourists can also visit the martial art village to get a glimpse of the history of Keralas martial arts known as Kalaripayattu. River rafting and other sports activities can also be enjoyed here. However, if you are on a romantic vacation, there couldnt be a better option than a house boat.
Kovalam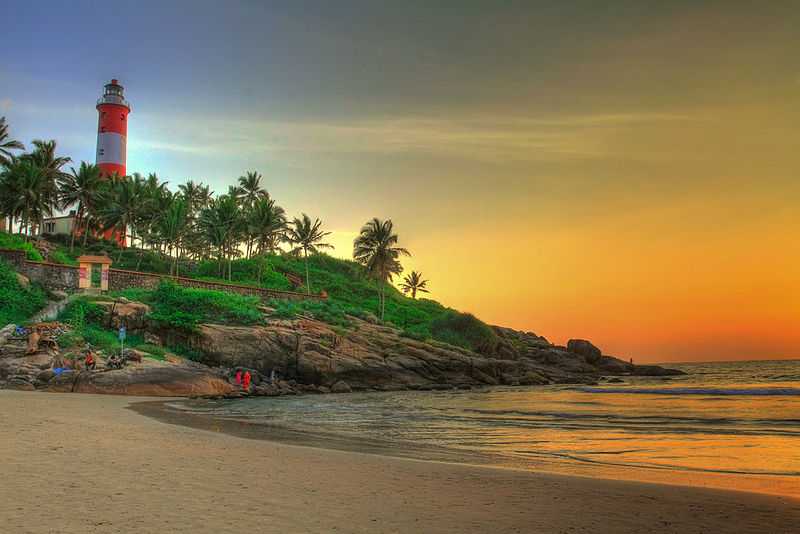 Kovalam is an idyllic coastal town located around 13 km from Thiruvananthapuram in Kerala. Famous for its three adjacent crescent-shaped shallow water and low tidal beaches, Kovalam is dotted with resorts and ayurvedic massage centres.

Earlier a fishing village, Kovalam started attracting tourists in the 1930s and shot to fame in the hippie epoch of 1970s. It still sees the influx of tourists from Israel and Europe.

Lighthouse beach, Samudra Beach and Hawa beach/Eve's Beach form the highlight of this town. Kovalam essentially means a 'grove of coconut trees', and the little town is filled with these palms.

Ayurvedic treatments and massages are one of its most popular indulgences along with yoga, meditation as well as other cultural activities. Kovalam perhaps comes full circle as it is also a shopping destination given the rich spices, wooden statues and handicrafts that can make popular takeaways.
Boat Race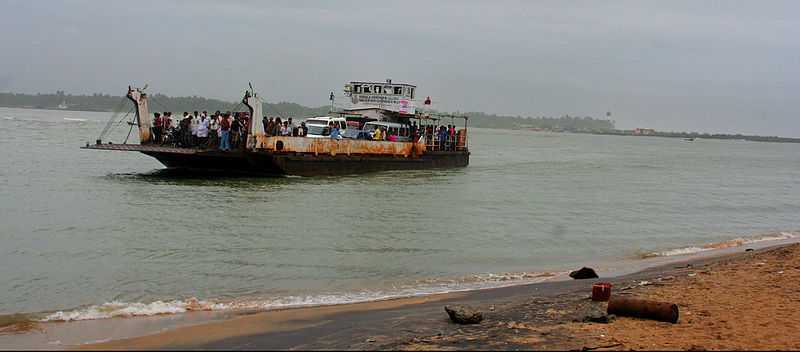 Adrenaline rushing snake boat races are a specialty of Kerala. Poovar during the local boat races is a sight to be held. The usually calm and tranquil environment is all charged up and one can see the enthusiastic festivity mood all around.
Ayurveda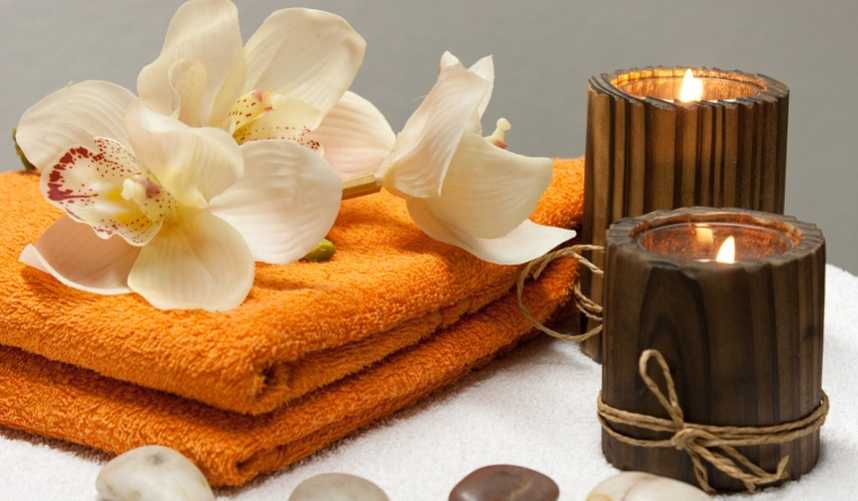 Poovar, a beautiful oasis in kerala with lakes and hills, is the perfect spot for ayurvedic practices, healing and wellness. Located in the trivandrum, district of Kerala, this place is a haven for people looking to spend some time practising the ancient art of Ayurveda. Resorts in Poovar have Ayurveda sessions to rejuvenate your mind, body and soul through a variety of practices to bring overall wellness. These sessions are based on a universal principle of faith that health and wellness depend on a subtle balance between the three major elements of the human existence- mind, body, and spirit. The key motivation of Ayurvedic healing is to encourage a person to pursue good habits and be fit.
As per Ayurvedic concept, decent health can be attained when one's mind, body, and spirit are in sync with the universe. In keeping with this belief, various Ayurvedic therapies are available here for the benefit of the visitor, and some of these include Neck and Shoulder Massage, Head Massage, Steam Bath, Elakizhi which is the application of herbal powders and medicated oils, Inhalation, Synchronized General Massage and much more. In addition to these, you can also indulge in a number of recreations here such as swimming, indoor games, bird watching and cookery classes which is another niche of stress – relieving activities.