Winter is around the corner and it's about time we pack up our bags and move out to experience the chill. December is the month when pleasant amalgamates with chill and creates a new foetus known as Whoopee! These exciting places in India in December can turn your regular trip into a new discovery that you've been longing for since long.
Auli, Uttarakhand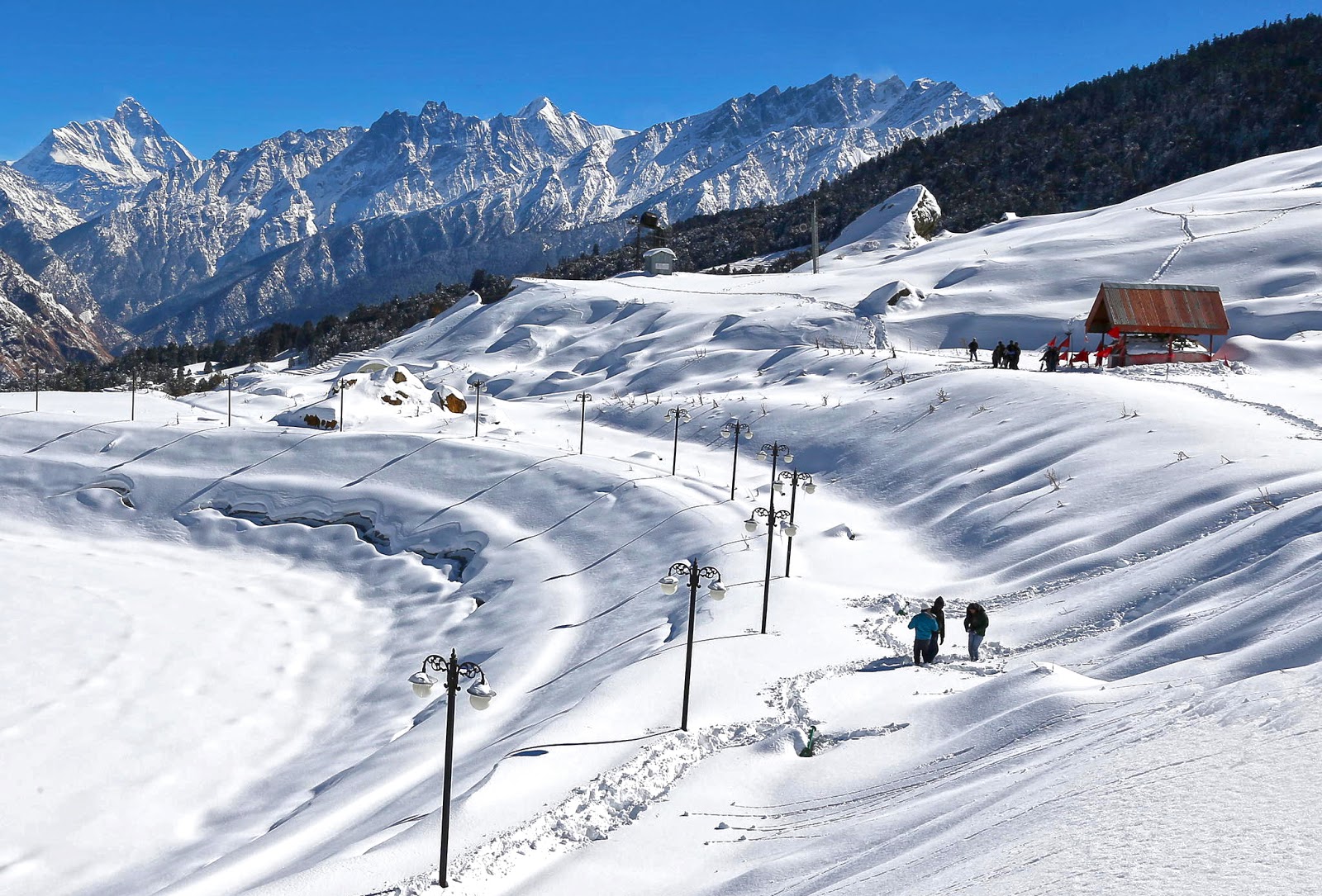 At an average height of 2800 meters, Auli in the Indian state of Uttarakhand is renowned for the fascinating ski resorts and stunning natural vistas. Bounded by the snowy peaks of the mighty Himalayas, this hilly terrain offers the sceneries of oak fringed slopes, coniferous forests, apple orchards and fine deodar trees and spectacular views of the lofty mountain ranges like Nanda Devi, Mana Paravat and Kamat Kamet.
Auli proffers a credible past that dates back to the 8th century blessed with the sacred visit of Sankaracharya. Aptly called as the haven for skiing activities, the harsh frosty storms, the sylvan peaks and the long stretch of snowy valleys would make idyllic surroundings for a skier.
The former training ground of the Indo-Tibetan Police Force, Auli has gained the status of a popular hill resort within a short span of time because it is bestowed with all that is enough to thrill the onlookers. The nature at its full bloom gives a feeling of an awe inspiring time, which cannot be wiped out from our wildest dream.
Thajiwas Glacier, Jammu And Kashmir
Thajiwas Glacier which lies at a distance of 3 km from Sonamarg in Kashmir is an exquisite beauty situated 3000 m above sea level covered in snow all through the year. The glacier is one of the most significant assets of Jammu and Kashmir and a must-visit for all the nature and trekking lovers. One gets to experience the beauty of the glacier by trekking all the way there from Sonamarg. There is also the option of hiring a pony to get to the glacier. On the way to the glacier, the tourists get to witness the beauty of the silver shining frozen lake along with all the greenery around. The contrast of both of them is what makes it enchanting to the eyes. On the way, the tourists also come across Gujjar tribes who have their camps set up and earn their livelihood here.
In addition to all this, alpine meadows are scattered all over in the Thajiwas Glacier along with numerous waterfalls which make the region appear like heaven on earth. This makes the glacier one of the most famous and most visited tourist attractions of Sonamarg. The tourists get to ride the sledge during the summer season too. The glacier is a perfect spot for trekking as well as camping
Dawki, Shillong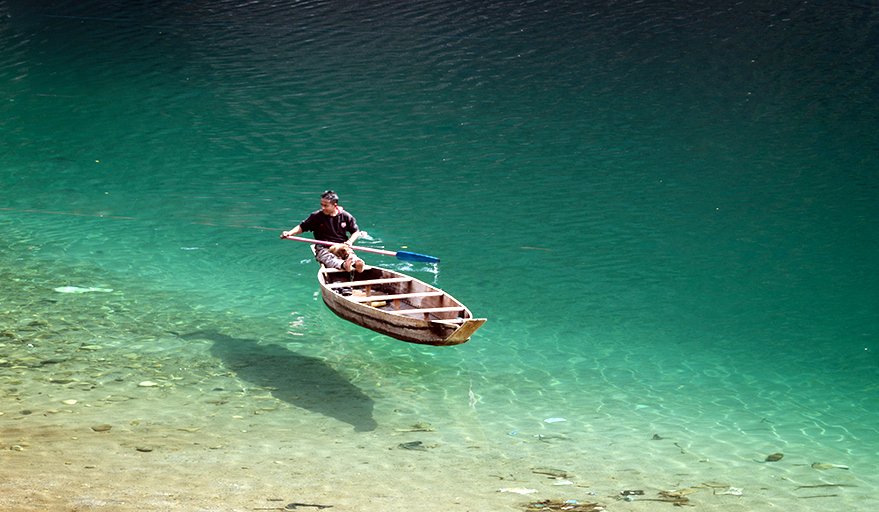 Some curiosity arises, the moment we hear of any North Eastern state of India. The reason is its hidden nature and culture. We always have more interest in the things that are unknown and mysterious.True to that, the region of North East India never fails to amaze and inspire us to protect our environment. Among several other enchanting places, there is a town called Dawki which has been a centre of attraction in Meghalaya
What Makes Dawki a Happening Place?
Dawki is known for its pristine lush green surroundings, and it is truly a blessing in disguise! The town is not just a tourist attraction but also one of the nearest 'Gateways to Bangladesh'. It has served as a trade centre between the two countries for a long time. Dawki is mainly known for coal mines and limestone exports which keep the trade between India and Bangladesh. In fact, it is the only place where there is a road route connecting to Bangladesh.
How to Reach Dawki By Road:
Dawki is well-connected by road from Shillong. However, it is better to hire a cab or a taxi to reach Dawki. Buses are also available from Shillong.
By Train:
Guwahati Railway Station is the nearest railway station. Dawki is around 180km from Guwahati
Mylapore, Chennai
Mylapore may be one of Chennai's most famous locales, but many don't know that this neighbourhood also boasts a history and culture that predates the founding of Chennai (Madras) by more than 1,500 years! Thanks to this ancient heritage, Mylapore has scope for more touristy experiences than most other neighbourhoods in the city. From temple-hopping to savouring the best of South Indian delicacies, here are some things you should definitely try.
Kapaleeswarar Temple
The Kapaleeswarar Temple is the neighbourhood's most famous and recognisable landmark and boasts a thousand-year-old history. The age-old temple is not only a cultural centre but is also an architectural marvel, featuring a 40m tall gopuram that is for all intents and purposes, Chennai's oldest skyscraper. However, unlike other heritage structures, the Kapaleeswarar Temple boasts a vibrant temple culture and attracts hundreds of devotees every day, making it one of the few remnants of this region's pre-colonial past. The temple is also a cultural and fine-arts venue and regularly hosts dance and music recitals.
Radhanagar Beach- Havelock Island
Tucked in Havelock Island, Radhanagar Beach is regarded as the best beach in India. It is a pristine stretch of sand backed by turquoise water and lush forest. Radhanagar Beach is commonly called Beach No. 7 and it looks straight out of the postcard. Times Magazine has awarded it the title of the '7th best beach in the world'. Radhanagar Beach is one of the many highlights, not only in Havelock but also in the Andaman Islands.
Dotted with palm trees, the beach offers tourists a tranquil ambience to relax and unwind amidst nature. Take a walk barefoot and relish the sight of the aqua waves brushing against the feet. The scenery is so surreal that it will allow you to reconnect with the poet within yourself. No wonder, you can choose Radhanagar Beach for a complete makeover of mind.
Another attraction of Radhanagar Beach is Neil's Cove. A 10 minutes walk along the beach will take you to this spot. Neil's Cove is a pristine lagoon and also one of the lesser-known spots. This attraction also offers immense photography opportunities. However, swimming in the water is strictly prohibited after sunset. Hence, with a dazzling array of offerings, Radhanagar Beach is an undeniable bucket list destination.
Rann Of Kutch, Gujarat
Rann of Kutch festival also called as Kutch Festival or Just Rann Utsav, A Three month Long Celebration held at the edge of White Rann. In Gujarat Tourism there are eight hubs and one of the best hub is Kutch Tourism, as a part of Kutch Tourism, Gujarat Tourism Started to Celebrate Rann of Kutch Festival or Rann Utsav where tourist can stay near white Rann of Kutch with the option of Standard and Luxury Tents accommodation. Every year during winter for three month as a part of Gujarat Tourism and Kutch Tourism a Govt. of Gujarat decided to set up a Tent City Near white Rann. During Kutch Festival thousands of people gathers to witness Rann of Kutch festival or Kutch Rann utsav to see Kutch attractions or sightseeing places of Kutch.
Rann Utsav Booking open now with AtoZ Holidays, AtoZ Holidays is authorized Booking Agent for Rann Utsav 2019 and Rann Utsav 2020. Rann Utsav 2019 Date start from 1st November 2019 to 20th February Rann Utsav 2020 date, online Booking of Kutch Rann Utsav is also available with us.
Kaziranga, Assam
All those who have thought Indian one-horned rhinoceros only existed in Jurassic-era, then a trip to Kaziranga is a must for them. One of the most sought after wildlife holiday destinations in India, Kaziranga National park's 430 square kilometer area sprinkled with elephant-grass meadows, swampy lagoons, and dense forests is home to more than 2200 Indian one-horned rhinoceros, approximately 2/3rd of their total world population. Formed in 1908 on the recommendation of Mary Curzon, the park is located in the edge of the Eastern Himalayan biodiversity hotspots – Golaghat and Nagaon district. In the year 1985, the park was declared as a World Heritage Site by UNESCO. It is said when Mary Curzon, the wife of the Viceroy of India – Lord Curzon of Kedleston, visited the park to see Indian one-horned rhinoceros; she wasn't able to found even one. Then she persuaded her husband to take urgent measures to protect the dwindling species which he did by initiating planning for their protection. After a series of meetings and documentations, the Kaziranga Proposed Reserve Forest was created with an area of 232 km2 (90 sq mi) in 1905.
Along with the iconic Greater one-horned rhinoceros, the park is the breeding ground of elephants, wild water buffalo, and swamp deer. Over the time, the tiger population has also increased in Kaziranga, and that's the reason why Kaziranga was declared as Tiger Reserve in 2006. Also, the park is recognized as an Important Bird Area by BirdLife International for the conservation of avifaunal species. Birds like lesser white-fronted goose, ferruginous duck, Baer's pochard duck and lesser adjutant, greater adjutant, black-necked stork, and Asian Openbill stork specially migrate from the Central Asia during the winter season.