Haryana is as rich in cattle wealth as it is in terms of agriculture. The famous Murrah buffalo and cows of this state ensure abundance of milk and milk based products for Haryanvi people. Homemade butter and ghee is commonly found in every household of Haryana. So, when you plan a visit to Haryana, be ready for a heavy dose of butter adding some extra pounds to your weight! But the underlining fact is that food of Haryana is simply lovable. So let us explore the cuisines of this state.
Gajar Halwa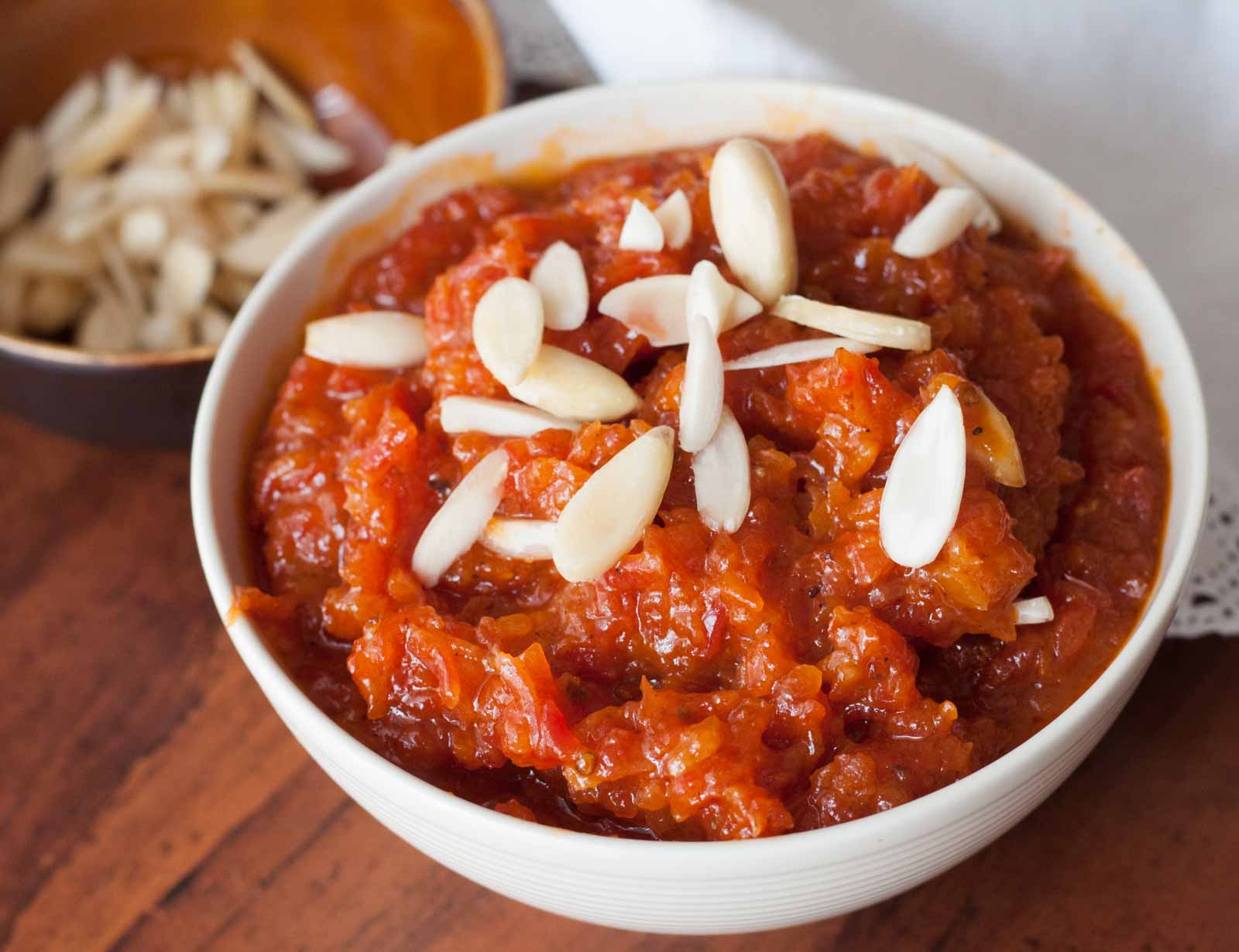 Gajar Ka Halwa or Carrot Halwa is a traditional Indian sweet or dessert made with fresh red carrots, milk and sugar. It's a winter delicacy and is made using the juicy red carrots. My mom makes the best ever carrot halwa and today I am sharing her simple and easy recipe to make this.
Carrots are considered a vegetable, and used in all kinds of vegetable gravies, curries and desserts. Gajar Ka Halwa is one dish where the sweetness of the carrots is allowed to shine.
This sweet pudding mainly associated with North India, especially Punjab, is a rich, creamy dessert made using carrots, sugar and full cream milk or condensed milk and khoya.
Ingredients
1 kg or 4 cup grated carrot / gajar
4 cup full cream milk
1 cup sugar
2 tsp ghee
8-10 unsalted whole or chopped cashews
8-10 unsalted roasted almonds
12-15 golden raisins
Raabri
If you happen to be a sweet lover, then this popular dish must have been one of your favourites! Serve with hot piping Jalebis, this easy to make Rabri recipe goes well almost all sweet delights. In fact, it can be relished just like that and it tastes heavenly with a glass full of milk or curd. Rabri is basically a thick, creamy residue, which is left behind after milk is evaporated. Rabri is a traditional Indian dessert and is often a part of celebrations and festivals. This condensed milk based dish is prepared on slow fire over a long period to get that perfect taste. Rabri can be made in a number of ways like Badam Rabri, Mango Rabri, Rose Rabri and Pista Rabri. It is a perfect dessert wherein, you can experiment with taste and flavours. You can also freeze the Rabri in popsicle sticks to make Rabri Ice- Cream or Kulfi. A plateful of Rabri is a perfect end to an Indian dinner with mouth-watering delicacies like Biryani, Kebabs and Pasandas. Rabri tastes exceptionally well both hot or cold. This easy dessert recipe uses minimum ingredients and is your go-to dish on days you have to entertain sudden guests. It can also make for a delightful treat for your kids, especially, when they want to indulge in something delicious. In fact preparing at home simply amps up the health quotient by monitoring the quality of ingredients and can accordingly tweak the recipe. If you want to enjoy the dish without feeling guilty, then you can prepare this dish by replacing the regular sugar with sugar-free or stevia. Try out this amazing Indian dessert recipe and surprise your family and friends.
Ingredients
1 litre milk, full cream cows / buffalo milk
¼ cup sugar
½ tsp cardamom powder
2 tbsp saffron milk
7 pistachios, chopped
5 almonds, chopped
10 cashews, chopped
Kheer
Kheer is a delectable Indian dessert recipe, which is made with various lip-smacking variations like Jaggery Kheer, Dates kheer, Badam Kheer to name a few. One such delectable dessert recipe is Rice Kheer or Annam Parvanam, which is a perfect blend of nuts and milk cooked with fine quality rice. This traditional dessert recipe needs no introduction and you can add your own twist to this recipe as per your palate preferences. Kheer has always been a part of Indian culinary heritage and every Indian Thali has one or the other variant of kheer. Rice Kheer was usually prepared on special occasions and rituals like Diwali, Durga puja, birthdays, wedding buffets among others. What makes this particular recipe more delightful is its perfect balance of rice, milk, cardamom, nuts and sugar. Adding these ingredients in the right proportion. To make this delicacy more delectable, it is advisable to soak the fine rice for 2 hours, this makes the rice cook easily. To make this Rice Kheer recipe more interesting add dry roasted almonds, pistachios and walnuts. Apart from these you can also add raisins. If you want to tweak this recipe a bit you can add some dried cranberries, this will add a delicious taste and flavour to this traditional recipe. However, the basic recipe won't change but adding a twist of flavours will make it more delicious. You can garnish this recipe with roasted and crushed almond, pistachios. You can also add some saffron strings to garnish this Rice kheer recipe. We bet your kids and family will love this dessert recipe. It tastes best when served with main course meals, parathas or pulao.