Food has been a universal connection between people for a really long time now. The fact that even though the ingredients are the same but the end product turns out to be different every time, is a sign of the diversity that the world has to offer. In fact, we don't even have to go that far. There's enough diversity in our country to begin with and Assam has to offer just right kind of flavours to tickle your taste buds. With a wide variety of indigenous food to offer, the food of Assam is famous for its distinct flavoring and influences. Did I mention that it is a heaven for non-vegetarian lovers? Delicious pork, chicken and mutton dishes will leave you craving for more.
Khaar
Amitar Khar is a traditional Assamese dish and their meals always begin with khar. The dish is prepared with unripe papayas cooked with chillies and panch phoran. It is considered that khar cleanses the stomach and hence, Assamese has a tradition of consuming khar initially during their meal. The unripe papayas blended well with the mild spices tastes really awesome when served with hot rice and dal.
Ingredients
1 Raw papaya , de skinned & chopped into small cubes
2 tablespoon Mustard oil
3 Green Chillies , slit into halves
1 Bay leaf (tej patta)
2 Dry Red Chillies
1/2 teaspoon Panch phoran masala
Salt , to taste
2 teaspoons Sunflower Oil
1/4 teaspoon Fennel seeds (Saunf)
1/4 teaspoon Cumin seeds (Jeera)
1/4 teaspoon Kalonji (Onion Nigella Seeds)
1/4 teaspoon Mustard seeds
1/4 teaspoon Methi Seeds (Fenugreek Seeds)
Duck Meat Curry
Duck is an integral part of Assamese cuisine, be it in smoked form or curry form. Duck curry, in Assam, is prepared in various ways using different ingredients like ash gourd, bottle gourd and even pumpkin. This duck curry recipe incorporates the rich duck meat and the sweetness of pumpkin, along with a melange of whole and ground spices. This curry is generally cooked in open fire, for it provides a smokiness to the curry which blends well with the meat. Serve this dish along with steamed rice and experience lip-smacking, delicious flavours.
Ingredients
1/2 kilograms duck
50 ml mustard oil
2 potato
1/2 ginger
3 green cardamom
2 bay leaf
2 sliced green chilli
1/2 teaspoon salt
250 gm pumpkin
1 garlic
2 onion
1 cinnamon
1 teaspoon coriander powder
3 clove
1/2 teaspoon turmeric
1 teaspoon sugar
Masor Tenga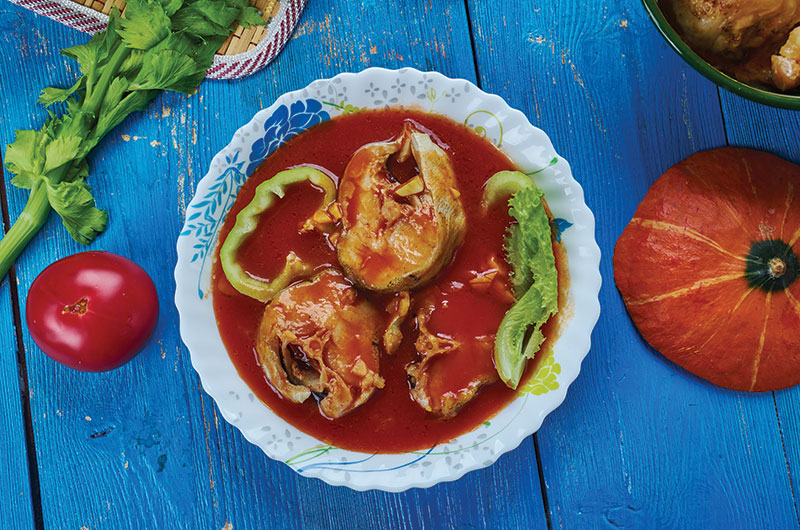 This is a flavorful tangy fish curry from the North Eastern part of India.The flavors here are fresh and subtle.Spices used are minimum.The state of Assam is situated on the banks of river Brahmaputra and fish farming is predominant here.Fresh water fishes like carps are generally used in the fish dishes."Maas" in Assamese means fish and "tenga" means sour ,the dish refers to a tangy fish curry which is served with rice and eaten with relish by the local residents.
There are many souring agents which are used locally,common among them are Lime(A different variety with thick skin and strong aroma),elephant apple also known as "ou tenga" in Assamese and raw mango.In case one of them is not available you can use tomatoes.Mustard oil is mainly used for cooking purpose.
Ingredients
Fish pieces (Generally Carps are used like Rohu,Katla) 4 to 6
Panch Phoran or five spice mix consists of fenugreek seed ,nigella seed , cumin seed , black mustard seed and fennel seed in equal parts.(1/2 tsp)[alternatively use at least fenugreek seeds]
Red chilies (2)
Tomatoes (1 finely chopped)
Lemon juice (1 tsp)
Turmeric powder(1 tsp)
Salt (1 tsp)
Warm water( 1 cup)
Coriander leaves (A bunch chopped)
Mustard oil (3 tbsp) for frying
Vegetables (potato 1 cubed,1 ridged gourd cut into small pieces etc)
Aloo Pitika
Venturing further into North Eastern Cuisine, I made Assamese Aloo Pitika, the delicious Aloo Chokha look alike. Simple, very easy and with the mustard oil giving its unmistakable fragrance and its unique character to the dish, I can't understand why I have not been using mustard oil more often in my kitchen. Its not that I am not used to cooking with mustard oil. In fact we regularly made aloo chokha aka mashed potatoes, with mustard oil and the stuffed red chillies from my husbands village in Eastern UP, and it would taste awesome.
The Assamese Aloo Pitika is, as I said earlier, really simple with just 6 ingredients including oil and salt! I have followed the recipe from The Essential North East Cookbook by Hoihnu Hauzel. This book is a treasure and I want to try more of the recipes from here. I am getting intrigued by North Eastern cuisine and am hoping to make a foodie trip there soon.
Ingredient
2 Potatoes – or about 2 cups when peeled and sliced
1 teaspoon mustard oil
1/2 cup sliced onions
2 Green chillies – or 2 teaspoons of sliced chillies
1/2 teaspoon salt
coriander leaves – for garnish