Bangalore is a fabulous melting pot of cultures from all over India. This cosmopolitan city is a favourite spot for foodies, because everyone knows you can find literally every cuisine from far out parts of India here.
Kunafa
Kunafa Recipe is known as Queen of Arabic dessert. Its most royal and supreme dessert made up of mozzarella cheese and Vermicelli, which gives crisp and chrunchy finishing. Kunafa consist of rose and orange blossom scented sugar syrup
Believe me it is not a pizzzaaa!!.. Yes its dessert . One of the sweet, crisp and crunchy dessert, infused with mozzarella cheese. The crunchness comes with broken vermcelli messed in melted butter. Kunafa is known by many different names such as konafa, kanafeh and knafeh.
You will find it similar to Cheese cake but wait, its NOT that even! Here you have crisppzz.. This dish is basically from Middle-Eastern/ Mediterranean. Kunafa recipe have all ingredients in one, like you have sweetness, cheese, sourness, chrunchess, buttery and wait! dry fruits too
Ingredient
250 grams Vermicelli (broken)
200 grams Butter (melted)
¼ cup Pistachios (chopped)
For filling of kunafa
1 cup Milk
1 cup Cream
2 teaspoons Corn Flour
1 teaspoon Rose water
½ cup Cottage Cheese (grated)
For Sugar Syrup:
1 cup water
1½ cups white sugar
1 teaspoon lemon Juice
1 teaspoon Rose water
Dharwad Peda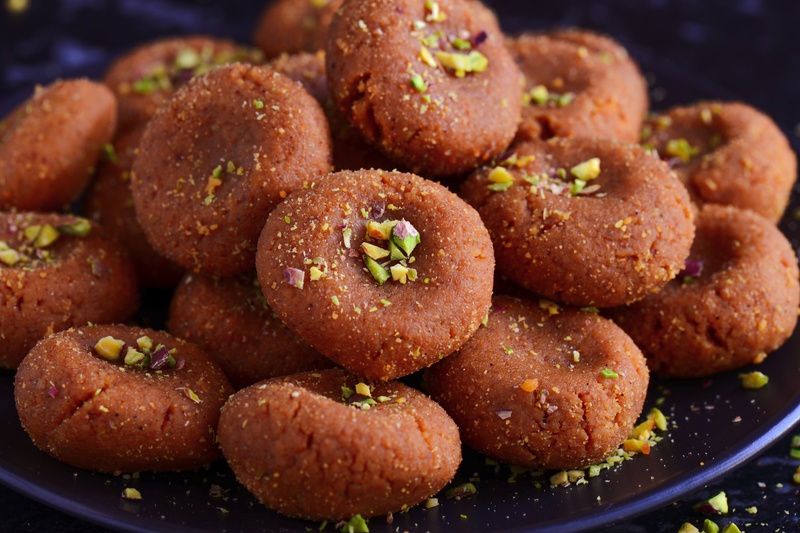 i have a very special connection to this traditional dharwad peda recipe since childhood. my early schooling was done on hubli, the twin city of dharwad and since than i have a strong connection to the north karnataka cuisine. The classic dessert dharwad peda recipe. i personally loved the extra sugary coating and the juiciness it had to offer in its taste. after moving from hubli to udupi i started to miss it a lot. even though dharwad pede was easily available in udupi but it never matched the authentic thakur's peda outlet from dharwad.
Ingredient
Khoya – 1 cup
Sugar – 3/4 cup (vary as per your liking) + 1 tbsp for garnishing
Desi ghee – 1/2 cup
Milk – 1 tbsp
Green cardamom – 4 to 5
Khova Naan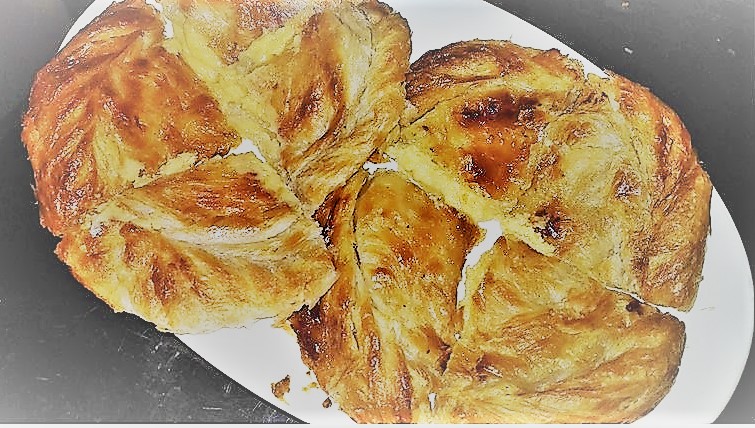 The wafting aroma hits you first. The pleasant, sweet smell of the oven-baked pie triggers every taste bud with the tingling anticipation. This isn't any ordinary pie though — it is the khova naan, best eaten hot with every mouthful being gifting with a burst of molten khova.
A signature Bengaluru delicacy, the khova naan, originated somewhere in the late 90s as an alternative to the original grated coconut filled naan. Bakers in the Shivaji Nagar area started the trend and it soon caught on as a popular evening snack. One of the places synonymous with the khova naan is Albert Bakery on Mosque Road in Frazer Town. Mohammad Sabir Faizan, the son of proprietor Nawab Jan, credits his father with introducing the khova naan on the menu.
"The khova-filled crisp naan has takers from across the city. We often have customers, who travel from other ends of the city or daily visitors who flock the bakery just for the khova naan."
Coconut Cookies
Ingredients
1 1/4 cups all-purpose flour
1/2 teaspoon baking soda
1/4 teaspoon salt
1/2 cup butter
1/2 cup packed brown sugar
1/2 cup white sugar
1 egg
1/2 teaspoon vanilla extract
1 1/3 cups flaked coconut
Nolen Gur Rosogulla
Rasgulla is one of the most popular sweet in West Bengal as well as India.It is relished almost everywhere in India.Making rasgullas is an art and needs practice.
Nolen Gur' or Khejurer gur or Date Palm Jeggery is a Bengal delicacy which is mostly available in winter season.
In Bengal,it is called 'Nolen Gur'means New Jeggery . In winter season it is made from boiling the sap of date palm. It is used to infuse flavour and taste to many Bengali desserts like Rasgolla, Gur Sandesh ,payesh or kheer and many more.Today I am going to share Gur Rasgolla or rasgullas made with date palm jeggery.
I used 1 cup date palm jeggery while preparing the chena or paneer or cottage cheese for Gur Rasgolla and 2 cups date palm jeggery while preparing the sweet syrup. You will have the flavour of date palm jeggery while having this juicy and spongy rasgullas.
Ingredients
1 litre milk
3 tbsps Lemon juice vinegar or (can add more if required )
1 cup date palm jeggery
6 cups Water
2 cups Date Plam Jeggery