Indian desserts are very famous in Varanasi.
You'll find street side vendors within the narrow alleys and along the bustling streets of the city waiting to serve and fulfill anyone's sweet tooth.
I'm personally not a huge sweets fan, I'd normally prefer to fill myself up with and extra helping of rice and curry over dessert (just like in Thailand, Thai Dessert can be good, but I'd rather eat more curry).
But, eating is one of the top things to do in varansi, and since it was my last day in town, after stopping at the Kaashi Chaat Bhandar, I decided to try the desserts.
Lal Peda
Mathura lal Peda is a divine Indian sweet. Pedas are grainy in texture made with milk and sugar and flavoured with cardamom. Peda are a type of fudge that can be served as a prasad during festivals or as a dessert during special occasions.
Ingredients
2 litres full cream milk
200 grams powdered sugar
2 tablespoon Ghee
5 cardamoms powdered
2 drops Rose essence(optional)
2 teaspoon finely chopped pistachios for the garnish
Laddu
Laddoo is a dessert, which is often associated with festivals and special occasions. Of all the laddoos, Motichoor Laddoo is the one that you can easily find in all the sweet shops and is loved by everyone. It is an ideal dessert to prepare for festivals and we are sure, your guests will definitely love it. This easy and quick laddoo recipe is perfect for every festival and is mostly prepared as a prasad recipe. Here is a simple recipe to prepare this delight at home and the best part is it doesn't take much of your time and effort to prepare this delicacy. So, add sweetness to your festive mood with this fresh homemade delight. This delicacy is often prepared as a naivedya during festivals and special occasions. To make it more delectable add some crushed pistachios to this delicacy and we bet your guest will drool over this sweet delight. In fact, you can try several other sweet recipes to offer as prasadam.
Ingredients
2 cup gram flour (besan)
1 teaspoon green cardamom
1/2 teaspoon edible food color
1/2 litre milk
3 cup ghee
1 pinch baking soda
Sandesh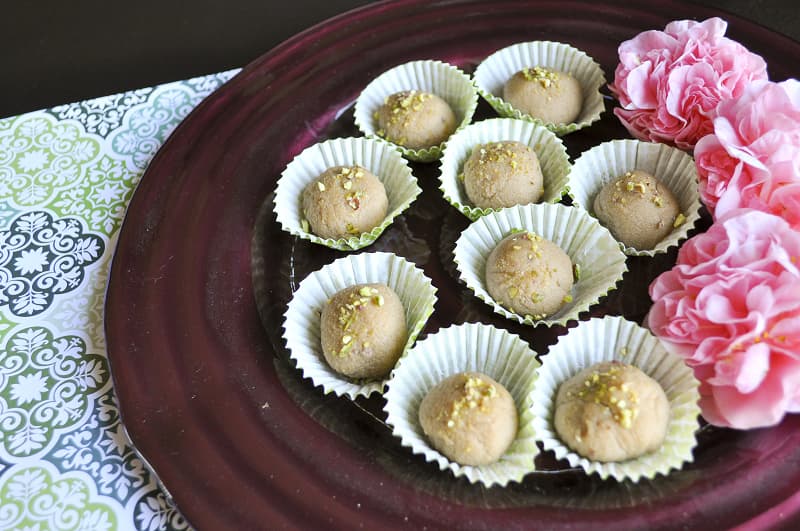 No Bengali meal is complete without mishti or sweets and none is more loved by the Bengalis than Sandesh. It is surprisingly easy to make. Being a milk-based sweet, Sandesh doesn't last long so consume it as soon as possible. Given how tasty it is, that shouldn't be a problem.
Ingredients
14 oz./400 g. fresh paneer (hang to drain whey completely)
10 to 12 almonds (cut into slivers)
8 to 10 of pistachios (cut into slivers)
4 saffron strands (more or less)
1 tbsp. warm milk (to soak saffron)
2 tsp. milk powder
1/2 cup finely powdered sugar
1/2 tsp. pistachio essence
1/2 tsp. cardamom powder
1 tablespoon ghee (to lightly grease molds)
kalakand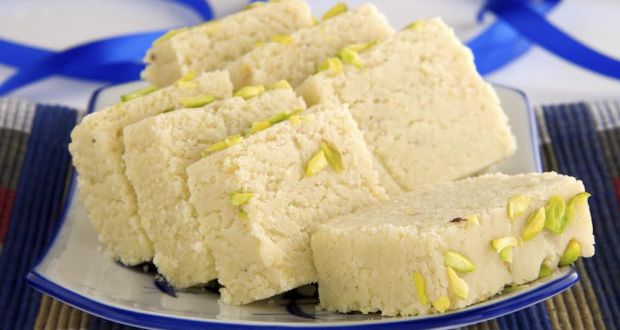 Kalakand is a rich milk cake. one of the popular Indian sweets. The traditional way of making kalakand sweet is a long one and takes some time. Milk is curdled a bit with the use of alum or curd and simmered on a low flame till it thickens considerably. There are other methods too of making kalakand.
In the kalakand, you can add dry fruits as well flavorings of your choice. I usually add cardamom powder and rose water. You can even add saffron or for a fusion kind, even vanilla extract will be good.
Ingredients
Milk – 1 litre
Lemon juice – 1 tbsp
Sugar – 1/4 cup
Cardamom powder – 1 tsp