Thailand, a dreamy beachside paradise, is a country that has managed to retain its cultural integrity in spite of being a major tourist destination. You can find everything here – from pristine beaches to dense forests, ancient monasteries to coral reefs, from Buddhist monks to floating markets and finally the fragrant and rich food to treat your taste buds. Moreover, Thai people are among the most hospitable people in the world, which only adds to the overall charm of this place.
Bangkok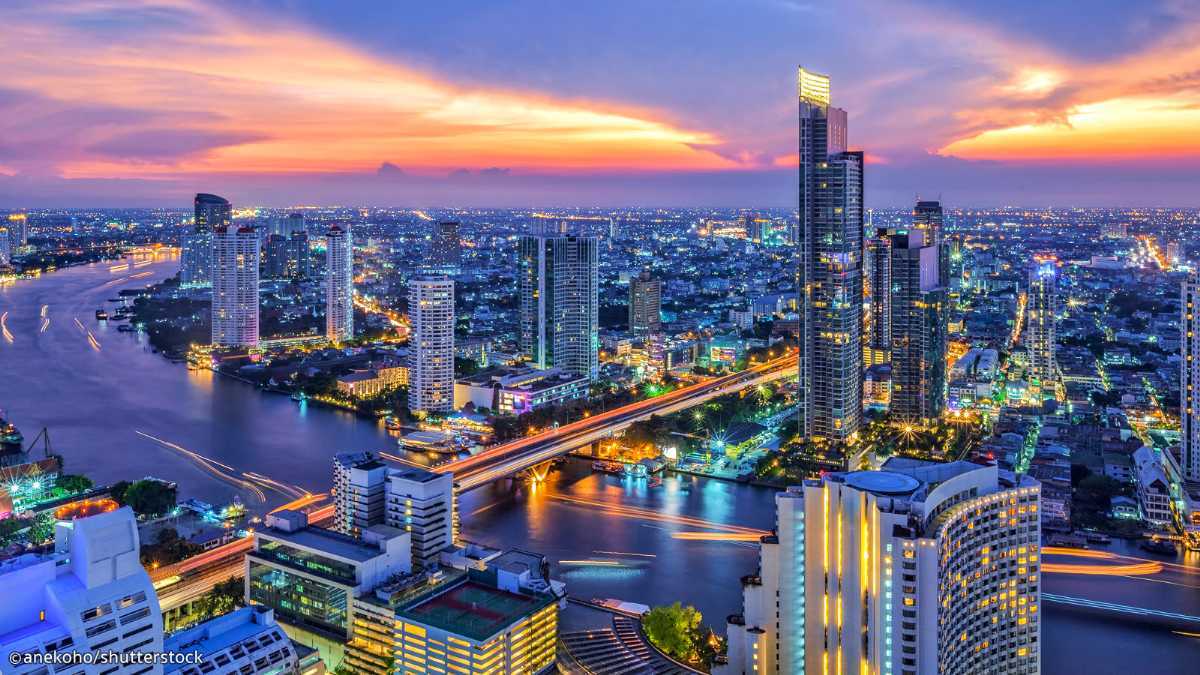 Glittering with lights, a lot of hustle bustle and a little bit of chaos, Bangkok is the capital city of Thailand and is packed with tourist attractions – historical, religious or natural. A haven for shoppers, it attracts people from all over the world to its markets. It is often touted as the party capital of South East Asia. Bangkok also offers a bundle of fantastic street food, non-stop action and unforgettable experiences.
Bangkok is dotted with buildings reaching for the skies, air-conditioned malls alongside with 200-year-old villages and beautiful Buddhist temples. One can see the diversity of the city in its crowded, colourful markets and smiling pedestrians. Buzzing with energy at one end and immersed in peace and serenity at the other, Bangkok hums its own tune. The place represents a perfect amalgamation of modern and traditional culture. 

Monks walking on the street clad in yellow robes are a common sight. Bangkok is also renowned for its great shopping experience packed with a plethora of malls, local markets and night markets. However, make sure you put your haggling skills to best use. Food is another highlight of the city, and you can find some of the most delicious local dishes at street stalls and exotic cuisines at fancy restaurants. A trip to Bangkok is incomplete without exploring its happening nightlife that will leave you in complete awe.
Pattaya
Pattaya is a beautiful beach resort nestled along the eastern coast of the Gulf of Thailand renowned for its gorgeous beaches, water parks, unspoiled nature's beauty, religious temples and long walks on the street. Tourists should look out for an amazing nightlife at the island offering a never forgetting experience.
Established around a wide crescent-shaped bay, Ao Pattaya, this exotic island is an ideal destination for adventure lovers and party buffs. With its beautiful and serene beaches, swaying palm groves and clear blue sky, Pattaya can make anyone fall in love with its diversity. The city caters to the varied interests of its visitors offering a plethora of tourist attraction ranging from zoos, themes parks, botanical garden, temples, markets, illuminating streets at night, water sport activities and relaxing tropical setting.

Pattaya is divided into three zones North, Central and South each one offering something different from the other. The place attracts a large number of tourists every year to explore and enjoy the raw beauty of nature sprinkled all across Pattaya. With an exciting nightlife, a memorable shopping experience, thrilling water sports and a variety of other leisure activities this place an ideal destination for friends, families and couples.
Krabi
One of the oldest provinces in Thailand, Krabi is home to the traditional yet the modern, the touristy and the local flavour. Sample what you like and see what the other side of the coin has to offer too in this Thai province.
The number of guesthouses, travel operators and souvenir shops in Krabi might be overwhelming at first glance. However, there is much more to the province beneath the surface. Krabi, a popular Southern Thai beach destination, is gaining popularity and is adored by many. Not as popular as Bangkok or phukhet , Krabi has its own charm and can manage to sweep you off your feet if you give it a chance.
Phuket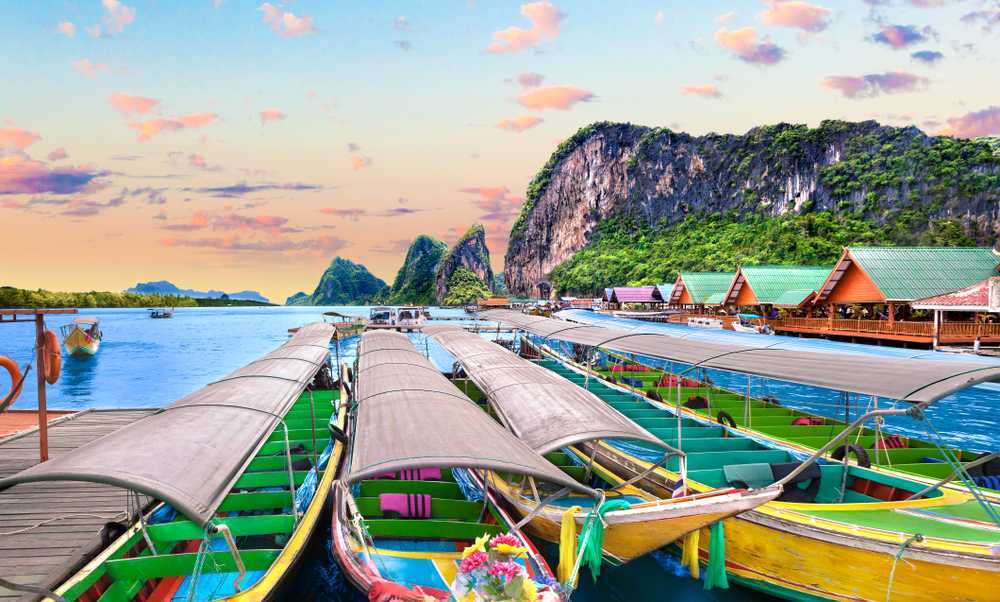 The largest Island in all of Thailand, Phuket has everything Thailand has to offer. Serviced by the Phuket International Airport, the island sees no dearth of travellers during any time of the year. Golden beaches, numerous offshore islands, upbeat markets, a high octane nightlife and thrilling watersports characterise Phuket in a nutshell. Beaches like Surin and Kata cater to families and those individuals with eccentric tastes. Patong beach, on the other hand, caters to all those who like it cheap, loud and crazy, even after the sun sets. Bangla road with its numerous bars, ping pong shows and street food vendors comes alive as the night grows older. Those who shy away from dizzy bright lights and alcohol will find themselves at the Cabaret shows or even at the ever-popular street markets. The Phuket Walking Street or Phuket Weekend markets are places where one can spend hours sifting through various clothes, souvenirs and novelty items.
Aside from all the glitz and swankiness, Phuket offers many traditional activites and experiences too. Enjoying tropical weather all year round, the waters of Phuket come to life, brimming with marine habitants in the months of November to February. Activities like snorkelling and scuba diving can be done at popular and scenic locations such as Phi Phi Islands and Similan Islands, which make for day-trips by speedboat. Further up north, a more quiet and rustic experience can be had while visiting the Elephant Sanctuaries and national parks such as Sirinat National Park and Khao Phra Thaeo National Park. This is also true down south at beaches like Rawai beach and even on the west such as Karon beach which are generally less crowded and offer a more serene experience.

Hidden in plain sight is also an immersive experience of Thai culture. Phuket Town heavily retains it's Chinese influence and Sino-Portuguese history via its cuisine, cooking styles, architecture and historical museums and buildings. Chalong Wat, a Buddhist temple and Jui Tui Shrine, an important Chinese place of worship, stand as embodiments of how various religions and cultures coexist.

Phuket caters to all types of travellers – be it families, individuals, couples or groups, across all budgets. But among them, a certain section does particularly stand out. With a plethora of high-end resorts along most beaches, hotels, luxury shopping outlets and spas, Phuket is a haven for those looking to splurge big on their vacation and look good while doing it.
Phi Phi Islands
Phi Phi consists of a group of six islands. Only 40 km away from phuket, Phi Phi Don and Phi Phi Leh are the two most famous islands of the six. With their pristine waters and vibrant parties, these islands are a wonderful way to spend a few days in Thailand.
With four other islands besides the large ones, Phi Phi houses Bida Nok, Bida Nai, Ko Mai Phai, is also known as Bamboo Island. Phi Phi Islands became famous after the 2000 Hollywood flick 'The Beach' that was shot in Ko Phi Phi Le. Ko Phi Phi Leh houses The "Viking Cave" which is a thriving industry that sells edible birds nests.

It's striking cliffs, white sand beaches with jungles all around and clear blue waters make it look nothing short of paradise. None of the islands has roads, and most of the islands are humanly inhabited, making Phi Phi Islands one of the few untainted beautiful landscapes left in the world. These easily accessible islands can be reached from both Phuket and Krabi, by a speedboat in just 45 minutes or by a ferry in 90 minutes.