They include everything from abandoned forts, deserted villages, closed mines and spooky hotels to unlikely places such as courtrooms and schools. If you want to push the boundaries and seek out the supernatural.
Bhangarh Fort, Rajasthan
Bhangarh fort is known as the most haunted place in India, and perhaps the greatest unsolved mystery. There is no doubting the fact that anything associated with the supernatural attracts a huge amount of attention and the deserted city of Bhangarh cashes in on that very idea. The many haunted stories of Bhangarh Fort have transformed it into a bucket list destination of sorts.
Curious travellers come in order to experience cheap thrills and while some go back disappointed, others simply cannot have enough of the suspense associated with the story of the Bhangarh Fort. If you happen to be one of those inquisitive travellers, it is imperative for you to visit this place and find out for yourself.
While Bhangarh fort story has been rubbished by scientists, nothing stops the villagers from believing that it is a sanctuary for ghosts. People have supposedly often heard noises that are unaccounted for. The locals claim to have heard women screaming and crying, bangles breaking and strange music emerging from the fort. There have been instances where a special perfume was emanating from the Bhangarh Fort along with ghostly shadows and inexplicable lights. Some people have felt the strange sensation of being followed and even slapped by an invisible entity. It is believed that if a person enters the fort after sunset, he/she will never ever come out of it. The doors are therefore always locked after dusk and entry into the Bhangarh Fort at night is absolutely forbidden. Are all of the Bhangarh Fort stories factual or just strange pieces of fiction? Is the Bhangarh Fort really haunted? Nobody can say. Ghost hunters perhaps can.
Kuldhara Village, Rajasthan
Kuldhara village is a haunted location and it is believed that it is impossible to spend an entire night in the village. Recently, one of Paranormal society Delhi decided to unravel the mystery behind the village of Kuldhara's spirit.
 
Delhi's Paranormal Society of Delhi reached Kuldhara under the leadership of Gaurav Tiwari on Saturday.
A brave team of 18 members decided to spend an entire night inside the village along with 10-12 other people.
 
The team spent 12 long horrifying hours inside the village and experienced some strange activities.
 
The team equipped with their high-tech electronic equipment scanned the entire village and encountered really strange activities. From moving shadows, haunting voices to hand imprints of children on cars; the team members lived through one of their scariest nights.
Dowhill, West bengal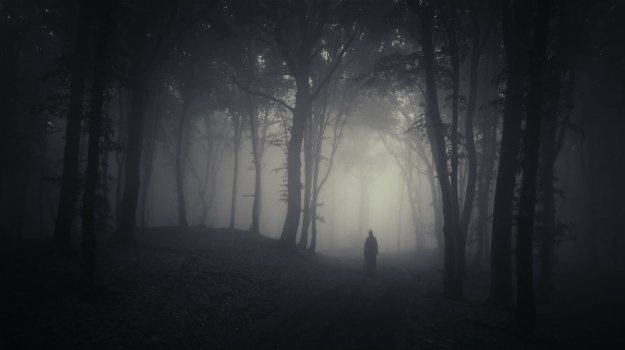 India has many haunted tales in it's stock which would make your blood run cold! All ghost fables would have one particular spot that happens to be the core of all paranormal activities. But it is a different story altogether with the hill station of Kurseong. From haunted buildings and roads, mysterious forests and sinister treks to red eyes, headless corpse and mysterious deaths – you name a paranormal scenario and Kurseong has got it! It seems more like a ghost town
Kurseong is a hill station in West Bengal studded with picturesque landscapes, wooded mountains , lush green tea plantations and thick forests. Nicknamed as 'The land of orchids' , Kurseong has a dark side to it! It is believed to be one of the most haunted places in India. Let's take a look at the paranormal activities which make Dow hill of Kurseong one among the most mysterious places in India.
There is a small stretch of road in between the Dow hill road and the Forest office which is called the death road! The woodcutters here often report a blood chilling account of a young headless boy walking on the road and disappearing in to the woods
Dumas Beach, Gujarat
It has being said on the internet that since the beach has been used as a burial ground by Hindus for several years, a lot of spirits reside here. If you will take a stroll along the beach at night, you may hear whispers of people talking when there is actually nobody around. In one article, disappearance of people from the beach is too mentioned. And it's been said that the beach is full of spirits of dead people.
Truth behind the hauntings of Dumas Beach
We went to Dumas two times to investigate about the hauntings. First time we decided to go in a daytime so that we can have conversation with residents of Dumas village and second time at night so that we can see if hauntings are true or not.
On very first day, we went to Dumas around 6 PM with a DSLR camera. There are around four different beaches in Dumas, people mostly hangout on two of them. We first went to those two to talk with the residents. We went to local shopkeepers and asked them about the hauntings of Dumas. They all firmly denied to the news of Dumas being haunted. It was around 7 PM now. We then headed to the third beach, which is known by only some people. That beach is having a graveyard where Hindus were buried. We could see only one stall on that beach. We went to ask person on the stall about hauntings. He too denied to have such hauntings. Now we were waiting for the sun to set. We were waiting for the night; so we hung around till 11 in nearby places. Then we decided to go to the third beach again, where the graveyard is situated. Now it was time to capture some photos of the place. I tried capturing photos with my DSLR. But I could not capture a single picture as something went wrong with the flash light of my cam.
Agrasen ki Baoli, New Delhi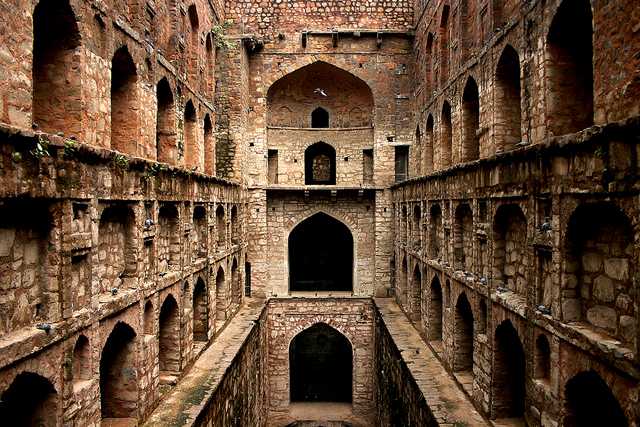 Also referred to as Agar Sain Ki Baoli or Ugrasen ki Baoli, this attraction is a historical monument situated on the Halley Road in New Delhi. A mosaic of different assortment of stones and rocks, Agrasen ki Baoli is an ancient water reservoir which rises from the depths of the earth to stand atop 103 stone steps. Hidden amidst the business towers and residential apartments of central Delhi, this place is a quiet and serene experience perfect for photography lovers. The old brick walls of the structure take you back in history and as you go down the steps, a drop in temperature can be experienced. Agrasen ki Baoli is a protected monument under the Ancient Monuments and Archaeological Sites and Remains Act, 1958 of the Archaeological Survey of India. The structure of Agrasen Ki Baoli occupies a width of 15 metres and is 60 metres long which is quite impressive considering the fact that it is believed to have been built somewhere around the time of Mahabharata. The reservoir still serves its ancient purpose as the lower parts of the baoli can be seen submerged in water on some occasions. There is a mosque located on its South Western Side which stands on four pillars with a heavy stone on the roof. Interestingly, this site is famous for being haunted, and visitors have claimed to feel a strange presence here quite often. Come and explore this enigmatic piece of architecture, you will surely not be disappointed!