Summer is coming! The clocks have skipped forward, the thermometers have hit 20°C for the first time in ages and it's time to get planning those summer roadies.
Whether you're visiting New Zealand for the first time or you're a Kiwi born and bred, there are always new places to discover. New Zealand is one of nature's best gifts.
No matter where you go, it's like something out of a picture postcard. From the snow-capped peaks to the white sandy beaches, the sparkling coves to the rainforests – New Zealand is a paradise waiting to be explored.
DUNEDIN
New Zealand's little piece of Scottish heritage lies in the South Island. Dunedin, named after the Gaelic for Edinburgh, "Dun Edin," was founded by Presbyterian Scottish immigrants, and that legacy can still be proudly felt today. Small and extremely hilly-the city lays claim to the steepest residential street in the world-Dunedin is tucked into the inner corner of Otago Harbour's wild and windswept coastline, with rugged beaches, raw clifftop landscapes, and even the world's only mainland colony of royal albatross, right on the city's doorstep.
The town center itself is compact and easily navigated on foot, with many fine examples of late 19th-century architecture still well preserved. To find out more about the top attractions in this beautiful city, be sure to review our list of the top attractions in Dunedin New Zealand.
Dunedin's top tourist attraction is Larnach Castle, New Zealand's only castle. It was built in the late 19th-century by wealthy banker William Larnach who made his fortune during Otago's gold rush years. No expense was spared in its construction, with Italian marble, Welsh slate, and Venetian glass being shipped in to create a sumptuous house with a façade similar to the Scottish castles of Larnarch's roots.
Despite Larnach's wealth and career success, he led a tragic life, with both his wife and favorite daughter dying young. In 1898, while serving as a politician in Wellington, he committed suicide.
After his death, the castle fell into decline, serving as an asylum, soldiers' barracks, and nunnery until it was purchased by the Barker family in 1967 who undertook a mammoth restoration project to restore the castle to its former grandeur.
ATTRACTION
Larnach Castle
Otago Peninsula
Dunedin Railways
Otago Museum
Tunnel Beach
Toitu Otago Settlers Museum
Olveston Historic Home
FIORDLAND NATIONAL PARK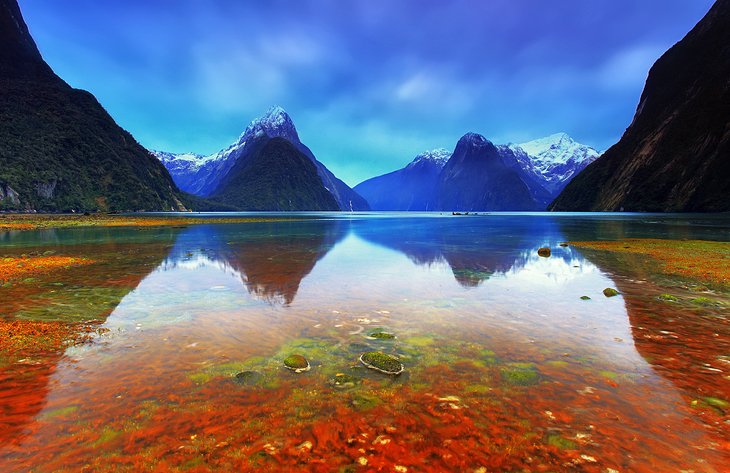 After Milford Sound, Doubtful Sound is perhaps the second most visited place in Fiordland National Park. While it is also a fiord, the scenery is quite different in Doubtful Sound. Doubtful Sound is three times longer than Milford and is far less accessible because there is no direct road access. In fact, in order to reach this piece of untouched wilderness you have to cruise across Lake Manapouri and then coach over Wilmot Pass.
The level of isolation is one of the reasons why Doubtful Sound is one of our favourite things to do in Fiordland – the wildlife is abundant, the nature is pristine and the tranquillity and peacefulness of the entire experience is one that everyone should experience while in New Zealand. Whether you chose to explore Doubtful Sound by overnight cruise, Kayak or scenic flight, we're sure that you'll be in awe of this unique, untouched corner of the world.
One of the best places to see glowworms in New Zealand is in the Te Anau glowworm caves. Te Anau is the gateway to Fiordland as the nearest town to the national park. Glowworms are interesting creatures that light up in the darkness of the caves, creating a magical experience of hundreds of shimmering, sparkling lights that are reminiscent of stars in the night sky. Experiencing the Te Anau glowworm caves is a unique experience in Fiordland and is a must do when visiting the area.
In addition to seeing hundreds of glowworms, you'll also get to cruise across Lake Te Anau, the largest lake on the South Island. You can also partake in a guided nature walk to learn about the unique flora and fauna of the region. Of course, entering the limestone caves and being amongst the rushing waterfalls and whirlpools inside is an experience like no other.
ATTRACTION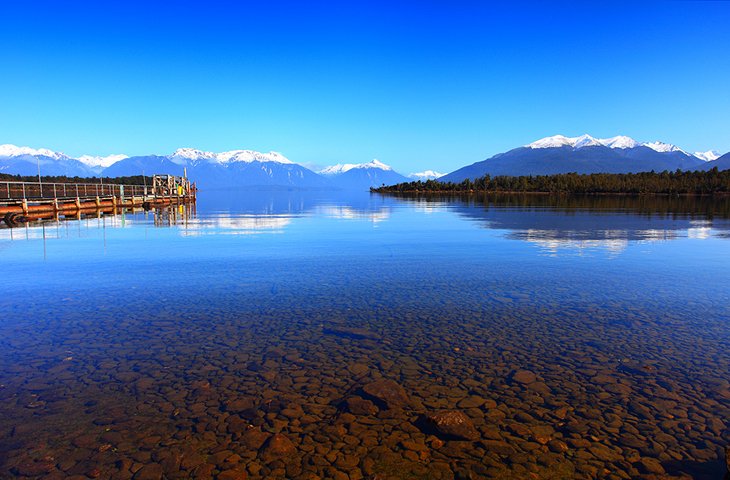 Milford Sound
Milford Track
Doubtful Sound
Lake Te Anau
Kepler Track
Mitre Peak
Hollyford Track
Te Wahipounamu
FRANZ JOSEF GLACIER
Franz Josef Glacier was first explored in 1865 by geologist Julius von Haast, who named it after the Austrian emperor. The glacier is five kilometres from the town of the same name, and a1.5 hour walk will take you to within 750m of its terminal face.

If you want to actually make contact with the glacier, take a heli-hike or a Guided Ice walk. Aerial sightseeing is another option.
There's a range of natural attractions in close proximity to Franz Josef Glacier Village. Lose yourself in the rainforests, waterfalls, and lakes.
In the town, you'll find plenty of places to stay and eat, or relax at the Glaciers Hot Pools or explore the wildlife centre. At nearby Lake Mapourika, you can take a kayak tour or rent a stand-up paddleboard.