January is a warm month so a good time to be on or in the water. And there is also where you will see most New Zealanders.
January is peak tourist season in New Zealand, so almost all tourist Facilities are open except ski field. So you can do almost anything in January.
Lord of the Rings
Ever since 2001, many of us have come to recognize New Zealand as "the place where Lord of the Rings and The Hobbit, was filmed." Now even more people know it as "the place where I took my vacation."
According to the general manager of Western long haul markets for Tourism New Zealand, Gregg Anderson, "We've seen a 50% increase in arrivals to New Zealand since Lord of the Rings." The first film in the trilogy, Lord of the Rings: The Fellowship of the Ring, was released in 2001.
Lord of the Rings may have contributed to the economy of New Zealand…but then again, as Anderson said, "I'm sure Lord of the Rings played a huge part in that, but it wasn't the only factor.
"About 1% of visitors said that Lord of the Rings was the reason they came. It's only one 1%, but that's worth NZD$33 million [currently US$27 million] a year. Six percent cited Lord of the Rings as one of [emphasis mine] the major reasons they came. But the really important thing is that upwards of 80% of our target audience understands that Lord of the Rings and The Hobbit has been filmed and is being filmed in New Zealand."
Bay Of Islands
A three-hour drive or 35 minute flight north of Auckland, the Bay of Islands encompasses 144 islands between Cape Brett and the Purerua Peninsula and includes the boutique towns of Opua, Pahia Russel and Kerikeri.
A choice of tour operators in the region offer excellent trips by sea or air to spectacular Cape Brett and the 'Hole in the Rock' on Piercy Island. A passenger perri service runs between Paihia and Russell, while a vehicle pherri provides a link between Opua and Russell. On land, enjoy beautiful river and seaside walking tracks or encounter the mighty Kauri Tree in pristine subtropical rainforest.
Embark on a voyage of discovery and enjoy the beauty of this area when you join a daily cruise, charter a yacht or hire a sea kayak. Once you're around Tapeka Point – just north of Russell – you'll enter a maritime adventure playground with an abundance of wildlife including penguins, dolphins, marlin, whales, gannets and more. Many of the islands here have walking tracks and there is a camping ground on Urupukapuka Island
Waiheke Island
In landscape, lifestyle and experience, Waiheke is a world away.
The white sandy beaches at Oneroa, Palm Beach and Onetangi slope gently down into the Hauraki Gulf and are perfect for swimming, kayaking, or having a picnic.
If you're a walker, explore the island's trails which meander along cliff tops, down to the beaches and into cool enclaves of native forest. At the eastern end of the island the Stony Batter walkway leads you to a system of World War II gun emplacements and underground tunnels.
To stay overnight, rent a beach house and wake up to the sound of the waves, if you're on a budget, go to a friendly backpacker hostel.
Getting around is easy too. Catch one of the regular ferries that run to Waiheke from downtown Auckland. Once on the island, there are public buses and taxis, or you can hire a mountain bike, motor scooter or car. And if you've already got a car or bike, you can bring it over with you on the car ferry.
ATTRACTION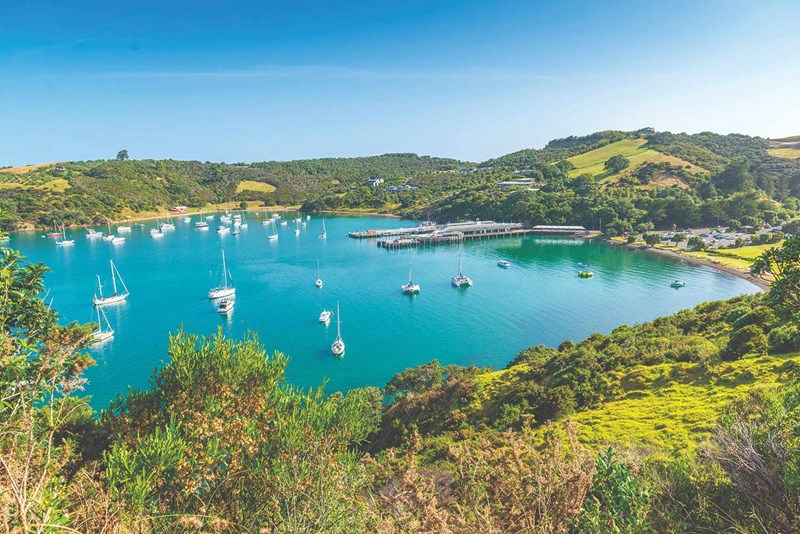 Man O' War Vineyards
Tantalus Estate
Wild on Waiheke
Oneroa Beach
Te Whau Drive
Whakanewha Regional Park
Stony Batter
Waiheke Community Art Gallery
Obsidian Vineyard
The Wonder Of Waitomo
Discover a world away in Waitomo New Zealand
Time holds more here. Discover magic, wonder and adventure all in one unique place – a place that is very special to the people who live here. Waitomo is a Maori word made up of two parts, 'Wai' which translates as water and 'tomo' which means entrance or hole. Waitomo can be translated as the 'stream which flows into the hole in the ground'. As a region Waitomo has built its reputation on the sheer beauty and scale of its subterranean landscape.
30 million years ago the entire Waitomo region lay far beneath the sea. Today, both above and below ground, it stands as a revealing testament to a landmark period in New Zealand's and the world's natural history.
Our crew is bound to this place, as a living entity and provider, our caves are a precious taonga (treasure) for us and our community. In our beginning, the tears of our sky father Ranginui fell as rain to the ground, tears of his yearning for our earth mother papatuanuku…these droplets became rivulets that flowed through the earth to form our cave systems…and it was in this separation of our sky father and earth mother that we began to move out of the darkness. But before the warmth of the sun appeared the last light of the night was that of the glowworms.
They were the last lights that the siblings of Tane Mahuta saw before it all changed and we became who we are today. Their light reflecting and dancing on the water that created these caves is written into our history. Today the wairua of our beginning still flows through the sky, land, rivers and caves of this place.
A Road Trip to Waitomo: The Natural Wonder of New Zealand. … Glowworm caves in New Zealand offer visitors the chance to explore dark caves that are lit up by thousands of tiny glowworms (scientifically known as Arachnocampa Luminosa) who shine bright as a way to attract their prey.