Irrespective of age, summers in India can easily take a toll on anyone which is why we've compiled this list of best places to visit in India in May to get the best out of your vacations. From Spiti in North to Kerala in South, travel to enticing and best tourist places to visit in May in India that can be best explored and enjoyed with affordable and economical India tour packages.
Kodaikanal, Tamil Nadu
Legend starts with Lieutenant Ward, an Englishman, who climbed up from the Kunnavan village of Vellagavi to Kodaikanal in 1821 for a survey of Mountain Ranges of Palani. In 1834, J.C Wroughten, the then Sub-Collector of Madras and C. R. Cotton, Member – Board of Revenue – Madras Presidency went up the hills from Devadanapatti and built a small bungalow at the head of Adukkam pass near Shenbaganur. The visit of Dr.Wite in 1836 and his observation about the Hill Station attracted Botanists to Kodaikanal. First two houses named Sunnyside and Shelton, on the South Lake Road, were built between 1844-1845 by American Missionaries. Six more such American families migrated to Kodaikanal. Exotic location at 7000 feet above the Plains brought them up here.
Best Time to visit
Kodaikanal can be visited through the year, but the ideal time to visit is in the winter between October and March. This is when the weather is at its best. The summer and monsoon months, of April to June and between July and September respectively, also make for a good Kodaikanal trip.
The weather in Kodaikanal falls into three distinct seasons – the summer, the winter, and the monsoon.
Tourist Attraction
Green Valley(Suicide Point)
Kodai Lake
Bear Shola Fall
Pillar Rock
Thalaiyar falls
Devil's Kitchen
Coaker walk
How to Reach ?
By air: Madurai International Airport is the nearest to Kodaikanal, approximately 120 km away. …
By road: Kodaikanal is linked by road with several prominent cities, including Bangalore (460 km), Trichy (198 km) Chennai (530 km), Ooty (255 km), Coimbatore (175 km) and Kumili (160 km). …
By train
Mussoorie, Uttarakhand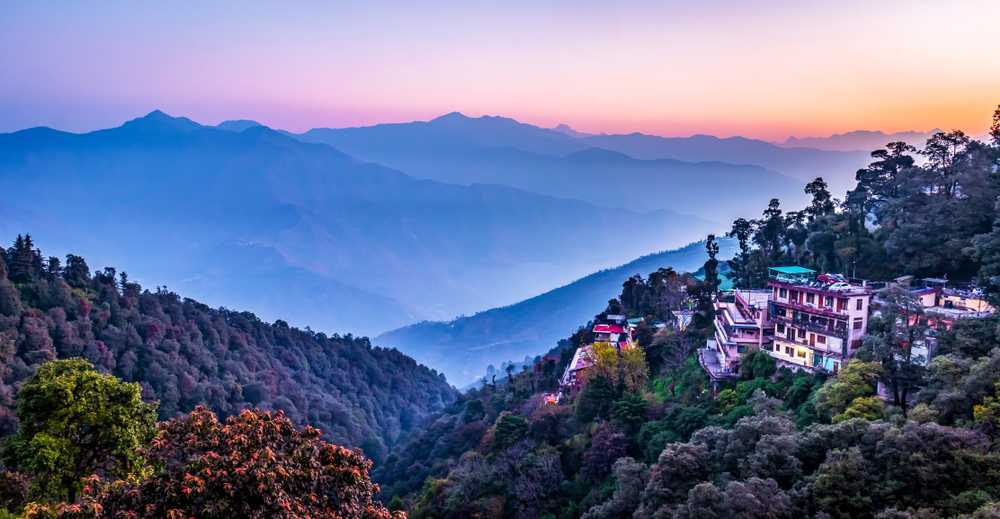 Mussoorie, Queen of the Hills, located some 290 km north of New Delhi, is among the most popular hill stations of the country. It is a captivating paradise for leisure travellers and honeymooners. A perfect summer resort and a major educational and cultural centre has been rolled into one hub. Located on a 15 km long horseshoe ridge with the grand Himalayas as a backdrop, the colonial hill resort of Mussoorie spreads across at a height of 2,005.5 m above sea level. From this vantage point, Mussoorie offers superb scenic view of peaks of the Himalayas in western Garhwal. Mussoorie boasts of some of the most spectacular views of the Himalayas. Hill ridges, irregular in shape and partly wooded, form layer after layer to the horizon, where snow capped mountain peaks are visible as though you can touch them. From West to East, the mighty peaks of Bandar Poonch, Srikantha, the Gangotri group and the Chaukhamba present a mesmerizing panorama. 34 km from Dehradun, Mussoorie overlooks the majestic Doon valley to its south and the impressive Himalayas up north.
Best Time to Visit
The best time to visit Mussoorie is during summers, as it offers an excellent respite from the scorching summer heat. April-June: The months of April, May and June witness the peak season owing to the pleasant climate while those looking forward to see snowfall should visit Mussoorie during winters.
Tourist Attraction
Lal Tibba
Lake Mist
Kempty Fall
Cloud End
Gun Hill
Mussoorie Mall road
Paragliding & Trekking
Nag Tibba Trek
How to reach ?
Delhi is the nearest International Airport & National Airport is Jollygrant Airport which is only 24 kms away from Dehradun. The nearest Airport to Mussoorie is 60 kms away from the place. There are no regular flights to Jollygrant Airport. Indian Airlines connects Jolly Grant Airport, 24 km from Dehradun, with Delhi. Taxis are available to reach there. The Jolly Grant Airports besides Rishikesh-Dehradun State Highway. Uttarakhand State Road Transport Corporation buses stop in front of Airport Gate.
Kalimpong, West Bengal
Thrilling and heavenly, a trip to Kalimpong is a sublime experience. This old little town, nestled away in the far northeast, is a visual delight and should be placed high on your bucket list if you love the hills. And the long list of places to visit in Kalimpong ensures that you have ample options of sightseeing. While holidaying there, you will fall in love with the hills and get a blissful and peaceful experience like never before. So, do plan a trip to Kalimpong!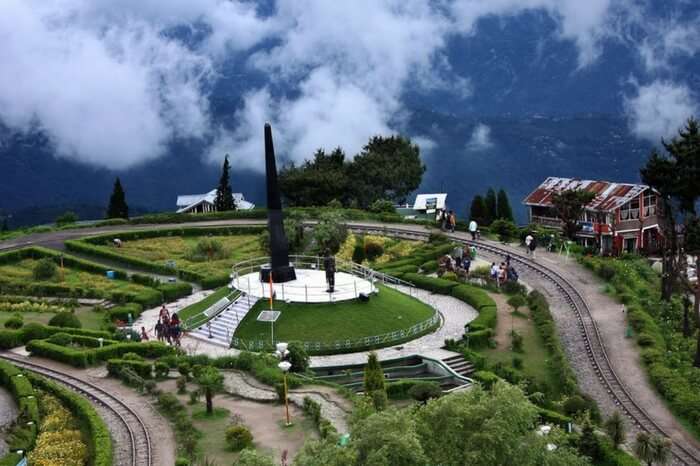 Kalimpong in summer – From march till May

Summer season begins with the coming of March and it ends with the month of May. The weather remains mild and comfortable during this period. It is a good time to visit Kalimpong and enjoy sightseeing.
Kalimpong in Monsoons – From June till September
Kalimpong experiences heavy rainfall during the monsoon season. The monsoon season starts in the month of June and ends in September. As heavy rainfall leads to landslides and road blockages, it is not a good time to visit the place.
Kalimpong in Winters – From December till February
Winter season in Kalimpong starts in December and ends in February. Kalimpong experiences cool and pleasant weather during this season. The temperature ranges between 1°C to 15°C and at times, it drops down to a minimum of subzero temperature.
Tourist Attraction
Durpin Hills
Cactus Nursery
Morgan House
Deolo Hill
Galingka
Teesta River Rafting
Thongsa Gompa
Sericulture Research Institute
How to Reach
Kalimpong by Air. Located at a distance of 79 km, Bagdogra airport is the nearest airport to Kalimpong. …
Kalimpong by rail. New Jalpaiguri railway station is the nearest railhead located at a distance of 77 km from Kalimpong. …
Kalimpong by road. Kalimpong is well-connected to Sikkim and other cities of India via road
Pachmarhi, Madhya Pradesh
Situated at 1100 m, Pachmarhi, popularly known as 'Satpura ki Rani' (Queen of Satpura), sits beautifully, embellished by nature and history, amidst the Satpura range. Legend says the Pandava brothers visited Pachmarhi during their exile.
This beautiful region in the hills, was discovered by Captain James Forsyth in 1857. This most popular hill station of Madhya Pradesh is a treasure with ancient caves of the Buddhist era residing in harmony with serene waterfalls.
Best Time To Visit
Pachmarhi can be visited throughout the year, though the best time to visit Pachmarhi is October to June. The summers are pleasant followed by moderate showers during the monsoon which leave the weather very attractive and enjoyable.
Tourist Attraction
Bee fall
Jata Shankar cave
Pandava Caves
Dhoopgarh
Handikoh
Mahadeo hill
Satpura National park
Priyadarshani Point
How to Reach
By Road Pachmarhi. To reach Pachmarhi, you've got to land at Piparia. From Piparia a 2hrs drive for 51 km will take you tochamarhi. …
By Rail Pachmarhi. The nearest railway station from Pachmarhi is at Piparia. …
By Air pachmarhi. The nearest airport is at Bhopal, 195 km from Pachmarhi.
Wayanad, Kerala
Welcome to Wayanad, one of the most scenic hill stations of Kerala in South India. Known for its scenic landscapes, greenery, amazing waterfalls and wildlife, Wayanad makes for a perfect getaway destination for nature lovers. A trip to Kerala is incomplete without visiting this charming little hill station.
What is the best time to visit Wayanad?
The temperature in Wayanad remains more or less constant throughout the year, but the best time to visit Wayanad is between October and May. These months covers the winter and the beginning of the summer season. During the monsoons, the hill station receives the right amount of rainfall and the wet and humid weather might not be something tourists would be crazy for. So it is not always recommended except for those who wouldn't mind the rains only to be amidst the beautiful hill station covered with a green carpet of dense trees.
Tourist Attraction
Banasura dam
Wayanad Wildlife Sanctury
Chembra peak
Eddakal cave
Soochipara Fall
Vithiri
Kuruwa Dweep
Pookode lake