Children all over the world are familiar with the beautiful Disney princesses. Their fascinating stories were read to us when we were kids, and the cartoons only made us love them more. But now the princesses got married and started their own families. It's not like these characters have anything better to do on those cold winter nights in their hallowed castle halls. If you ever wanted to see what those glorious Disney queens would look like with their husbands and later on, with cute baby bumps, just keep reading.
Russian artist Oksana Pashchenko decided to show her Instagram followers how lovely the princesses would look with their loved ones in "We're pregnant!" photoshoots, just like the modern youngsters often do. Her drawings of fairytale princesses and Disneyfied couples have already traveled across the world and became viral in the past, so the next logical step would be showing off those cute kids.
Belle with mom and dad at her wedding.
Prego Belle and Adam looking classy.
And here's their little daughter, aww!
Loading…
Cinderella and her parents' ghosts. That must have been awkward.
Then she gets pregnant.
And we get this adorable baby in a mouse costume.
We have never seen Disney royalty in this kind of predicament before. Charming Snow White, joyful Megara, incredible Cinderella, sensual Pocahontas, and insightful Mulan — they all have that soon-to-be mommy glow, even though it's just the drawings. I know hardcore Disney fans would probably think this is heresy, but come on, the "happily ever after" can only mean one thing — be fruitful and multiply!
Ariel's big wedding day looks fantastic. But not as fantastic as Triton.
Here are Ariel and Eric about six months after they'd got married.
Baby Melody in a Flounder costume is the cutest one of all.
Feel free to let us know in the comments how many of your favorite childhood characters Oksana has ruined. It's also only fair to mention that pregnant princesses are not her only hobby. She likes to Disnefy characters from popular movies. And judging from the most recent entries, commissions are going pretty well too! Look for more awesome drawings on her Instagram page.
Aurora's wedding ceremony must have been a snooze fest.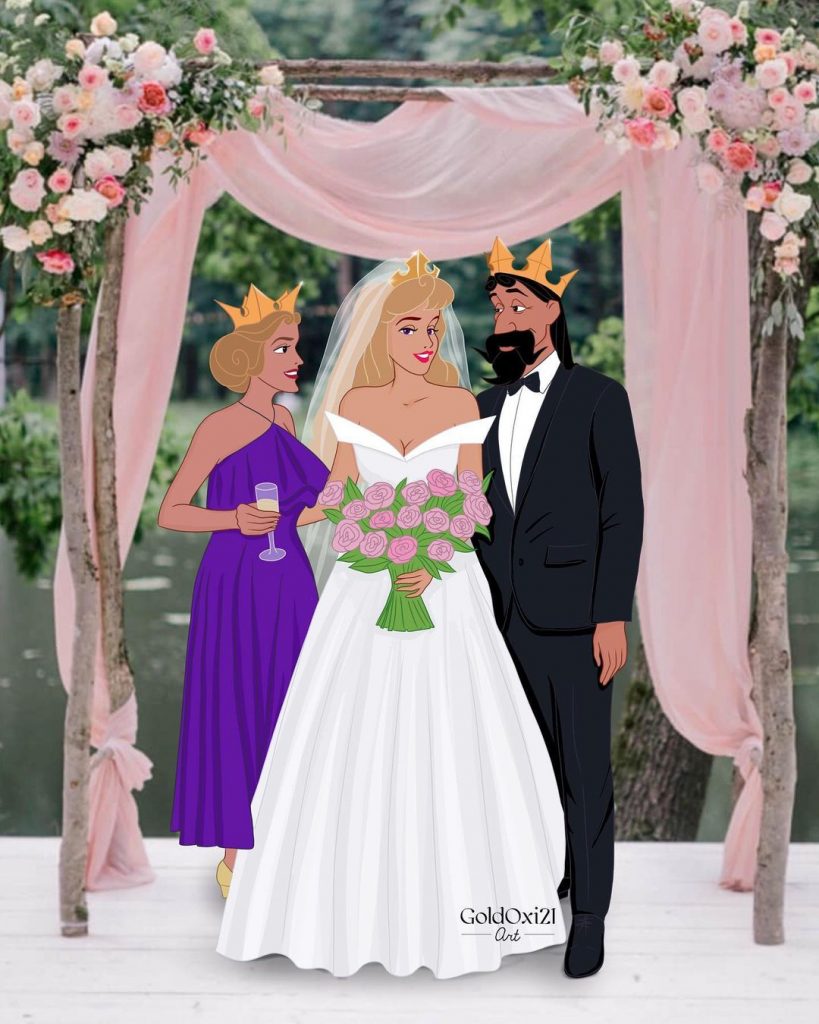 But Prince Charming didn't seem to mind.
And that's how we got the delightful baby Maleficent!