Winter is gone and sunny days are coming. Trees are in bloom, love and sweetness are in the air. Spring is the perfect season to discover the most beautiful European destinations in Greece, Portugal, France, Ireland, Croatia or Spain. Here are your favourite destinations in spring. Book your accomodation today at the best prices guranteed as well as your best activities for a perfect holiday in Europe.
Stavanger, Norway
Stavanger is not only the gateway to some of the best hikes in all of Norway, this coastal town boasts some of the most beautiful and best-preserved wooden buildings anywhere in Norway, many of them dating back to the 18th century.
The town waterfront comes alive in summer in the best port-town style. As a former European Capital of Culture, Stavanger also boasts an impressive assortment of museums and cultural events.
The Stavanger region has many scenic attractions, making it the perfect launchpad for adventure seekers. Located here is Lysefjord, home to two of Norway's most famous and picturesque hikes, Kjeragbolten and Preikestolen ("the Pulpit Rock"). These suspended viewpoints are no less than 600 metres high. The journey to reach the top is both challenging and rewarding. It's no wonder then Lonely Planet named Preikestolen the number one most breathtaking viewing platform in the world.
This was my second trip to Norway. The first time, was in winter so I after I spent afew day of Oslo I headed north to Tromso where I did a lot of whale watching and Northern light's Chasing. I couldn't get enough, so five months later, I went back to experience this amazing country in the summer.
I spent five days exploring the stunning Stavanger region of Rogaland and found there was so much to see and do within this one space! This is where Norway became united into one kingdom in the famous Viking battle that took place in Hafrsfjord in 872 AD.
Norway has left such an impression on me that I could easily see myself living there. When you go there you'll know what I mean.
Tourist Attraction
Pulpit Rock
Norwegian Petroleum Museum
Stavanger Cathedral
Sverd i fjell
Gamle Stavanger
Norwegian Canning Museum
Stavanger City Museum
Dublin, Ireland
Layers of History
Dublin has been in the news since the 9th century, and while traces of its Viking past have been largely washed away, the city is a living museum of its history since then, with medieval castles and cathedrals on display alongside the architectural splendours of its 18th-century heyday, when Dublin was the most handsome Georgian city of the British Empire and a fine reflection of the aspirations of its most privileged citizens. How power was wrested from their hands is another story, and you'll learn that one in its museums and on its walking tours.
Personality Goes A Long Way
Dubliners will admit theirs isn't the prettiest city, but will remind you that pretty things are as easy to like as they are to forget…before showing you the showstopper Georgian bits to prove that Dublin has a fine line in sophisticated elegance. True love is demonstrated with brutal unsentimentality round here, but they'll go soft at the knees when talking about the character and personality of the 'greatest city in the world, if you ignore all the others'. Garrulous, amiable and witty, Dubliners at their ease are the greatest hosts of all, a charismatic bunch with compelling soul and sociability.
A Few Scoops
Even in these times of green juices and heart-monitoring apps, the pub remains the alpha and omega of social interaction in Dublin. The city's relationship with alcohol is complex and conflicted but, at its very best, a night out in the pub is the perfect social lubricant and one of the highlights of a visit to Dublin. Every Dubliner has their favourite haunt, from the never-changing traditional pub to whatever new opening is bringing in the beautiful people. With more than 1000 of them spread about the city, you'll be spoilt for choice.
All the World is Dublin
For as long as it's been around, Dublin has looked beyond Irish shores for inspiration. Once the second city of the (British) Empire, Dublin has always maintained a pretty cosmopolitan outlook and in the last three decades has conspicuously embraced diversity and multiculturalism. You'll hear languages and eat foods from all four corners of the globe, and while it used to be said that 'real' Dubs had to be born within the canals like their parents and grandparents before them, these days you're just as likely to meet a Dub whose parents were born in Warsaw, Lagos, Cairo or Beijing.
Tourist Attraction
Guinness Storehouse
Temple Bar
Dublin Castle
Phoenix Park
Kilmainham Gaol
St Stephen's Green
Christ Church Cathedral
San Sebastian, Spain
Culinary Superstar
San Sebastián has a justly deserved reputation as one of the world's great dining destinations. This is a city that celebrates the art of eating well in all its many forms – whether snacking on fresh oysters and txakoli (a lightly sparkling white wine) at a seaside cafe or lingering over a decadent, multi-course feast in a Michelin-starred dining room. Pintxos (Basque tapas) bars litter the streets of San Sebastián, and showcase first-rate ingredients from the surrounding coast and countryside combined with the culinary creativity of Basque chefs. When it comes to cooking, no other city quite compares.
Seaside Setting
Spain's culinary capital is also blessed with an alluring coastline. The long Playa de la Concha is the city's great backyard, a picturesque sweep of sandy beach that fronts gently lapping seas. Surfers head one beach over to the powerful waves that roll in off of Playa de la Zurriola, just behind the hipster enclave of Gros. Just offshore of the old town lies Isla de Santa Clara, a small hilly island that makes a fine getaway on a steamy afternoon. The city has some fine vantage points to gaze over its coastline, including the hilltop heights of Monte Urgull and Monte Igueldo.
Captivating Culture
For a city of its size, San Sebastian has a staggering array of festivals and cultural events. The International Film Festival, which happens in September, brings European and Hollywood stars to town, while the Semana Grande in August features a week of street parties and revelry. There's also music festivals, massive culinary fairs and folk fests that celebrate Basque culture in its myriad forms. Big events aside, there's always something happening in San Sebastián, with performances at the cutting-edge Kursaal, the belle époque Teatro Victoria Eugenia or the Tabakalera – the city's newest arts space.
A Grand Design
Once a favourite destination for Spanish royalty, San Sebastián has lost none of its lustre over the years. Elegant art nouveau buildings, ornate bridges and beautifully manicured parks and plazas create a captivating backdrop to this seaside city. Far from being mere set pieces, the grand architecture remains an integral part of San Sebastián, from the lavish Hotel Maria Cristina to the belle époque spa perched over the shoreline. Meanwhile, the old buildings lining the cobblestone streets of the Parte Vieja have been given new life with charming guesthouses, colourful boutiques and buzzing pintxos bars all part of the great and vibrant mix that is San Sebastián.
Tourist Attraction
Beach of La Concha
Urgull
Miramar Palace
San Telmo Museum
Good Shepherd of San Sebastián Cathedral
Kursaal
Basílica de Santa María del Coro
Playa de La Zurriola
Bay of La Concha
Porto, Portugal
Porto is a fascinating and vibrant city that is rapidly becoming one of Western Europe's most respected tourist destinations. The city boasts an extensive history, interesting tourist attractions, and a buzzing nightlife, and outstanding tourist facilities. There is a lot to see and do in Porto, and this diverse city will appeal to a wide range of visitors.
Porto is a historic and varied city, from the warren of narrow streets that make up the ancient Ribeira district through to the grand plaza of the Trindade district. The region is famed for the production of Port, which is still stored and matured in the vast cellars that stretch along the banks of the Douro River.
This guide will provide an introduction to Porto, by answering some of the common holiday planning questions and offering links to further detailed tourist information.
Tourist Attraction
Luís I Bridge
Livraria Lello
São Bento railway station
Clérigos Church
Bolsa Palace
Porto Cathedral
Monument Church Of St Francis
Jardins do Palácio de Cristal
Montreux, Switzerland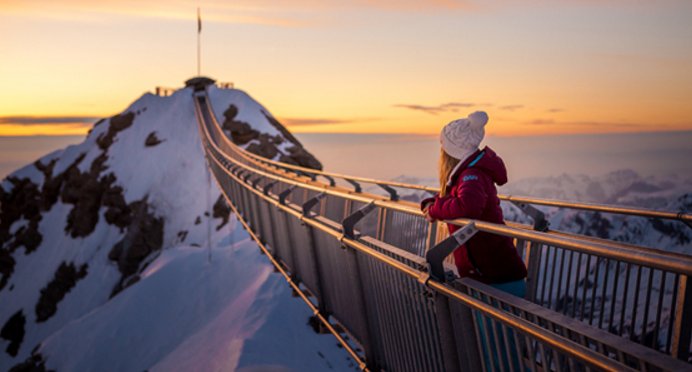 It's no surprise that Charlie Chaplin chose to spend his last 25 years on the hills of Vevey, that Freddie Mercury immortalised Lake Geneva with the peaks of Le Grammont on the cover of the album "Made in Heaven", that Igor Stravinski composed "The Rite of Spring" in Montreux, or that Prince declared his love for Lavaux in a song named after the famous terraced vineyard, which is also a UNESCO World Heritage site.
From Villeneuve to Lutry, along the shores of Lake Geneva, Montreux Riviera enjoys a microclimate that gives it a Mediterranean flair. The atmosphere is perfect for relaxing, going on walks, discovering new areas, and the climate is ideal for a rich terroir, cultivated expertly by restaurateurs and winegrowers.
A few minutes from the shore up on the hills, forests interspersed with meadows invite walkers to roam the hiking trails, observe blossoming wild narcissus – known locally as "the snow of May" – and admire a panorama that transforms with each season. The arrival of the first snowflakes signals the beginning of Alpine fun, on skis, snowshoes or simply on foot.
For less sporty visitors, Chaplin's World and Chillon Castle are the top museum choices. Why not let yourself be tempted by a ride aboard a historical CGN ship, or a Belle Epoque train on the GoldenPass line?
Montreux Riviera is a land of contrasts. It's a kind of miniature Switzerland where visitors and locals have been living together for three centuries. The region is especially rich in cultural events, including the unmissable Montreux Jazz Festival, and boasts some of the best hotel schools and private clinics in the world. It is also a business hub with infrastructure that is perfectly suited to organising international conferences.
Winter
Up high on Rochers-de-Naye and Les Pléiades, on snowshoes, skis or on a sunny terrace, Montreux Riviera combines the joys of winter and a lake view with fantastic cosy restaurants serving traditional dishes. In the heart of the old town or on the shores of the lake, the Vevey Christmas market and the famous Montreux Noël invite you to share precious moments in a festive atmosphere.
Summer
When the sun shines, it's the perfect time to discover the many sides of Montreux Riviera. From the terraced vineyards of Lavaux to the quays of Villeneuve, Montreux and Vevey, from hiking trails to the stages of the most popular festivals, there's a hint of joie de vivre about the place. A wide range of experiences to enjoy as you wish.
Tourist Attraction
Golden Pass Railway
Chillon Castle
Freddie Mercury
Casino Barrière Montreux
Queen: The Studio Experience
Paseo al borde del lago Leman
Col de Jaman