India is a country of very diverse states, each with its own rich cultural heritage and historical treasures. Karnataka is no different. Blessed with stunning beaches, fascinating architectural wonders and much much more, there are many reasons to visit Karnataka.
Located in southwest India, Karnataka is quite an underrated destination. It's capital Bangalore is a cosmopolitan centre, and it has many popular destinations to visit, such as the royal Mysore, medieval Hampi, and numerous natural sites.
Heritage site
The UNESCO World Heritage Site of Hampi was once the capital of the medieval Vijayanagara empire. It is full of majestic ruins of Hindu temples, palaces. Don't miss the Virupaksha temple and the elephant stables.
This time of the 12th century Hoysala Empire at the towns of Belur and Halebidu in the Hassan district. They are known for their temples full of intricate carvings and Hoysala architecture, such as the Hoysaleshwara and Kedareshwara temples.
Hill Stations of Karnataka
The Western Ghats form a major part of the state of Karnataka. The region has been declared a Biodiversity Hot-spot. It is also home to many hill stations that are perfect for a retreat into nature. Agumbe in the Shimoga district and Kemmangudi are known for their scenic waterfalls and rainforests, while Coorg and Chikmagalur are famous for their coffee and tea plantations. You can also visit Kodachadri and BR Hills, which are known for their trekking trails, as well as the historic Madikeri.
Ancient Temple
Just when you'd thought you'd had enough of historical sites and temples, Karnataka delivers more. The small villages of Badami, Aihole and Pattadakal are known for intricately carved temples, caves and forts, all made from sandstone. They were once a part of the Chalukya Dynasty, which ruled the area between the 6th and 12th century. Don't miss the Badami Fort, Bhootnath temple and rock-cut Buddhist caves in Badami, the Virupaksha temple of Pattadakal and the Lad Khan temple in Aihole.
Karavali Coastline
One of the many reasons to visit Karnataka is its amazing coastline. Known as the Karavali Coast, it is home to some truly spectacular beaches, as well as some delicious food. One of the top destinations is Gokarna. With the Western Ghats on one side and the Arabian sea on the other, it is known for its beaches and water sports, as well as its temples and historic sites. You can also visit nearby Karwar and the serene St Mary's Island.
Massive Monolithic Statues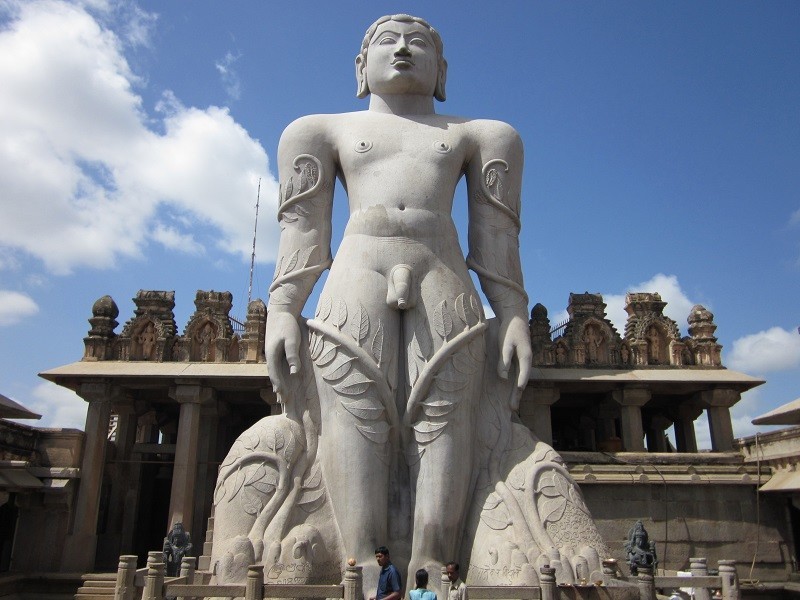 Shravanabelagola in Karnataka is home to the world's largest monolithic statue. It was installed by Chavundaraya, the Prime Minister of the Talakad Ganga Kingdom, in 981 AD. The towering 60-foot Gomateshwara Statue atop Vindyagiri Hill is of religious importance to Jains, and was added to over decades by many dynasties and kings, and has inscriptions in Prakrit, Kannada, Tamil, and Marathi. Every twelve years, thousands of devotees congregate here to perform the Mahamastakabhisheka, a spectacular ceremony in which the statue is anointed with water, turmeric, milk, sandalwood paste, and flowers. You can also visit the nearby Chandragiri, where the famous ruler Chandragupta Maurya is said to have retired as an ascetic.
Waterfalls
Karnataka is also home to some of the most beautiful waterfalls in the world. At a height of 830 feet, Jog Falls in the Shimoga District is said to be the second highest waterfall in the country. You can also check out the majestic Hogenakkal Falls on the Kaveri River. Also, the slightly smaller, but equally amazing Abbey, Shivanasamudra, and Irupu Falls. The best time to visit in during the monsoon
Tibetan Settlement in South India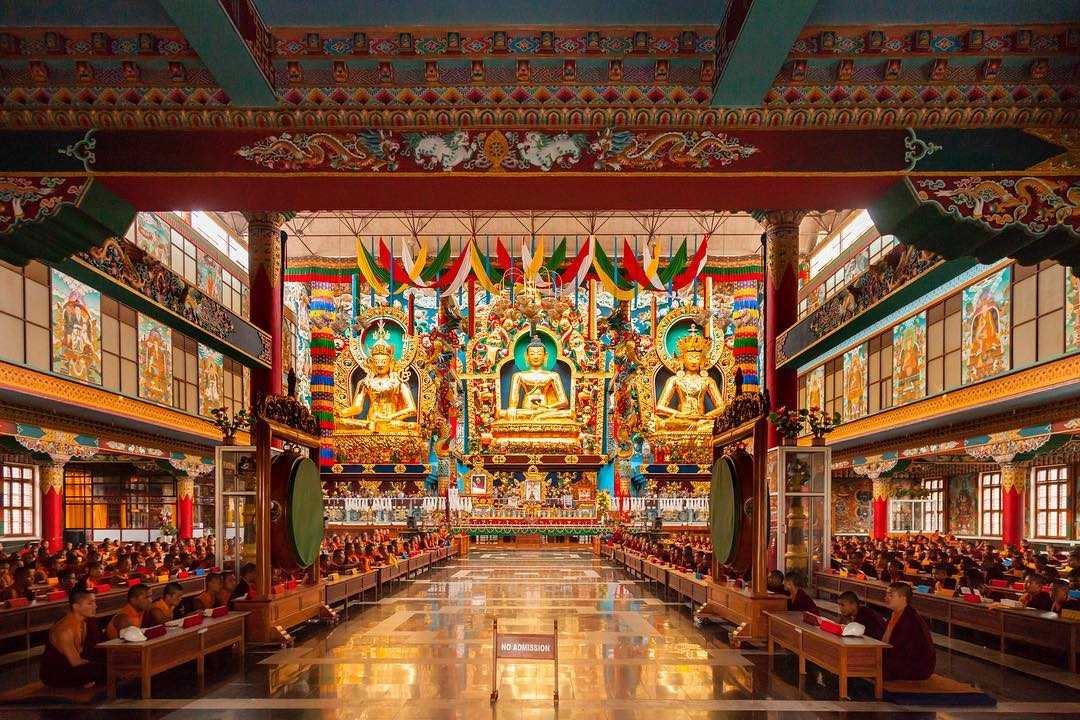 Just an hour away from Coorg lies the Tibetan settlement of Bylakuppe, which is the largest in South India. It's home to Buddhist monasteries and temples all featuring the unique Tibetan architectural style. Don't miss the Golden Temple, which is filled with gold idols and paintings